AV News to Know March 20, 2020: New Products, Cool Projects and People in New Places
In this week's edition: Black Box introduces Emerald PE KVM extender, Louis Armstrong riverboat cruises and Almo adds sales development managers.
Leave a Comment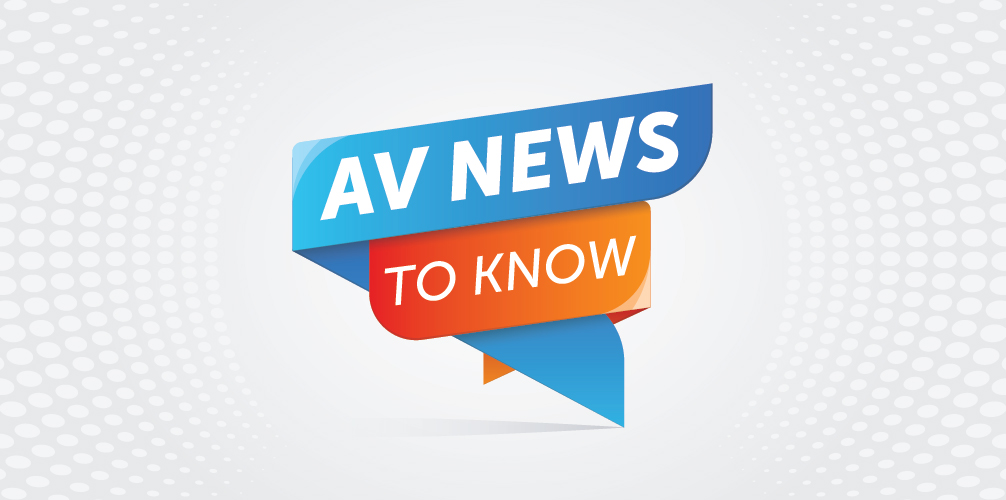 Here's a closer look at some of the AV news, products and projects you might have missed this week. We call it AV News to Know:
New AV Products
Atlona OME-RX31 Switcher Now Shipping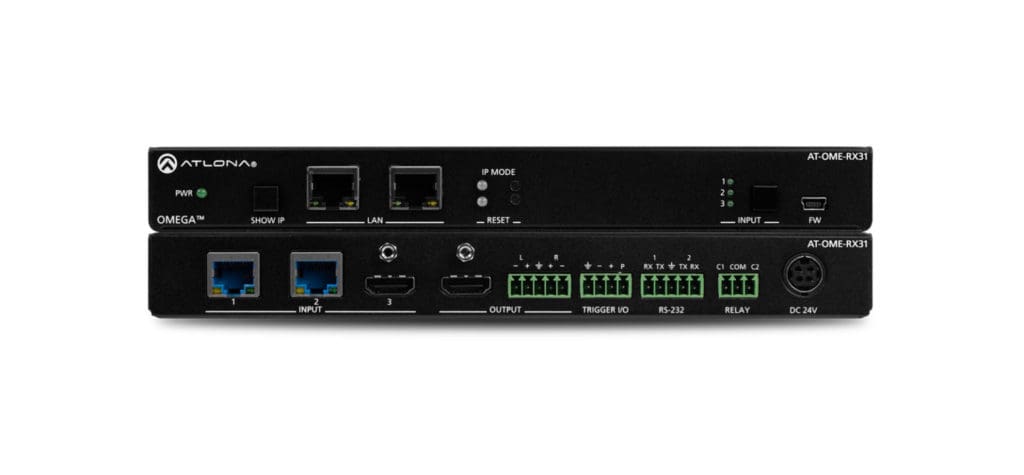 The Atlona Omega Series of modern AV collaboration tools are designed to provide flexibility, along with the capabilities and convenience of the latest integration technologies.
The OME-RX31 is a 3×1 AV switcher and receiver that combines the benefits of 4K/UHD scaling, auto-switching for HDBaseT and HDMI inputs, integrated display control, room controls, and more.
Among the features in the Atlona OME-RX31 switcher are:
Dual HDBase receiver for HDMI, Ethernet, power, and control
Local HDMI input
4K/UHD downscaling and upscaling
Audio de-embedding
Dual Ethernet ports and integrated network switch
Contact closure for screen or display lift control
Trigger I/O ports for occupancy sensing
Black Box Extends Emerald Unified KVM Portfolio with Emerald PE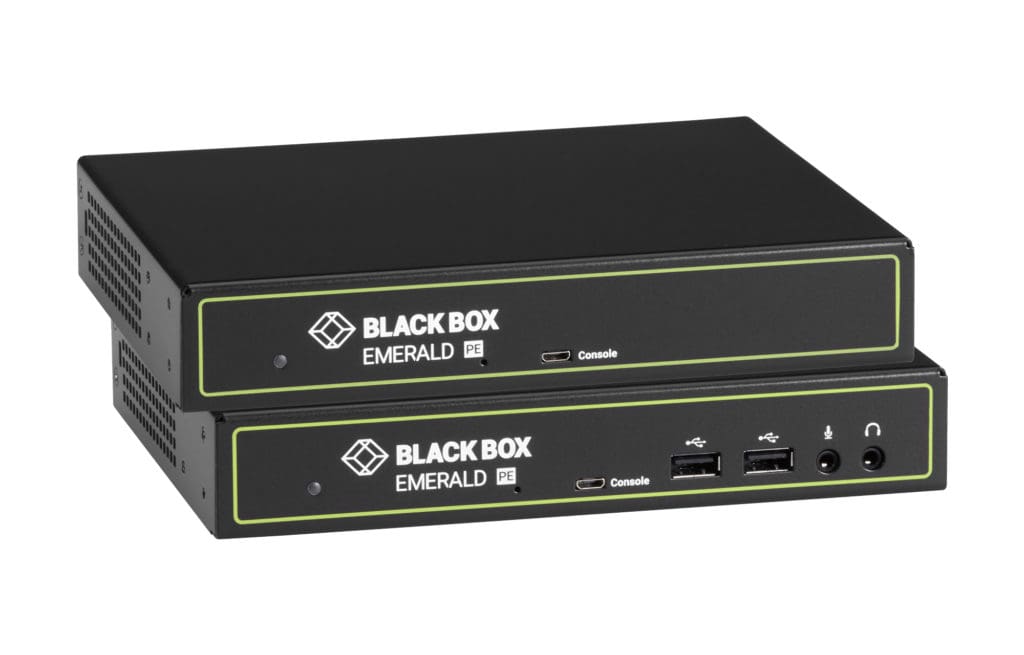 Black Box is expanding its Emerald Unified KVM platform with the release of Emerald PE high-performance, IP-based KVM extenders for HD video and audio editing, live production, broadcast playout, 3D and graphic design, and medical imaging.
Emerald PE transmitters and receivers enable extension and matrix switching of pixel-perfect HD DVI video (up to 1920×1200 at 60Hz), transparent USB 2.0, and bidirectional analog audio between any number of users and computers, servers or virtual machines.
The IP-based KVM solution features built-in system redundancy with dual network ports and can be deployed as a point-to-point KVM extender connecting the user to a remote computer or, when scaled up, can serve as a managed KVM matrix switching system.
Waves Audio Now Shipping MultiMod Rack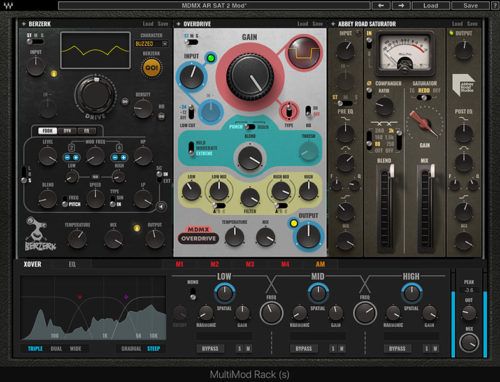 Waves Audio is now shipping MultiMod Rack, a multiband modulation rack for Waves' latest distortion plugins.
MultiMod Rack takes multiband distortion to the next level of both musical creativity and precision engineering. It allows music producers to create the wildest palette of richly modulatable distortion FX; and it allows mixing engineers to achieve multiband distortion and saturation with pinpoint surgical precision.
MultiMod Rack has three plugin slots, each of which can host Waves' newest distortion and saturation plugins: the vintage analog-modeled Abbey Road Saturator, the modern waveshaper-based Berzerk, and the classic-sounding MDMX Screamer, Overdrive and Fuzz modules.
FOR-A Switchers, Routers Support 12G-SDI Infrastructures for 4K/8K Live Production Workflows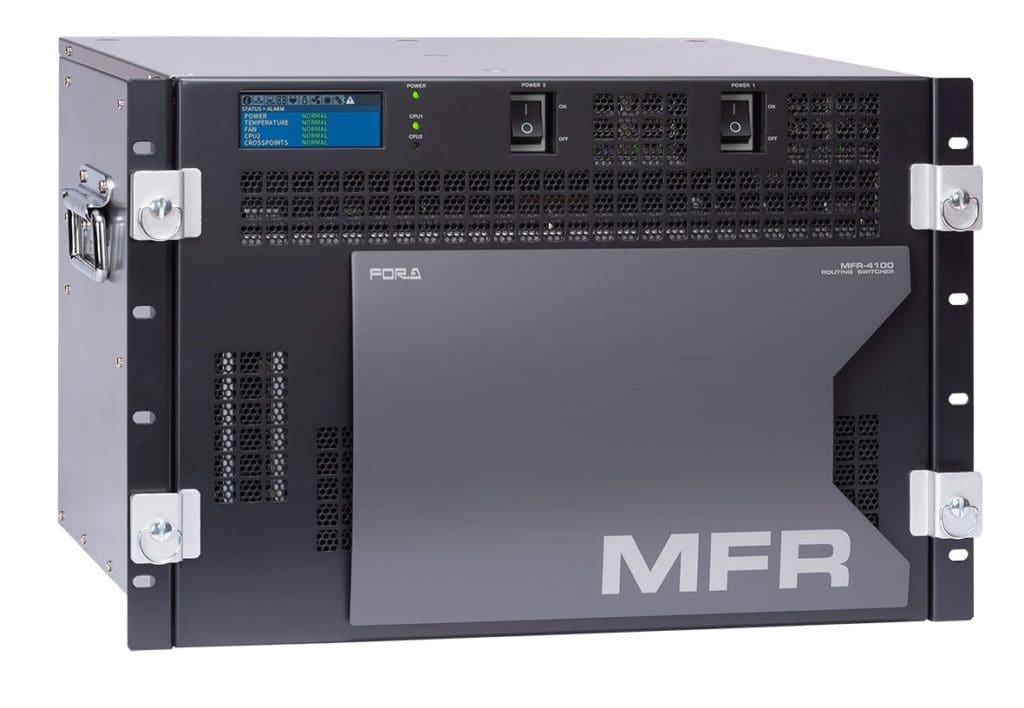 FOR-A Corporation of America continues to develop products that support 12G-SDI infrastructures for live production workflows. Among its offerings are the new MFR-4100 and MFR-6100 12G/6G/3G/HD/ASI routing switchers, as well as the HVS-6000 Series of HANABI video switchers, which support HD and 4K production.
Built to support 12G-SDI infrastructures, the MFR-6100 provides single-cable transfer of 4K video for less complex cabling. Users can add up to 16 input and 16 output cards (nine channels per card) to configure a matrix up to 144×144 in a 13 RU frame.
For smaller installations, the MFR-4100 routing switcher supports up to 72×72 I/O in a 7 RU frame.
Audio Visual Projects
Riverboat Louis Armstrong Delivers Sound Quality Worthy of a Jazz Icon
The Riverboat Louis Armstrong in New Orleans is one of the newest entertainment vessels to float the Mississippi River.
The 2,500-passenger riverboat is berthed at the Canal-Poydras Street dock and Mardi Gras World. The vessel opened for business in November 2019 with accommodations for large and small events, and the capability to keep the party dock-side or to cruise the mighty Mississippi.
It also happens to be one of the best sounding locations in the city or on the river – thanks to a sound system powered by Ashly Audio.
"The owner said they would be hosting a number of events here, all separated into different decks and zones," said Chris Brown, managing director at SOUNd CHeK Music, the integrator of the riverboat's sound system.
"What the riverboat truly needed was a flexible set of systems, addressing different needs, and it needed to be intuitive so anyone on the vessel could operate it," he said.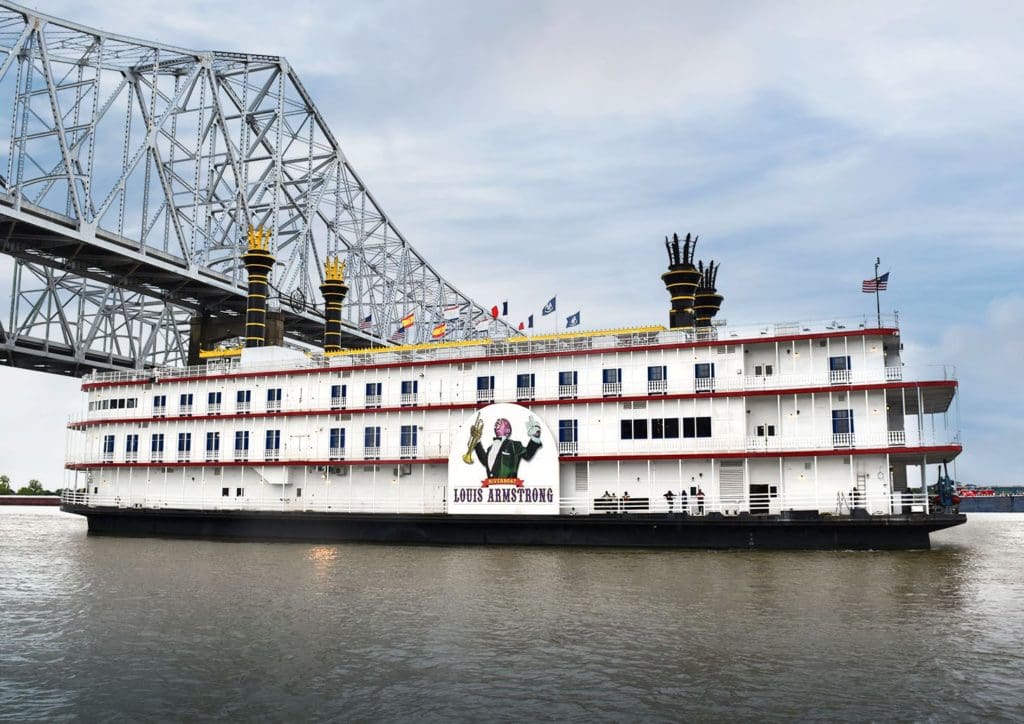 The Riverboat Louis Armstrong features multiple performance and events spaces for weddings, concerts and other social gatherings. Four different decks of the riverboat have been designed to allow for multiple events to take place in one evening.
The first deck is a multiuse space that can be subdivided to accommodate different types of events. The second deck provides a concert performance venue and a beautiful aft lounge.
The third deck is designed with weddings in mind – but can also work for corporate meetings or other celebrations and features the Louis Armstrong Foundation Room. Finally, the veranda deck provides an open-air performance space atop the riverboat.
Brown and system designer Michael Montero integrated an Ashly PEMA ne24.24M16X8, multiple PEMA8250 series amplifiers, plus KLR series amplifiers, over the four decks and 425 speaker devices to create six stand-alone event spaces.
The system also can share performances among any of the six event spaces at the touch of an iPad or wall-mounted remote preset.
Tripleplay Enables Welcome Family Holiday Park to Deliver IPTV and Video Communications to Guests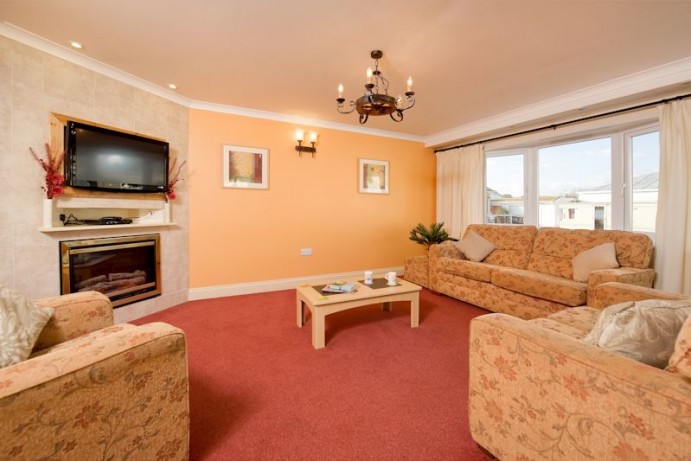 In light of the COVID-19 virus, Welcome Family Holiday Park needed to change the way guests received information and had to quickly adapt to the increasingly challenging circumstances and restrictive measures outlined by regional government.
Welcome Family enlisted Tripleplay to enable the distribution of an internal camera feed across its IPTV network, allowing guests to receive video updates from staff, as well as being able to watch live entertainment shows from their rooms.
Alistair Roberts, director of Welcome Family Holiday Park, was pleased with the quick turnaround of the project, noting it was less than 24 hours.
"I am thrilled that we can now live stream events to guests to the comfort of their own rooms and without risking their health and safety," he said.
People and Places
Almo Professional A/V Introduces Service Development Managers
Almo Professional A/V this week announced the addition of three service development managers to "provide support and expertise to partners using the Almo toolbox of AV Services for Integrators."
Leo Nickel will be the Almo service development manager for the west region, with Jay Saret doing the honors in the east and Jason Terry serving the central U.S.
SDMs are subject matter experts on Almo's complete line of services, which include Almo AVaaS financial solutions, business communications, digital signage creative and hosting, control systems and DSP programming, hosted surveillance and security, remote asset management, labor and project support, and service and repair plans.
Based in Denver, Nickel started his career in broadcast television and holds more than 20 years of diverse AV industry experience, including system design, sales, project management, digital signage and content creation. He is AVIXA CTS-certified and an AVIXA Certified Electronics Technician.
Working from Springboro, Ohio, Terry is the founder of GreenSpace Enterprise Technologies, Inc., a venture-backed occupancy management automation company specializing in occupancy management and meeting room scheduling solutions that are cost-effective, globally callable and easy to maintain.
Located in the Boston area, Saret most recently served as a business development manager for Almo, focusing primarily on digital signage and installation services. He's held many business development and project management-related positions throughout his career.
Saret is AVIXA CTS-Certified as well as a Digital Signage Certified Expert (DSCE).
Symetrix Chooses Audio Americas for Latin America and Caribbean
Symetrix has chosen Audio Americas as its new sales agency throughout Latin America and the Caribbean. Audio Americas will provide technical sales support to distributors, integrators and consultants for Symetrix.
Audio Americas, based in Santiago de Chile, specializes in commercial and consumer audio/video products.  Since 2003, they have represented premium, world-class brands and have worked with hundreds of distributors, dealers and technology integrators throughout the region.
Their commercial division is focused on audiovisual products for installation in environments ranging from stadiums to conference rooms to houses of worship, with highly experienced technical sales staff to support customers with their projects.
LEA Professional Announces Strategic Partnership with Pro Active LATAM
LEA Professional this week announced a partnership with Soluciones Proactive Latin América to serve the company's growing customer base in the Latin America region.
Based in Mexico City and owned by Berenice Gutierrez, Proactive will represent LEA Professional's full suite of products – including its cloud platform set to launch next month.
With more than 20 years of experience in the pro audio industry Pro Active will support LEA's long-term plan to grow business in the region.