AV News to Know Nov. 15, 2019: New Products, Cool Projects and People in New Places
In this week's edition: KanexPro release Multiview KVM switches, PixelFlex helps University of Texas Longhorns and AVIXA's Certification Steering Committee.
Leave a Comment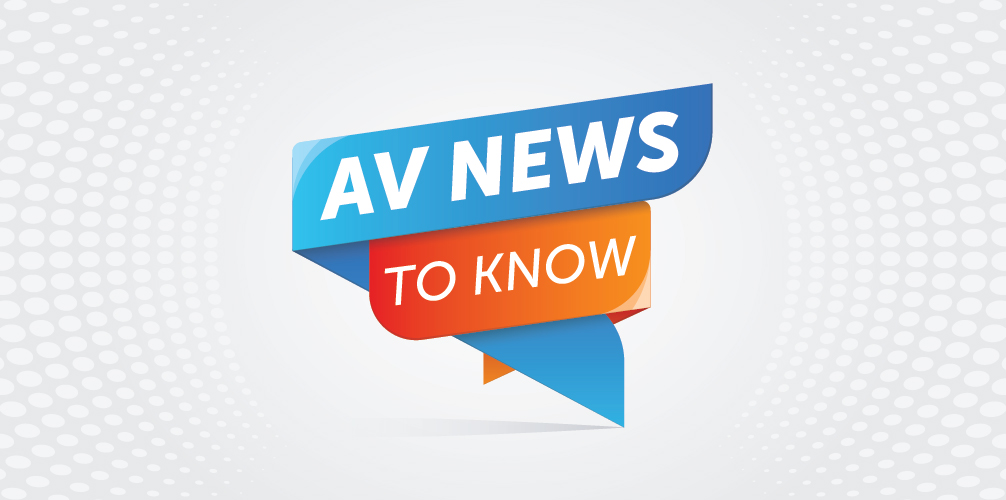 Here's a closer look at some of the AV news, products and projects you might have missed this week. We call it AV News to Know:
New AV Products
AJA Releases Desktop Software v15.5 for KONA, Io and T-TAP
AJA Video Systems released Desktop Software v15.5 for KONA, Io and T-TAP products, featuring additional functionality for both HDR and 8K workflows, plus new performance upgrades enhancing creative freedom and flexibility across Windows, Linux and macOS.
New features include Metal support on macOS and full compatibility with macOS Catalina; HDR over SDI via VPID; and HDR Test Patterns for 8K/UHD2/4K/UHD/2K/HD workflows. For the KONA 5 PCIe I/O card, the update also adds full 2SI SMPTE raster support for 8K; RGB support for 8K capture and playback; and 8K to 4K downsample via HDMI.
Desktop Software v15.5 is now available as a free download from AJA's support page.
KanexPro's Multiview KVM Switches Now Available
KanexPro recenlty announced the availability of the 4K quad multiview 4X1 KVM switch and the multiview 4X1 KVM switch.
With KanexPro's multiview KVM switches, users can connect up to four host sources to the multi-window processors which can support 1080p or 4K resolutions to a single monitor or display. The processor supports four host devices in 4K/60hz resolution through a single HDMI output.
The Multiview functionality provides real-time control of the four connected host devices while using a single mouse keyboard combo.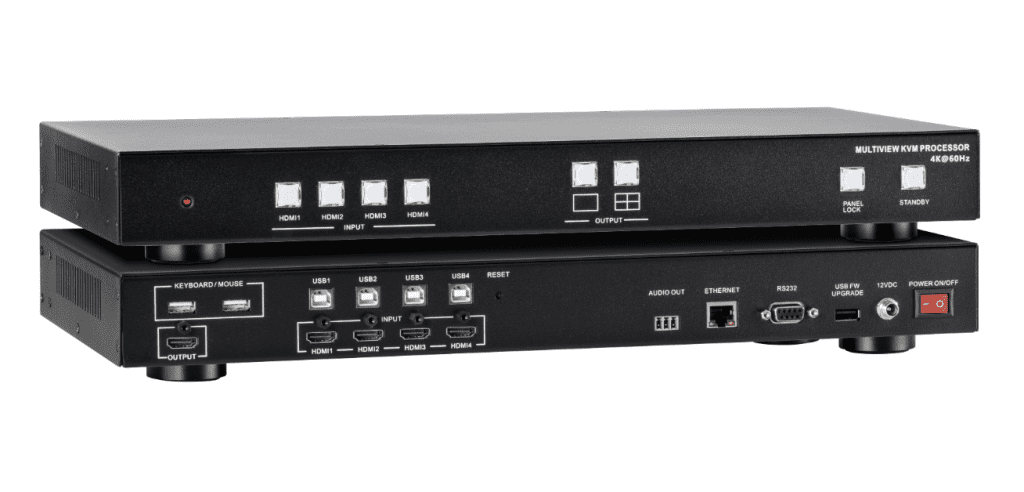 Listen Technologies Launches Navilution Wi-Fi
Listen Technologies this week announced the launch of Navilution Wi-Fi, a streaming passenger entertainment solution for the sight-seeing industry. Navilution Wi-Fi allows tour operators to deliver GPS-triggered content to visitors through their smartphones.
Navilution combines the power and versatility of Listen EVERYWHERE, Listen Technologies' audio-over-Wi-Fi solution, with the GPS triggering of Navilution Next, a wireless tour commentary delivery system.
Navilution Wi-Fi works on tour operators' wireless networks and enables them to offer multiple audio sources to visitors so they can listen to tour narration in different languages, with no Internet required. Visitors download the free Listen EVERYWHERE app on their Android or iOS devices, select their preferred language and listen to automated, location-based content.
Navilution Wi-Fi is available globally through Listen Technologies and its tour team at AudioConexus.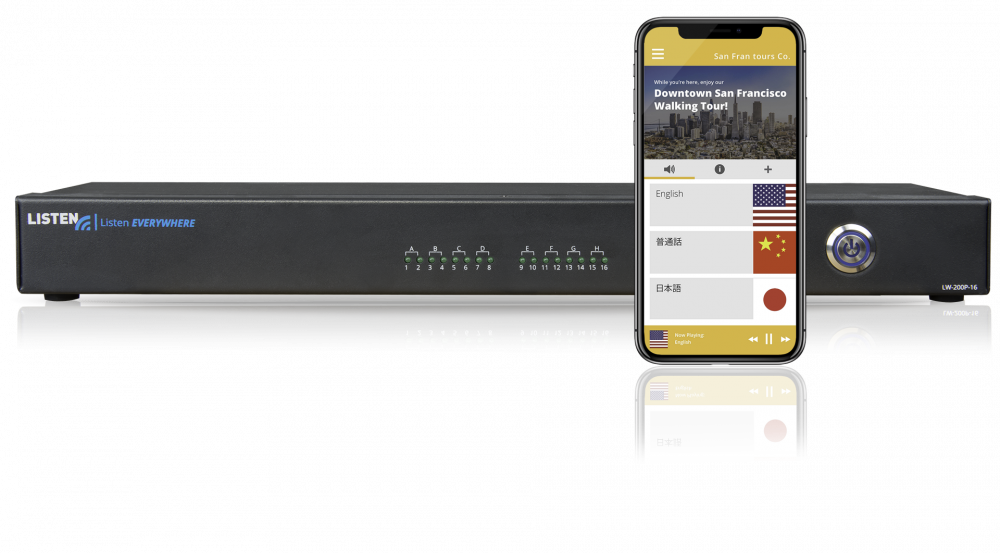 Maxell Releases Lecture Capture Collaboration Station
Maxell, Ltd. announced the release of its new Lecture Capture Collaboration Station, the MA-XL1, for K-12 and higher education facilities.
The new multi-functional tool gives operators the power to upload interactive video content and collaborate with classrooms across remote locations while keeping students engaged in the lesson.
The Maxell Lecture Capture system can also manage content in corporate settings including conference rooms, training centers, conventions and multi-room business meetings.
The Lecture Capture Collaboration System is designed to record, save, and stream content simultaneously. Ten different audio/video sources are available, and users can choose three to use simultaneously during the recording/streaming session.
Featuring interactive content switching, instant playback, record-stream-upload capabilities, remote classroom collaboration and an interactive white board, the new system is ideal for education facilities to manage multiple video sources and the displayed image on the main screen of the classroom or meeting room.
Audio Visual Projects
Cox and Arizona State University to Launch Connected Environments Collaboratory
Cox Communications and Arizona State University (ASU) announced at the 2019 ASU Smart Region Summit flagship event their partnership to create the Cox Connected Environments Collaboratory at ASU.
This collaboration "will drive the development of Arizona's smart region infrastructure, delivering on the promise of ASU's Smart City Cloud Innovation Center (CIC) to build smarter communities in the greater Phoenix metropolitan region by solving pressing community challenges," it says.
As an incubation center and convening space, the Collaboratory aims to engage ASU students, staff, and faculty to design the next wave of Internet of Things (IoT) solutions that could optimize buildings for sustainability, provide new learning experiences in virtual and augmented reality, overhaul transportation infrastructure and more.
To power the Collaboratory, Cox will deploy a comprehensive wired and wireless network on campus as part of ASU's NextGen Network. The Collaboratory is another step forward for these efforts, engaging city leaders and citizens, non-profits, faculty, student researchers, industry experts, and visiting scholars to build the metropolis and regional infrastructure of the future.
PixelFLEX Helps Define the Texas Longhorn Culture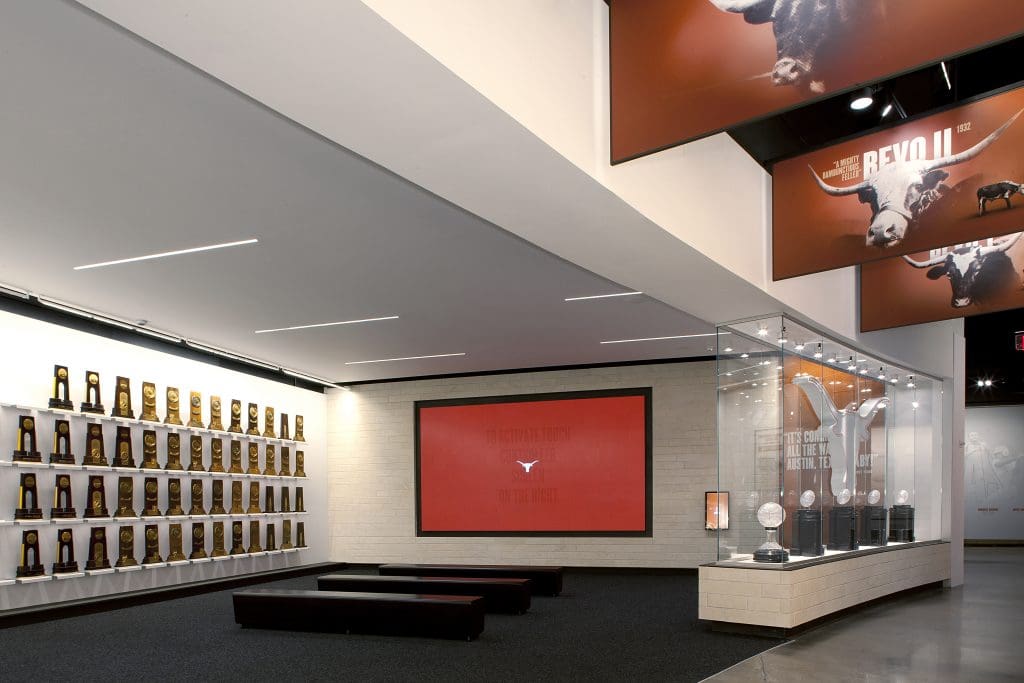 Located in the Red McCombs Red Zone at Darrell K. Royal Memorial Stadium, the new Frank Denius Family University of Texas Athletics Hall of Fame recently celebrated its grand opening.
As the University's first-ever sports Hall of Fame, the $17.1 million project tells the story of Texas Athletics from its first team in 1893 to what has become one of the nation's premier programs.
The University worked with the experience creation firm Advent, who created an interactive storytelling experience with a design that included a large-format FLEXUltra LED video display from PixelFLEX.
Advent Vice President of Experience John Downie and the Advent team wanted to accentuate the renowned accomplishments of the athletics programs.
With numerous national championships across multiple sports, the university has much to celebrate and Downie wanted to give them the proper attention they deserved.
"We always knew we wanted to create a large-scale visual focus point for the National Championship moments," said Downie.
"As we worked through the various story elements that would inform the narrative, we realized there was an opportunity to leverage visual assets and create video content to bring the stories to life," he said. "As we evolved the design, it became clear that we would be able to utilize one of the walls for a large-scale visual moment."
People and Places
AVIXA Announces 2020 Certification Steering Committee
AVIXA this week announced the election results for the 2020 Certification Steering Committee.
Certification holders elected new committee members Gain Foster, of K2; Rakesh Kumar of Amazon; Christopher Kusek of ALL PRO SOUND; Michael Pedersen of Iowa State University; Rebecca Sullins of LMG; and Justin Watts of Apple.
The AVIXA Certification Steering Committee is responsible for overseeing the development and administration of the Certified Technology Specialist (CTS) program and for ensuring the credentials meet the standards of ethical and professional practice for the audiovisual industry.
The newly elected committee members join current members Heather Callaway of APG Electric; Lauren Guidry of Whitlock and Luke Jordan of Electro Acoustics.
The new members replace Heather Corbin of Unified Technology Systems; John Lamberson of Salesforce; Rodrigo Ordonez of K2; David Petrelle of HB Communications, Inc.; Farrell Wood of Whitlock; and Ronald Willis of Shen Milson & Wilke LLC.
Eleven Engineering Adds to Design Engineering Team with Sawyer McPherson
Eleven Engineering, Inc., announced this week that it has grown its design engineering team with the addition of Sawyer McPherson.
"Sawyer is an exceptional engineering grad with a tremendous amount of raw talent", said John Sobota, Eleven Engineering CEO and director.
"The emerging SKAA standard for wireless audio is continually being improved by our outstanding R&D team, and its youthful enthusiasm, creativity, and engineering chops, such as Sawyer's, which give SKAA its novel vitality," he said.