AV News to Know Roundup: Products, Projects and People in New Places
Here's a closer look at some of the AV news this week that include new HDMI cables, an installation at Liverpool Philharmonic Hall, promotions and more.
Leave a Comment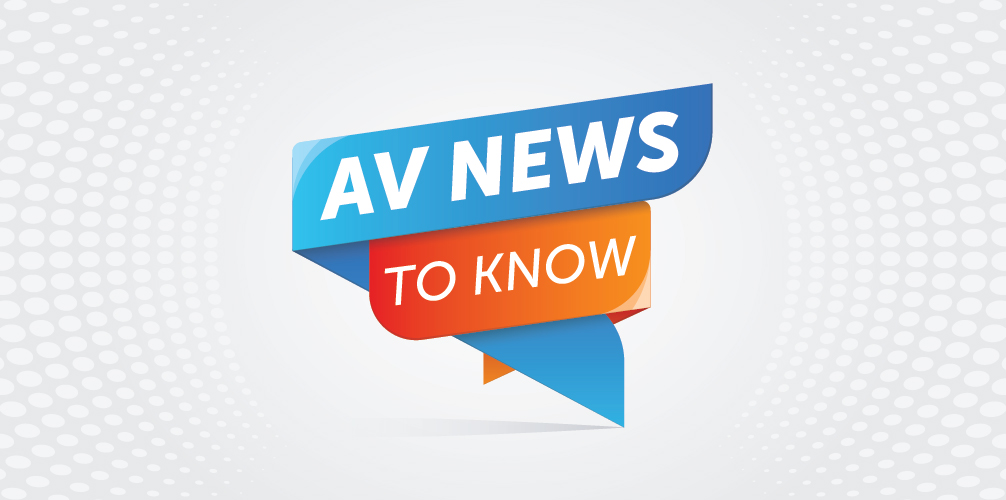 New Products
WyreStorm Introduces 8K HDMI Cables
N.Y.-based WyreStorm has released the Ultra High Speed HDMI Cables which offer maximum bandwidth and new features. The new 8K HDMI Cables offer uncompressed transmission of HDMI content up to 48Gbps and a resolution up to 10K 30Hz. This makes it ideal for extracting the maximum performance from 8K displays, gaming consoles and ProAV matrix switchers.
The company adds the cables will deliver on reliability, performance, and speed for ProAV, home entertainment and gaming experience.
Features of the 8K HDMI Cable
According to WyreStorm, its 8K Ultra-High-Speed HDMI cable is compatible with all dynamic HDR Standards. Officially certified for HDMI 2.1 connectivity, WyreStorm cables are engineered to optimize all media experiences. They meet all the standards of 8K UHD specifications and can support resolutions and refresh rates of 8K@60 and 4K@120 and even up to 10K.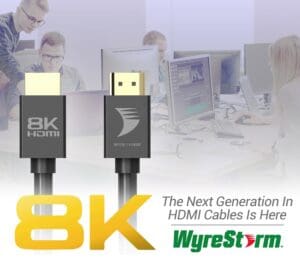 In addition, it supports dynamic HDR formats and bandwidth capability is increased up to 48Gbps. Moreover, WyreStorm's cables utilize High-Fidelity eARC technology delivering high quality streaming audio. Meanwhile, the Variable Refresh Rate provides smooth performance. It also eliminates image lag, stutter and frame tearing. With eARC HD audio standard for on-demand content from smart TV's, WyreStorm makes sure the audio and video are always in-sync.
The bandwidth makes WyreStorm's Ultra-High-Speed HDMI cables ideal for enjoying the experience of 8K video streaming and gaming. It also improves pro-videoconferencing for professionals and casual consumers alike, and are backward compatible.
The company also underlines its reliability and durability of all products. As a result, gold-plated conductors protect the cable against oxidation for conductivity and signal transmission. The flexible, durable foil-insulated material thus allows the new cable to survive through the harsh environments and usage.
The new 2.1 HDMI 8K cables which will be available in a variety of lengths. Additionally they are CE | FCC | RoHS | EAC | RCM Certified. They will be available in Q1'22 with 0.5m, 1.0m, 2.0m, and 3.0m on the website and from authorized reseller channels.
Audio Visual Projects
Riedel Communications Elevates Musical Experience at Liverpool Philharmonic Hall
Germany-based Riedel Communications announced that Liverpool Philharmonic deployed the company's Bolero wireless intercom system in a standalone configuration to enhance communications at Liverpool Philharmonic Hall. In the Hall's Art Deco auditorium and Music Room, the Bolero system replaced the existing wired communications solution to manage and cue concerts, live events, recording activities and filming work.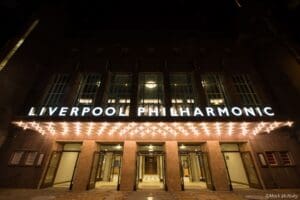 Each year, over 350,000 people attend over 400 concerts and events presented at Liverpool Philharmonic Hall. These include performances by the Royal Liverpool Philharmonic Orchestra, the oldest continuing professional symphony orchestra in the U.K., and a diverse lineup of world-class artists, from classical and pop to comedy, film, and spoken word. In addition, Liverpool Philharmonic owns the largest collection of church bells of any U.K. orchestra, 14 in total. These bells allowed the Orchestra to be the U.K.'s first to perform Berlioz's Symphonie Fantastique and others with the correct low bells, as originally specified by the composer.
Incorporating the Bolero System
For these concerts and events, Riedel's Bolero system provides Liverpool Philharmonic with fast and flexible configuration. At the same time, it ensures reliable operation and pristine audio quality. The Bolero Standalone Application is a license-enabled upgrade for the system, delivering plug-and-play simplicity. Thus, it allows up to 100 antennas and beltpacks to be easily set up and configured via a web browser without requiring an intercom matrix.
"While we looked at other solutions, Riedel was an easy choice…" Emma Carey, head of production and technical services for Liverpool Philharmonic, says. According to Carey, the quality, audio clarity and flexibility of the Bolero system made it the ideal selection.
Carey adds that Bolero enables the use of multiple channels for both wired and wireless packs with the ability to program them as needed. "…Furthermore, we can offer our back-of-house customers reliable tools for the job while providing great concert presentation capabilities for the front-of-house," she remarks.
Features of the Wireless Beltpacks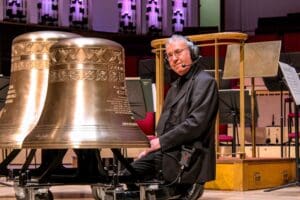 Currently, Liverpool Philharmonic utilizes four six-key Bolero wireless beltpacks and two wireless antennas throughout the Hall. Additionally, 15 wired digital beltpacks with four headset stations are integrated via Riedel's Performer C44plus System Interface.
Headsets used with the beltpacks include a Riedel Max high-performance headset. The Max headset is especially designed for environments with high levels of ambient noise. Thus, it features excellent attenuation abilities and optimal hearing protection. This then allows the Orchestra's church bell musician to safely play the bells while simultaneously communicating with the show's production team.
Future Expansions
Moving forward, Liverpool Philharmonic's Bolero system will allow for further expansion. This will achieved by integrating with additional technologies such as the Hall's back- and front-of-house paging systems.
"Liverpool Philharmonic is a British institution, and we couldn't be prouder to have our Bolero system helping to create a memorable experience for the hundreds of thousands of visitors the Hall receives each year," Nacho Lee, U.K. sales manager at Riedel, says. "And for Liverpool Philharmonic staff, the system offers a quick and reliable intercom deployment to speed up their workflow while providing them with the tools they need to take concerts and events to the next level."
People and Places
ROE Visual Expands in Japan
China-based ROE Visual recently announced that its Japanese-based subsidiary is now fully operational. The new office comes as part of its global expansion plan. According to ROE Visual, opening new subsidiaries is part of the sales strategy to have full-fledged sales and support bases close to customers.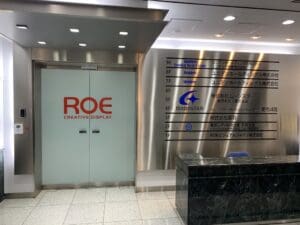 The office of ROE Visual Japan is located in Hatchobori, in the heart of Tokyo. The new office has over 260 square meters of floor space. It includes a showroom fitted with the latest LED products. It also has an added conference room and support and test facilities. These enable the Japanese team to offer full service and support to its client base, either from the office or on-site in Tokyo or the wider Japanese region.
With a broader spread of local sales and support, ROE Visual hopes to live up to its philosophy of delivering satisfactory customer service. It now has sales and support bases in Shenzhen, China, to serve the broader Asian market, and Leek, the Netherlands for the European market. Meanwhile, Chatsworth, the US, serves the North American market. Additionally, the company runs a Repair and Service Center in Hong Kong.
Expectations of the Expansion
"We're thrilled to be able to extend our service and support package to our regional client-based. It will enable us to not only to continue providing high-quality services but also to expand our support", Teppei Shuhama, VP for ROE Visual Japan, states. Shuhama adds, "With our growing customer base here in Japan, it's paramount that the team can deliver optimal solutions in a fast and efficient way."
Currently, ROE Visual Japan has already started the test operation and directly contacted with local customers step by step. The plan is to finish the localization of the company in the next two years. Doing so will prevent customers from worrying about the importation and the efficiency of services. The company thus hopes to maintain its position in the Japanese rental market. At the same time, ROE Visual expects to expand its business volume with fixed installation and virtual production projects.
SNA Displays Appoints Megan Riddle as New Sales Director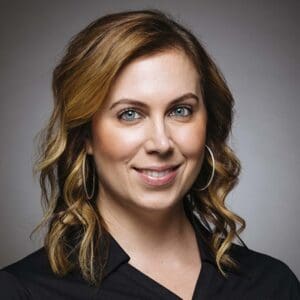 N.Y.-based SNA Displays announced Megan Riddle as its new director of sales in the southeast U.S. Riddle will work with existing and prospective accounts in various market sectors. These include large outdoor spectaculars, complex custom solutions, entertainment venues, retail, and workplace signage.
Per a statement, Riddle is a veteran in the direct-view LED and audio-visual industries. She most recently managed a sales team for Planar Systems. Here, she was responsible for one of the company's largest regional territories.
Riddle also has experience focused on federal government and commercial sales for Bridges System Integration in the DC area. Riddle's passion lies in understanding all aspects of her customer and project needs, bringing her "customer first" attitude cultivated at Nordstrom early in her 20-year sales career.
"SNA Displays presents a new chapter and challenge at a time where I'm ready for the next step in my career," Riddle says. "I'm honored to join a well-established sales team focused on key, strategic verticals with one company mission: Total Project Satisfaction."
"Megan has a tremendous amount of success in our space, particularly on the audio-visual side," Rick Bortles, global vice president of sales for SNA Displays adds. "With ample experience at JC Decaux and Planar Systems, Megan is a great fit for us and our customer base. She's been a top sales producer throughout her career and we are proud to have her on the SNA team."
Tom Slaman Joins Reflex Marketing as Contractor-A/V Division Sales Manager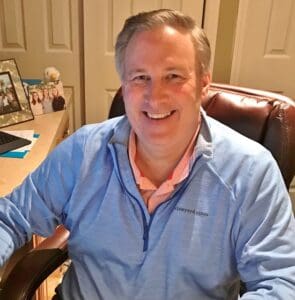 Reflex Marketing recently announced Tom Slaman's appointment as Division Manager for the expanding Contractor-A/V and Installed Sound business. N.Y.-based Reflex Marketing has represented brands in pro audio, musical instrument and contracting marketplaces throughout the Northeast U.S.
In his new role, Slaman will facilitate relationships with contractors, consultants and systems integrators. He will build awareness of the various technologies and products offered by Reflex vendors.
Per a statement, Slaman brings three decades of experience to Reflex. He has collaborated with system integrators and Pro A/V manufacturers to provide high quality solutions for complex designs. He has also worked with end-users in the educational, corporate and government markets. Slaman has engaged with clients and solving problems in a dynamic market space. His customer focused sales experiences will support Reflex Marketing customers and suppliers alike.
According to Slaman, this experience makes him a great fit for the position. He also expresses his excitement on being part of the Reflex team. He says, "I look forward to supporting the resellers, suppliers and contractors that we partner with. It is very motivating for me to add value to our customers, helping them achieve their visions and goals."
"Tom brings a wealth of technology and service experience to our team, and I know that he will be a very valuable asset to our clients," Douglas E. Nestler, owner of Reflex Marketing, adds. "As our company continues to expand our capabilities and geographical footprint, we are very excited about the future for Tom and the growth of our Contractor-A/V division."
If you enjoyed this article and want to receive more valuable industry content like this, click here to sign up for our digital newsletters!