Barix Introducing Programmable IP Audio Module for Developers at ISE 2018
Barix IPAM 400 programmable IP audio hardware offers OEMs, systems integrators 'flexible, robust and feature-rich platform for creating audio products.'
Leave a Comment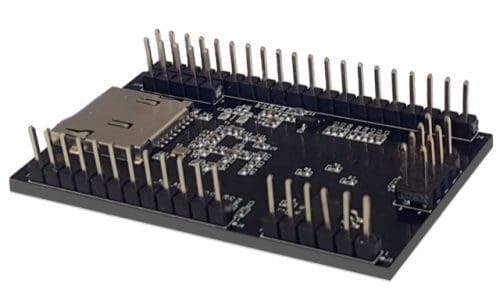 Barix will introduce its newest-generation programmable IP audio module, the IPAM 400, at ISE 2018 in Amsterdam next month.
One of many new Barix introductions being showcased in stand 8-K255 at ISE, the openly programmable IPAM 400 "enables OEM manufacturers and systems integrators to build advanced, audio-based solutions with less risk and faster time to market," according to Barix.
The Linux-based IPAM 400 is Barix's most powerful OEM audio platform to date, according to the company announcement, combining a quad-core ARM Cortex-A7 MPCore processor and an open-source programming model to support complex signal handling and an array of applications.
Here's more about the Barix IPAM 400 IP audio module:
The new module "supports multiple audio formats and features stereo audio, network, USB, GPIO and serial interfaces alongside built-in WiFi capabilities, enabling developers to easily incorporate advanced audio processing, IP-based streaming and control functionality into their product designs," according to the Barix press release.

"We're delighted to introduce our next-generation IPAM platform with state-of-the-art functionality, performance and security to meet OEM customers' evolving needs, all at our lowest IPAM price point ever," said Reto Brader, VP of sales and marketing at Barix.

"While our end-user products continue to be extremely popular, our OEM solutions are a significant and thriving part of our business.

"The IPAM 400 leverages our 16 years of proven expertise and the experience that comes from having more than 100,000 of our modules in the field for applications from commercial audio streaming to mission-critical communications.

"OEM manufacturers can build on the IPAM 400 with confidence, knowing that it is a reliable and future-proof professional platform that will be available for a long time," said Brader in the press release."

The IPAM 400 continues Barix's move towards an open-source, Linux-based approach, which began with the introduction of the Barionet 1000 control module at ISE 2017.

While previous IPAM models included libraries of finished applications and clients, the IPAM 400 provides systems integrators and OEMs with a blank slate upon which they can tap into the open source community or develop almost any audio-oriented application they can envision.

While customers can select their preferred operating system implementation and install their own image, Barix provides an example Yocto image that includes firmware upgrade and advanced recovery function for the platform.

Barix can also work closely with customers' development teams to realize their desired applications through various levels of support, consulting and professional services.

The IPAM 400 can run multiple encryption and decryption processes concurrently for data, streams and web server access, enabling the creation of products supporting the latest security standards.

Its architecture allows devices to be reinstalled, reformatted and updated remotely without risk of "bricking" the units, avoiding expensive and user-frustrating product return cycles.

In addition to being offered to OEM developers, the IPAM 400 is at the heart of new Barix end-user products including the Audio Point 3.0 third-generation programmable IP audio signage solution and the Exstreamer S hardware for the Barix Retail Player system, which are also being unveiled at ISE.
Samples of the Barix programmable IP audio IPAM 400 are available immediately to developers, with full-quantity shipments planned for later in the first quarter of 2018.