Bluesound Professional Set to Make Commercial Audio Splash
Leveraging the lauded BluOS platform from Lenbrook's residential Bluesound brand developed over the past 7 years, Bluesound Pro makes its official debut at InfoComm 2019.
Leave a Comment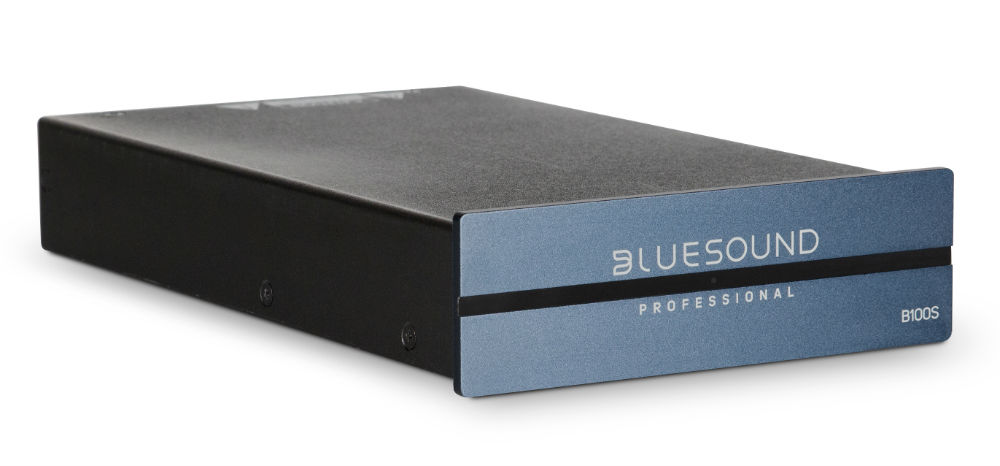 It's not uncommon for residential AV integrators to try their hand at commercial work; after the Great Recession, in fact, many joined the fray to help stay afloat.
Plenty of manufacturers migrate from residential to commercial as well. The latest is Bluesound, which has made a name for itself as an award-winning multiroom streaming audio solution on the resi side as part of the Lenbrook Int'l family of audio brands.
Now, following what the company considered a preview at ISE 2019 in Amsterdam a few months ago, the more aptly named Bluesound Professional and its well-established BluOS platform will make an official introduction to the commercial AV sector at InfoComm 2019 in Orlando.
"I would call our ISE announcement a bit of a 'soft launch' for the brand – I was announced as vice-president and general manager of the new business line and we had begun product and channel development activities, but were not ready to fully come to market then," Bluesound Professional's Graeme Harrison told CI before the big annual tradeshow. "InfoComm is a proper launch, complete with new products and distributors to announce, so we're very excited to see the market's response."

Streamers, Amplifiers, Loudspeaker, Controller & More
The official launch of the Bluesound Pro audio ecosystem includes two streaming players, two amplifiers, a powered loudspeaker, a control panel and rack-mounts. Plus the intuitive and robust BluOS Controller App for desktops and smart devices.
In a similar manner to how Bluesound and BluOS deliver audio to various rooms in a home, Bluesound Professional products are designed to suit a variety of commercial use cases where music content is used to create branded experiences, including in restaurants, bars, cafés, hotels, gyms, malls, and other similar spaces, the company says.
When on the same network, the devices discover and interface with each other, and using the BluOS App, wall mount controller or one of the popular control systems integrated with BluOS, installers can configure a nearly limitless number of zones of streamed audio content from a variety of sources, including commercially-licensed music from SoundMachine.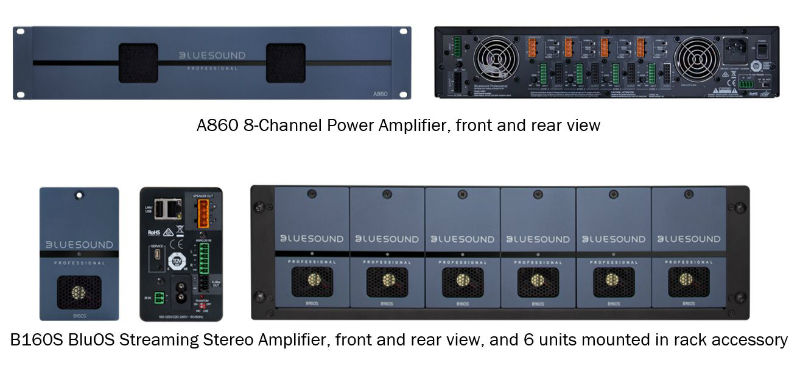 "Bluesound and BluOS have come a long way since 2012 as residential products, developing new functionality and proving stability with every firmware and software update. In the commercial market, this type of streaming solution simply doesn't exist, so users wanting to deploy streaming solutions into their businesses in the way that they can in their homes either had to use residential equipment – ill-suited to commercial use – or to plug phones or computers into commercial sound systems," Harrison tells CI, when asked about why the timing was right to launch.
"Both of these solutions are fraught with problems, and Bluesound Professional is able to bring to market a broad range of equipment purpose designed specifically for this use case. In addition to this, on the content side, streaming business music services are now coming to market and we already offer SoundMachine within BluOS and we are talking to a number of other leading business music services."
Plenty of Options to Add Music Systems
In addition to providing a complete streaming music solution designed for commercial integrators, who Harrison says have shared with Bluesound, along with consultants and end users, that such a solution is long overdue, hallmarks of the ecosystem include flexibility, scalability and ease of deployment.
"At its simplest, integrators can simply add one of our streamers to an existing system to add streaming capabilities – from network stored media, internet streaming services or Internet radio – easily to an existing system," Harrison explains.
"Moving on from this, integrators can also use our amplification products, some with integrated streamers to build simple, flexible, powerful systems feeding either existing speakers or the integrators or users speaker brand of choice. Finally, it is possible to use Bluesound Professional speakers, all including amplification and streaming capabilities and some powered by PoE, to simply and quickly deploy complete systems without any equipment other than the speakers."
In terms of sample system design, the company describes setup at the headend could look like: A Bluesound Professional streamer, like the B400S 4-Zone BluOS Network Streaming Player, can be added and connected to an existing distribution amp and speaker configuration. The streamer would be connected to the network and configured via the BluOS Controller app or a Bluesound Professional hardware controller like the CP100.
And at the endpoint: BluOS-enabled endpoints like the BSP125, a powered speaker that houses advanced processing capabilities, enable an integrator to simply run power and Ethernet to it and via the Controller app or CP100, the user can have full control of streamed audio content.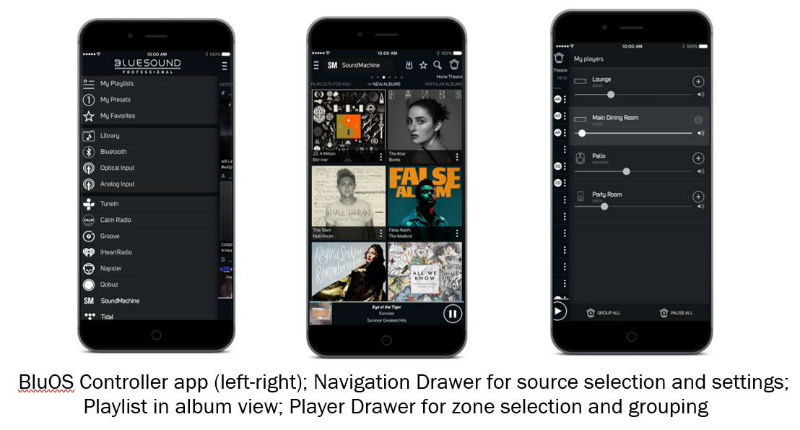 Ready to Get Integrators Up to Speed
Harrison realizes that the versatile entry's capabilities among the distributed audio options in the commercial market will require a learning curve for the integrator community.
"We recognize that the various ways a Bluesound Professional system can be configured and optimized is new to most in the industry and strong upfront training and product support will be crucial to the brand's success in this space," he says. "We've chosen our distribution partners very carefully with training and product support in mind – they generally have dedicated resources in this area and have reputations for excellent customer service.
"In-house, Bluesound Professional has a robust technical team that is constantly evaluating feedback from the market and is able to respond quickly to requests escalated to us from our distributors and CI's. … Although this type of solution is new to CI's, we think they'll get used to it very quickly and fall in love with it, just as I did with the Bluesound samples that I was sent prior to agreeing to lead Bluesound Professional."