BrightSign Series 4 On Display at ISE 2018, Including XD4 and XT4 Players
BrightSign Series 4 players, which will be released in the second quarter of this year, are designed to support the latest 4K HDR standards.
Leave a Comment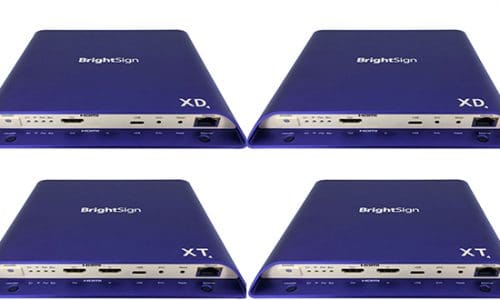 BrightSign recently announced it will introduce the first of its Series 4 players, BrightSign Series 4 XD4 and XT4, at ISE 2018 in Amsterdam next week [Hall 8, Stand G-240].
Four models in the BrightSign Series 4 range are designed to support Dolby Vision and HDR10+. In the second quarter of 2018, the XD234 and XD1034 will replace the XD Series 3 models and XT244 and XT1144 will replace the XT Series 3 line.
The XT line will support PoE+ and XT1144 supports HDMI In to deliver Live TV to endpoints either via an HDMI cable or streaming over a network. The new players will continue using the patented industrial design of the Series 3 players.
"We are constantly looking to improve our award-winning players and build-in support for the newest video formats," said CEO Jeff Hastings in a press release. The new models offer support for the latest, most advanced standards in 4K HDR, Dolby Vision and HDR10+."
The company will showcase three of its BrightSign Built-In DSM (digital signage module) integrated solutions – the iDisplay by Outform, as well as a range of displays from AVNU and Industrial Image.
Also in the BrightSign ISE 2018 stand will be demonstrations of conference room scheduling, 4K HDR10+ and 4K Dolby Vision decoding, BrightAuthor, BrightSign app interactivity and more.
The company announced the shipment of its one millionth media player in August 2017, wrapping up the company's strongest calendar year along the way.
"It's pretty gratifying to think that there are now more than a million BrightSign players out in the field, powering rich digital experiences in dozens of countries across the globe," said Hastings.
"This accomplishment is testament to the dedication of our engineers and sales force, but most importantly our customers – their faith in us enabled rapid growth that helped cement our place as the preferred media player for virtually any digital signage application."
Read more of our coverage of ISE 2018 here.