CEI Grabs Headlines Even Today for Its Design and AV Integration at Newseum
Washington, D.C.-area AV integrator CEI says Newseum installation has been a huge boost to the business for more than a decade.
Leave a Comment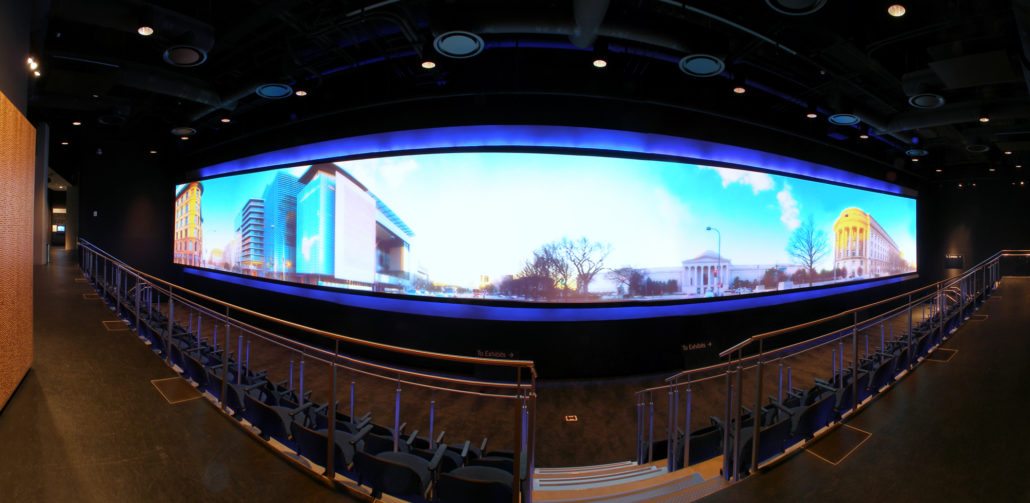 We gave our 2014 Integrator of the Year, Electrosonic, a lot of credit for their work on the Newseum, the seven-level interactive museum in Washington, D.C., that's heaven on Earth for news junkies like us.
And while Electrosonic certainly played a key role in some of the interactive exhibits and key areas in the massive facility that features about 250,000 square feet of exhibition space, Communications Engineering Inc. (CEI) of Newington, Va., also played a starring role in this high-profile installation just outside its backyard.
CEI Shows a Nose for News
While CEI and Electrosonic worked mostly separately in the Newseum, they crossed paths in a few areas, including CEI installing 140 interactive kiosks in an area designed by Electrosonic and in the high-profile Newseum control room.
CEI had a relationship with Newseum officials at the time when the museum was moving into its Pennsylvania Avenue location on not far from the White House, says director of engineering Raef Alkhayat. They started talking about two years before the groundbreaking for the building, he says.
In summary, CEI was responsible for design and integration for all technical aspects of the Newseum, as well as coordinating all the needs for broadcast spaces, the HD control rooms and edit suites.
"Because we were involved very early on, that made our lives easier," says Alkhayat. "They shared the vision they had and we had to design the technology to fit the space."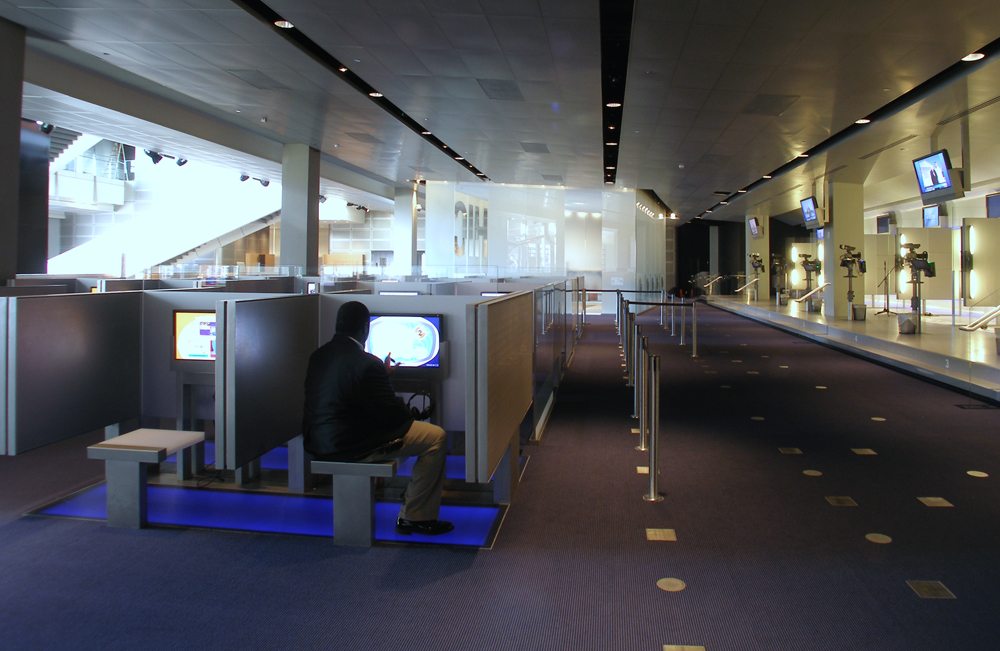 One rule of the installation, he says, was the technology had to be out of sight for visitors. That meant talking to manufacturer Evertz about creating a KVM (keyboard, video and mouse) extender, a piece of equipment that didn't exist at the time of the installation.
"They were very happy with how everything turned out," says Alkhayat. "I don't know that we could have done anything differently."
CEI installed 24-inch touchscreen kiosks at donor stations and coordinated the photos, writing samples and other artifacts in the reporter stations. CEI enhanced the Barco-created content for the 16-ton, 40-foot-tall-by-22-foot-wide atrium wall that's the largest indoor HD screen in the world and greets visitors as they enter the Newseum.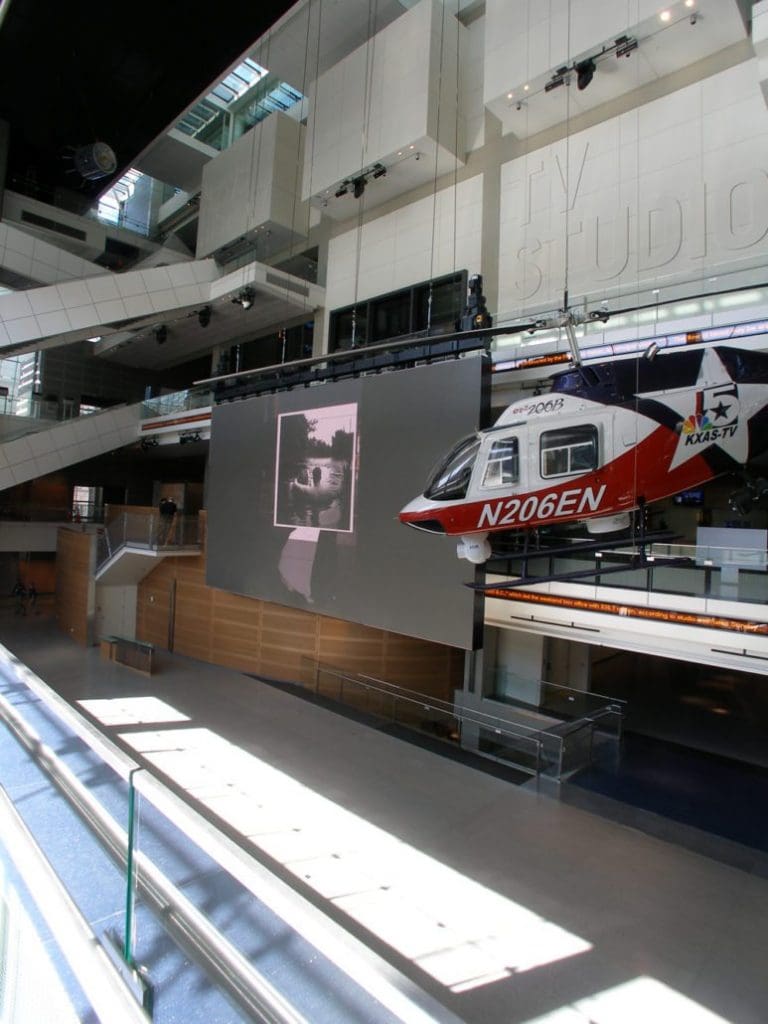 Life-Changing 4D Newseum Experience
Perhaps the marquee attraction at the Newseum is the Walter and Leonore Annenberg Theater, a multi-purpose venue that includes a 4D time-travel experience. It seats almost 200 people in its 4D format and features a 57×25-foot custom curved Stewart screen. CEI did the design, layout and integration for the theater, which includes five edge-blended projectors across the 90-foot-wide surface.
The 4D experience takes visitors on a journalistic trip through time, where they meet celebrated reporters of the past such as Nellie Bly and Edward R. Murrow. They sit in motion base seats and feel wind, air blasts, spritzer and rumble effects as they view a 3D show created by Cortina Productions.
The theater features a redundant set of speakers behind the screens, says Alkhayat, and multiple speakers in the floor and ceiling.
"That was a complicated system to set up and configure," he says. "Projector technology has been upgraded significantly since that original installation [more than 10 years ago]."
All the Tech That Fits
Working on the Newseum project was a significant boon to CEI's profile and bottom line, says Alkhayat.
"It's given us a ton of exposure and led us to a lot more projects," he says, noting CEI often hosts clients in the Newseum to give them an idea of what they can do for them.
In total, the Newseum has 15 theaters and 15 galleries, with attractions for all types of people, from swimmers to skimmers to divers, says Newseum manager of public relations Sonya Gavankar.
In total, the Newseum would add 1.5 miles to your fitness tracker if you walked every inch of it, she says. It traces the history of news coverage from the 16th century until today.
Read Next: 13 Miles of Cable in One Tower: The Mammoth Maersk Building Challenge
Every night, Newseum officials choose from more than 1,000 newspapers from around the world and display the front pages in the News Around the World exhibit, which includes one front page from each U.S. state and several international selections based on what's going on. They also occasionally build pop-up galleries for major news events.
Since the original installation, CEI has tweaked and upgraded some of the original tech, which was cutting-edge at the time but has either outlived its usefulness or broken down in the decade since the Newseum opened. That includes the Grass Valley servers that play and record content in the broadcast areas.
"Their decision to spend money on a fully integrated fiber infrastructure at the beginning has allowed them to do technology upgrades without any issues," says Alkhayat.
Learn more about the Newseum here.