Navigating the House of Worship AV Market and COVID-19
With doors closed to worshipers, churches are turning to technology like livestreaming to spread their message. That AV opportunity is expected to continue.
Leave a Comment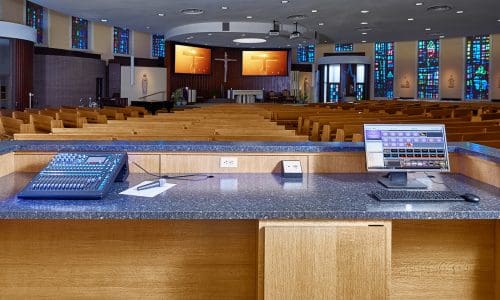 Many businesses and organizations are still shut down, and even once they're allowed to open, may not be the same hub of activity they once were.
That's especially true for indoor gatherings of hundreds of people, like churches.
Houses of worship have long been a mainstay of many smaller AV integrators' client bases, but they'll need the help of integrators to keep bringing sermons to their communities, even if that must be done remotely.
The coronavirus took hold in the U.S. in March and has continued to keep much of the country closed. That means most churches were unable to hold in-person Easter services.
That led to a huge demand in streaming services to help broadcast those services, according to dozens of media reports.
Now, instead of just a few times a year, many churches are looking to make streaming a regular offering, according to AV professionals.
Small bucks, but big connections
Revelation, an AV integrator and live events production company in Massachusetts is adding streaming capabilities to its house of worship offerings, and is picking up some new clients along the way.
The company is in the process of installing PTZ camera streaming packages at a handful of New England churches, and existing house of worship customers want an upgrade over the handheld devices used to stream services via Facebook live.
"We're assisting them and helping get their livestreaming kicked up a notch," says Anthony D'Elia, executive producer at Revelation.
These projects typically include one or multiple PTZ cameras, live streaming software, computers and other hardware, D'Elia says.
Read Next: 16 of the Best Church Speakers to Serve the Houses of Worship Market
Although these projects aren't especially lucrative, they are providing some relief for the company, which also relies on live events to make ends meet.
While those churches remain empty, it gives integrators the opportunity to offer larger projects and possibly refresh the building's AV systems in addition to streaming technology, D'Elia says.
"While it's not very profitable, it builds relationships and allows people to know we're here for them no matter what," D'Elia says. "It's still a need that needs to be filled."
The church streaming opportunity continues
Live streaming in houses of worship was already established before COVID-19 increased that demand, so many churches were already familiar with the technology and the use case: it can help spread a church's message to those not physical there, and keep the community active when physical services can't be held.
Going forward, live streaming can help connect sermons to worshipers still weary of crowded, indoor settings.
"A lot of churches that were thinking about doing it before are now definitely looking at this maybe being more of the normal in the future," says Scott Wright, president and CEO of Lifeline Audio Video Technologies in Wisconsin.
Now, more churches are finally seeing the benefits of streaming with professional audio visual equipment that can deliver the audio and video quality needed, Wright says.
Going forward, integrators can expect churches to budget for live streaming equipment and services.
"A one-on-one Facetime with somebody in your house is a lot different than opening it up in a building that seats 500 people and dealing with acoustics, music, and the audio and video clarity that you need," Wright says.