CI Exclusive: Going In-Depth on ISE 2023 in Barcelona
ISE 2023 will offer a place for integrators to be inspired, to learn and to develop skills, all while experiencing exciting new technologies.
Leave a Comment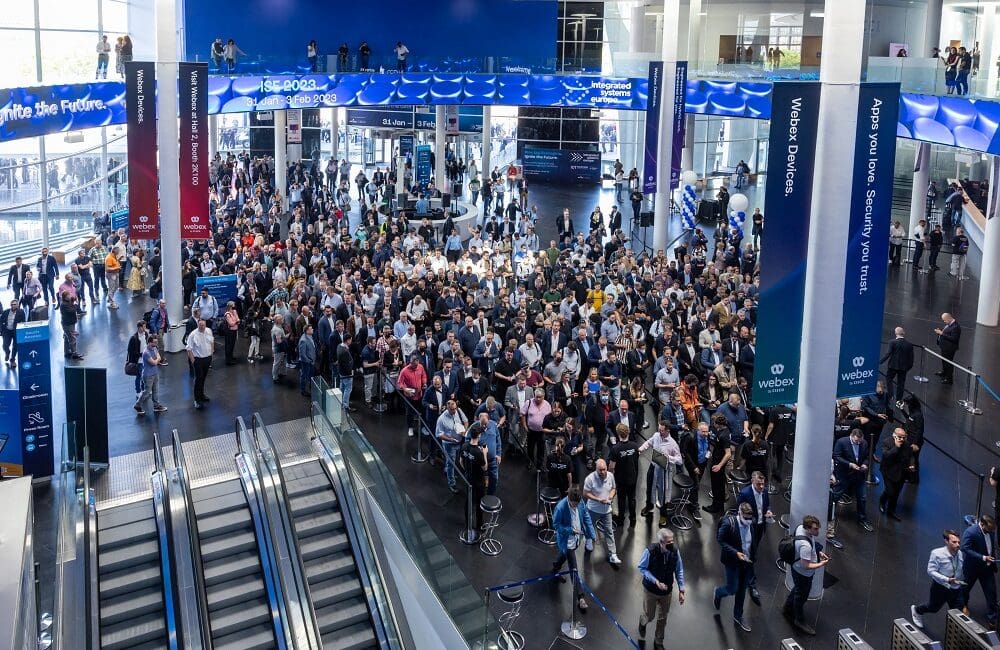 ISE 2023 is set to welcome 900-plus exhibitors, including about 120 first-time exhibitors, from January 31 to February 3, 2023, in Barcelona. All together, their stands and exhibits will occupy almost half a million square feet of floorspace at the Fira Barcelona Gran Via.
"The numbers are looking good so far, and general feedback is that everyone is looking forward to an even bigger and brighter ISE edition," Mike Blackman, managing director of Integrated Systems Events, says. "We're working hard to ensure that ISE 2023 is an unforgettable show. We can't wait to see everyone back out in Barcelona in January."

And, indeed, to Blackman's point, the numbers are already looking auspicious. ISE 2023 is expected to have 30% more exhibitor space than last year. With an exhibition of this size, it's possible that #avtweeps might get lost among the hundreds and hundreds of exhibits.
AVIXA's CEO, David Labuskes, CTS, CAE, RCDD, highly recommends everyone plan out their visit thoroughly. "It's like going to Barcelona as a tourist without a map," he relates. "If you go to ISE, as an integrator, without a plan, there's just so much to see [that] it's really going to be inefficient if you don't plan out your experience. The technology zones help you do that. If you want to explore and do a deep dive into audio, you can head toward the audio technologies zone." ISE is a joint venture of AVIXA and CEDIA.
Exhibitors
Alongside longstanding flagship exhibitors, including Absen, Barco, Christie, Crestron, Google, LG, Logitech, Samsung, Shure, Sony and many more, ISE 2023 will host several new brands making their debut.
Those making their debuts in Barcelona will bring innovative products and solutions from across the commercial AV and systems integration landscape— everything from smart-home automation, to communication and collaboration tools, to transparent displays, e-paper signage and audio innovations.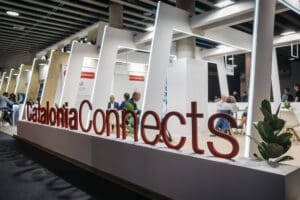 Many first-time exhibitors can be found in the Discovery Zone, situated in Congress Square between Halls 4 and 6 and Halls 5 and 7. Blackman advises integrators attending ISE 2023 to be sure to visit the thriving Congress Square area, right at the heart of the Fira. The almost 24,000-square-foot Congress Square area can be found in the central aisle between Halls 4 and 6 and Halls 5 and 7. It will be packed with innovations, networking opportunities and industry organizations, bringing a range of diverse partners all together in one place. It is home to the Catalonian and Barcelona City Council Pavilions, Discovery Zone, International Media Showcase, and the Influencer and Impact Lounges and networking space.
Integrators can also look out for virtual studio software developer Aximmetry; AVoIP, HDBaseT and HDMI distribution device manufacturer Netvio; electronic accessories manufacturer Vanco; and Flylights LED Displays, which offers transparent LED displays, among many other innovators.
Technology Zones
In addition to 900-plus exhibitors, ISE 2023, will have seven technology zones. The Technology Zones are as follows:
Audio (Hall 7) and Audio Demo Suites
Content Creation and Content Production (Hall 6)
Digital Signage and DooH (Hall 6)
Lighting and Staging (Hall 7)
Multi-Technology (Halls 3 and 5)
Residential and Smart Building (Hall 2)
Unified Communications and Education Technology (Hall 2)
"If you're a commercial integrator that's focused predominantly on serving the higher-ed marketplace, then driving yourself into the education technology pavilion or zone area is giving you an opportunity to be really efficient in your search and discovery," adds Labuskes.
Newly added for the ISE 2023 show is the Content Creation and Content Production Technology Zone. As Labuskes explains, "It used to be that you could be involved in media production or content production without really knowing AV, and you could be involved in AV, without really understanding content distribution, media production, etc. You still can do that, but, at the intersection of those two areas, there's a massive opportunity." He continues, "It's a burgeoning area with true growth potential. That's the place you want to be from a commercial perspective is developing the expertise in advance of others at the beginning of the growth cycle of a market."
Extensive Conference Program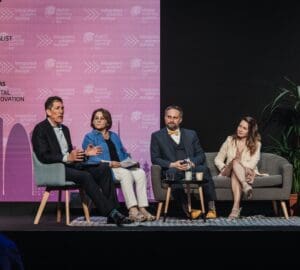 Business leaders, innovators and technology pioneers will be tackling some of the most thought-provoking issues, while also exploring market trends and inspirational ideas, from across the AV and integrated systems sectors.
New for the ISE 2023 show is an extensive line-up of events that will see CEDIA (which owns ISE as a joint venture with AVIXA) produce a Smart Home Technology conference, delivering more than 65 hours of content. Meanwhile, AVIXA will be programming the other conferences and the inaugural, free-to-attend Tech Talks to bring deep industry insight backed by global organizations that track trends daily.
The full range of conferences, which will delve into the future of AV in many different sectors, is as follows:
Smart Building Conference
Smart Home Technology Conference
Digital Signage Summit
Control Rooms Summit
Content Production & Distribution Summit
Education Technology Summit
Smart Workplace Summit
Live Events Summit
The extensive conferences will take place in a new home — namely, the conference rooms on the upper level of the Fira Barcelona Gran Via for an even better attendee experience.
The aforementioned Tech Talk series will run throughout all four days of the shows in room CC4.1. The sessions are designed to give visitors the opportunity to learn about technology innovations and business developments, with sessions in both English and Spanish.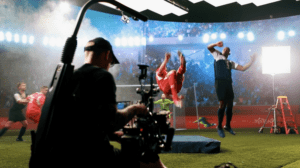 The Content Production and Distribution Summit takes place on Tuesday, January 31, in CC5.3. Content production and distribution technologies are growing in relevance for the commercial AV market, with end users and vendors increasingly seeking to create and disseminate high-quality video content for commercial and informational use. The summit will explore the strategies and technologies behind the creation, management and distribution of video content, while also explaining how the power of a story can be unleashed to the world through the use of easy-to-access technology.
The summit will be chaired by Ciarán Doran, a consultant and senior executive with extensive experience of the worlds of broadcast, content production and AV technology.
Content-Creation Focus
Content creation is the focus of an ISE 2023 keynote. On Tuesday, January 31, BK Johannessen, Unreal Engine business director for broadcast and live events at Epic Games, will give an address, entitled "All Paths Lead to Real Time." In it, he will discuss how content creators are taking innovations from the games industry and applying them to their projects — everything from cutting-edge virtual production studios to real-time graphics for media and entertainment, live events, architecture and more.
Keynote Speakers
In addition to Johannessen, Fran Chuan, CEO and co-creator of InnoQuotient, the culture innovation assessment platform, will be the second keynote speaker.
Chuan's keynote, entitled "How innovative is the AV industry?", will present InnoQuotient survey results collated from registered visitors and exhibitors in the lead up to the show. The survey endeavors to find out more about the innovative culture of organizations by measuring the maturity of development of their innovation journey. The assessment, therefore, pinpoints strengths and identifies gaps. The keynote will also provide guidance in building and improving an organization's culture of innovation.
ISE's Blackman says, "With innovation playing a fundamental part of business growth and success, we're delighted to welcome Fran's expertise, offering invaluable advice and guidance to companies joining us at ISE." He adds, "This one-of-a-kind online questionnaire tool will provide the opportunity to diagnose the climate of 'Culture of Innovation,' focusing on key areas within AV in a simple and efficient manner. This is another keynote session you won't want to miss."
Developed in 2015, InnoQuotient is based upon on the six fundamental building blocks that make up innovative cultures and underpin the strategy of organizations. These include resources, processes, results, values, behaviors and climate.
"We are very excited about this initiative — both capturing data from attendees and sharing the conclusions with participants," Chuan says. "I'm looking forward to sharing the findings on the differences between innovation and innovation culture, as well as presenting the data InnoQuotient has collated from the AV sector. I'll be sharing my insights, along with some tips and tricks to help accelerate the sector towards a culture of innovation."
Be Inspired
"We believe you can't beat the value of in-person communication like you find on the show floor," Blackman opines. "ISE is an important place that combines many sectors — from live events, to retail, corporate, education, hospitality, residential and more — where globally important brands launch products and where people come to see, hear and experience the solutions that are transforming how we live. It is a chance to meet people, do business and make connections that deliver real business benefits. And, of course, it is a place to come to be inspired, to learn and develop skills."
Integrators and other interested parties can visit ISEurope.org to register for ISE 2023, using the code ISE2023free for free registration. To book your hotel accommodations, visit isehotels.bnetwork.com.