Cisco Unveils New AI-Powered Webex Meeting Summary Tools
Cisco is integrating new generative AI technologies into Webex, enabling users to catch up on missed customer calls and meetings.
Leave a Comment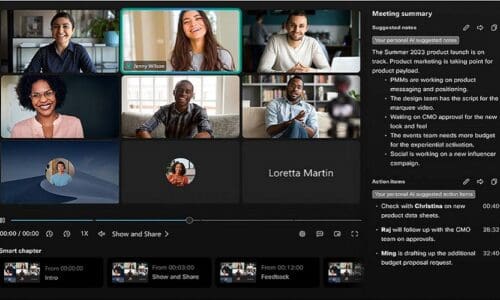 Cisco is bringing new generative AI technologies to its collaboration portfolio, announcing new summarization capabilities to the Webex Suite designed to help users get up to speed and catch up on meetings they missed.
Announced at Cisco Live, the features – powered by large language models – come as Cisco is also bringing generative AI to its security tools to help augment security analysts and simplify policy management and threat response.
The news also comes as competitor platforms such as Zoom and Microsoft Teams are announcing similar generative AI capabilities in their respective collaboration platforms also designed to help users become more efficient during and after meetings.
Cisco's new Webex AI features, which will be available by the end of the year, include  "Catch Me Up", which is designed to allow users to catch up on missed interactions such as meetings, calling, chats and more.
Meanwhile, intelligent meeting summaries will give users outlines of meetings with key points and action items. Users can opt in to automatically generate the most important parts of a Webex meeting, extract the key points and capture action items with owners.
Cisco's vision is for intelligent meeting summaries to be a time-saver for attendees and employees with busy schedules who may be unable to make every important meeting. This also eliminates the need to listen to a recording or read through a transcript.
Similarly, Cisco Summaries in Vidcast, the company's video messaging solution, that will produce highlights and chapters so viewers can navigate to the most important parts of the video quickly.
For contact center agents, Cisco is also bringing AI-powered conversation summaries to Webex Contact Center to give agents an automated way to consume long-form text from digital chats with customers as well as facilitating post-call wrap-up and resolution with customers, the company says.
Cisco gives the example of a customer call being escalated to a human agent where the customer expects the agent to be informed and not have to repeat what they've already told virtual agents and automated systems. Summaries give agents a clear summarization of issues and resolutions already explored via self-service and a summary of the call to both the agent and customer once it ends, the firm says.
In a statement, Jeetu Patel, the company's executive vice president and general manager of security and collaboration, said generative AI will quickly become part of any business' tools.
"At Cisco, we've been using AI for years," Patel says. "Now we're unveiling how we're incorporating generative AI into our existing products, helping customers drive real value to unlock the most secure, unrivaled work experiences possible."
Another version of this article originally appeared on our sister-site My TechDecisions on June 7, 2023. It has since been updated for Commercial Integrator's audience.
If you enjoyed this article and want to receive more valuable industry content like this, click here to sign up for our digital newsletters!