Competitors Work Together to Craft Unique Solution at Canon's Toronto HQ
Applied Electronics, Westbury National and AV consultant Smith + Andersen show cooperation is possible among fierce competitors at Canon HQ.
Leave a Comment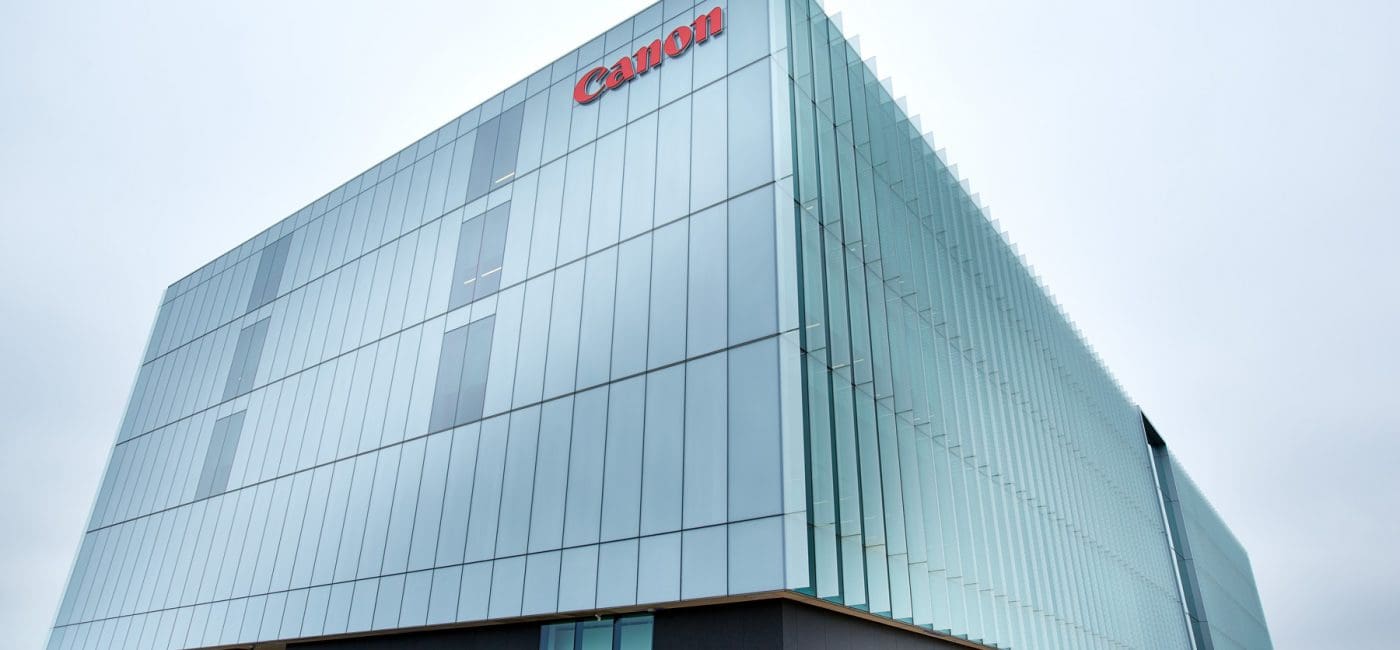 Photos & Slideshow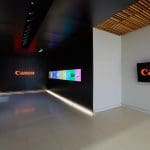 ---
It's probably unfair to say the folks from Westbury National and Applied Electronics are actually enemies, but they recently followed the adage "keep your friends close and your enemies closer" when they worked together on a massive AV installation at Canon's 250,000 square foot Toronto headquarters.
With AV consultant Smith + Andersen working largely as the technology traffic cop at the 18-acre site, Westbury National and Applied Electronics put their differences aside and teamed up for the good of Canon—with impressive results in the executive offices, digital imaging labs and digital showrooms, which features camera lines, printing products and image capturing.
How Canon Brought Them Together
The first conversation Dustin Su, senior associate at Smith + Andersen, had with Canon focused largely on the content for the showroom, he says.
"They had basic ideas of what they wanted, but they needed a technology partner to help them," says Su.
Applied Electronics won the project while Westbury became part of the installation when marketing officials hired them to develop the digital content once Westbury responded to what Puthenkulam called "a vague RFP" related to a video wall.
"We read between the lines a little bit [with regard to the RFP] and put together a team of three people, including a content creator, someone from Scala and someone from Westbury," he says.
"The client had some concern about competitors working together so we had to reassure them it wasn't an issue at all."
One of the highlights of the installation is a digital timeline wall, which is made up of five interactive touch panels that tell the story of Canon.
Westbury National installed a proximity camera system for the wall that triggers content based on where visitors are standing.
That involved Westbury mocking up a solution in Applied Electronics' staging area so all three parties could see how it worked before installing it, says George Puthenkulam, account manager for systems integration at Westbury.
"We had to make sure all the geometry was right," he says. "Without that cooperation, I don't think that would have happened at all."
Earning Each Other's Trust
With two of Canada's largest integrators working on a single project with a scope of work that overlapped in some areas, the three companies built partnerships with Canon and "the client saw us working together," says Matt Taylor, project manager at Applied Electronics Limited.
"It's about management of expectations," he says when asked how the three companies were able to keep from becoming territorial on such a major installation.
"We all had the same end goal so there were no concerns and no hesitations."
"The collaboration of so many different minds and skills is what made this project such a success. This wasn't necessarily one of the biggest projects we've done but this was definitely a project with some very unique elements," says Taylor.
Su agrees, saying, "We all had the same goal of making the project successful."
The Spirit of Teamwork
Smith + Andersen has worked on many projects of all sizes with both Applied Electronics and Westbury in the past, so Su and his team had confidence the companies could work together well.
"The consultant's goal is to make sure all the expectations are clear. If the users aren't happy, the project won't be successful," says Su.
Taylor said it took some understanding for Applied Electronics to understand Westbury's scope on the project and how that would fit into the overall design of the installation.
"Our two teams became one, which was very cool to see," he says.
The teams were sharing drawings, programming ideas and user experience ideas, particularly on the Central Hub wall installation, says Puthenkulam, all in the name of creating "one single user experience."
"There was no redundancy and no scope gaps," he says.
"Working like this really brought out the best in us in terms of our efficiency, innovation and price and profitability. I hope there are more projects like this we can work on together."
If you enjoyed this article and want to receive more valuable industry content like this, click here to sign up for our digital newsletters!