Dan Dugan Sound Design Debuting Model E-2A Automixer at ISE 2018
Dan Dugan Sound Design automatic microphone mixing controller incorporates 28 channels of processing and supports all Dugan algorithms.
Leave a Comment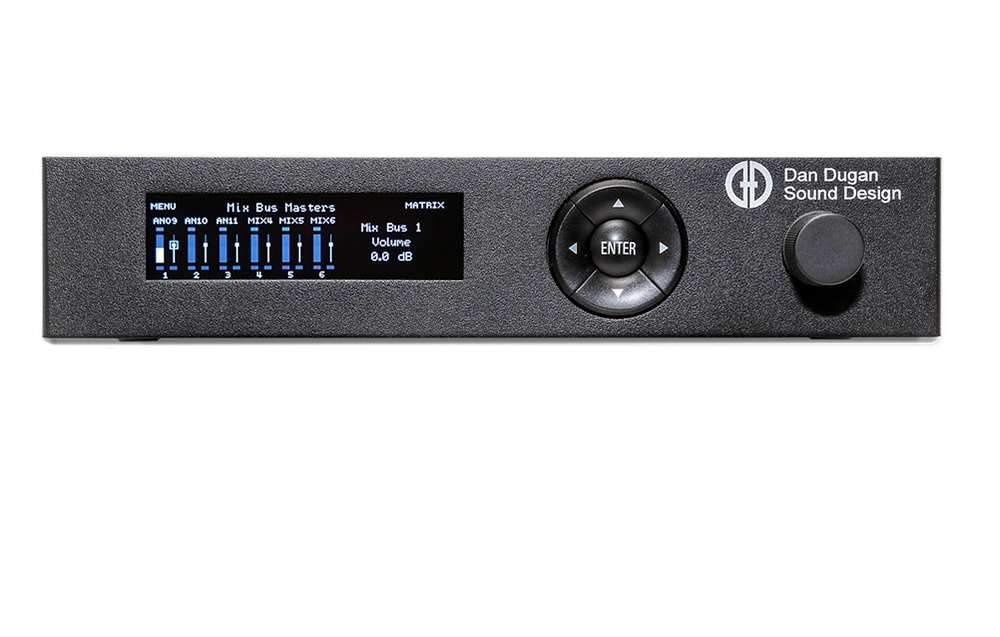 Dan Dugan Sound Design Inc. recently announced the Model E-2A, an automatic microphone mixing controller with analog and ADAT I/O. The Model E-2A will be prominently feature in Dugan's ISE 2018 stand 7-P180.
The E-2A incorporates 28 channels of processing (12 balanced analog plus 16 ADAT) and supports all Dugan algorithms: Speech System, Music System and Gain Limiting. Channels may be grouped into three independent automixers, according to the Dugan press release.
A six bus pre/post matrix mixer is also provided with 56×6 capabilities. Four switched Ethernet ports are available for control. A bright OLED front panel enables setup directly from the device. The Model E-2A may be controlled remotely via the Dugan Control Panel for Java (included) or the Dugan Control Panel for iPad (sold separately); tactile remote control is available via the Dugan Model K Control Surface, also sold separately.
This model replaces the Dugan Model E-2, which has been Dugan's top-of-the-line analog mixer for the past four years. All Dugan devices eliminate cueing errors, reduce feedback and ambient noise pickup, reduce comb filtering from adjacent mics, allow for smooth transitions between talkers and provide consistent system gain no matter how many mics are open.
Systems with a large number of live microphones can be established via linking up to eight Dugan units; the Model E-2A may be linked with additional E-2A units as well as all other digital Dugans (legacy models D-2, D-3, E and E1 and current models E-1A, E-3A, Model M, Model N, Dugan-VN16 and Dugan-MY16).
Dugan automixers played an important role in the AV integration at the B. Amsterdam office building in 2016, which was also equipped with Yamaha audio solutions in meeting rooms and small office spaces. B.Amsterdam was born, with its motto "Relax Meet Work Create Think" displayed prominently over the main entrance.
The ground floor meeting area allows up to 1,000 seats to be arranged in different configurations. The requirements of almost every event are unique, so it is designed to be flexible.