MSE Audio, Advance Sound Company Bring Intelligible Sound To NYC's Moynihan Train Hall
Advance Sound Company and MSE Audio helped create a 164-zone Dante audio system at New York City's new Moynihan Train Hall.
Leave a Comment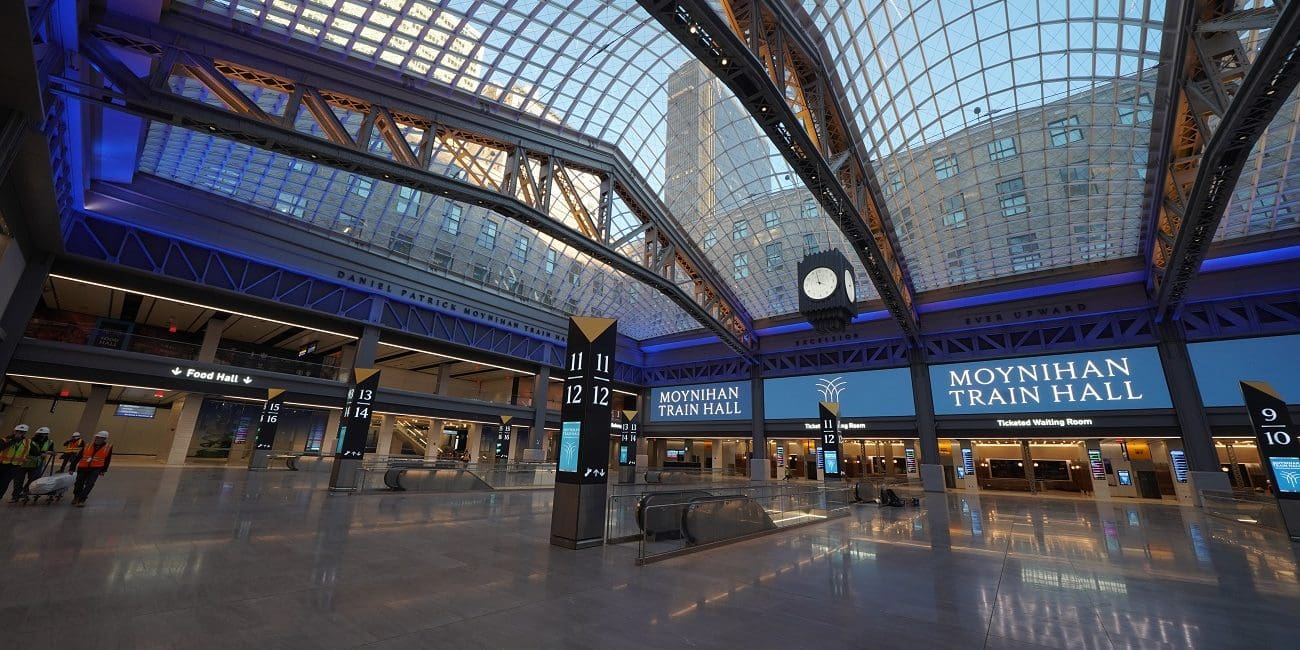 When the historic James A. Farley Building in midtown Manhattan was transformed into the Moynihan Train Hall, the New York State government relied on pro audio solutions and services from audio solutions manufacturer MSE Audio and audiovisual integrator Advance Sound Company for all of the project's audio needs.
The building opened in 1914 as the city's main United States Postal Service building, and was sold to the New York state government in 2002 to make way for the train hall, which is an expansion of the city's Pennsylvania Station. The $1.6 billion renovation was designed to alleviate congestion in Penn Station and provide access to 17 of the station's 21 tracks.
As such, the historic building required top-tier audio solutions to continue serving as a major transportation hub for one of the largest cities in the world.
Advance Sound Company was brought on in 2018, with requirements including paging and distribution for both Amtrak and MTA Long Island Rail Road systems.
The company utilized a host of audio products to create a 164-zone Dante audio system for the project, including a Symetrix Prism 8×8 processor, an Atlas IED IP116CS, 12 AtlasIED T112C with 82 T1202-120V Amplifier Cards, two AtlasIED IED550CS-G, two AtlasIED IED1522AIOLR, 480  SoundTube CM82-EZ-II and CM62-EZS-II speakers, 38 JBL CBT50-LA speakers, 38 Polar Focus custom pan tilt brackets, 11 Fortinet FS-108E-FPoE Switches and 10 Lowell LGR-4427 gangable racks.
According to Thomas DePace, chief technology officer and chief operating officer and senior engineering manager for Advance Sound Company, the SoundTube ceiling-mount loudspeakers were perfect for the job. However, the local transit authority originally considered another brand, but DePace was able to persuade them to choose SoundTube products for better quality and intelligibility.
Advance Sound Company designed a custom work cabinet with carpeted shelf and foam dividers to deliver zones of speakers at a time, according to DePace. That helped eliminate on-site waste and allowed technical staff to tap and test speakers and safety cable before delivery to the site.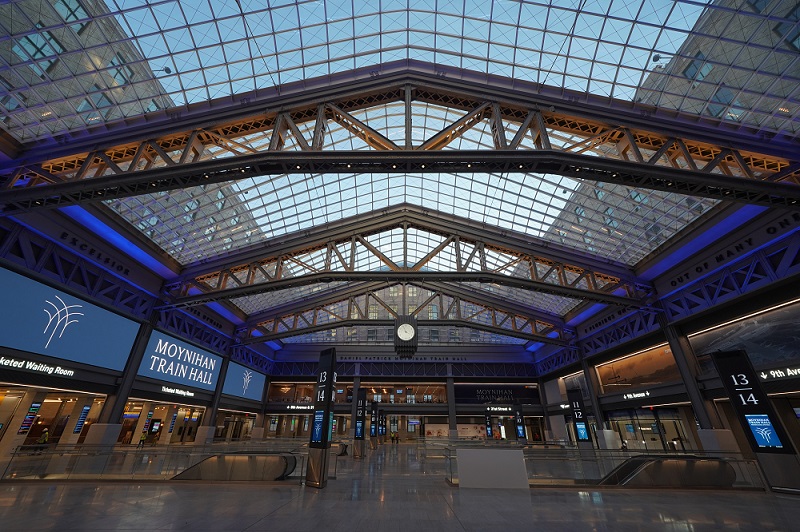 "With the intense security protocols in place to bring product into the building, we had to make it as easy as possible to get through the intake inspection to prevent job delays", says DePace.
"In addition to the high-level security requirements, we also had COVID-19 procedures to follow. It was a very condensed time frame for such a large installation under normal conditions."
The elaborate architecture in the building presented some challenges when it came to mounting, DePace says.
"Speakers installed in the tech panels were black, while speakers in gypsum ceilings were white, and speakers in custom wood ceilings were custom painted beige," continued DePace.
"Speakers in the main train hall had to be hidden behind HVAC louvered diffusers. They also had to be specifically aimed and panned accordingly. As such we enlisted the help of Polar Focus to design a custom beam mount bracket that could be adjusted to appropriate depths and angles."
Coverage and frequency response were the most important specs that allowed for an even and intelligible Dante audio system, DePace says.
"MSE Audio's color-coded backboxes and tiles bridges assisted our installation team to match the previously installed bridges to the appropriate speaker and diameter," DePace says.
Due to COVID-19 restrictions, the Moynihan Trail Hall is only operating at 25% capacity, which required the company to lower the overall building audio volume.
"It's amazing to hear how clear and precise the sound is regardless of the volume," DePace says. "With the high ceiling heights, we're even able to get the reverberation level to under two seconds. That says a lot about the product quality."