DiGiCo Quantum Consoles Shine at The Grammys
From front of house to production mixing to monitors, DiGiCo's Quantum was the core platform for making the 65th Grammy Awards a sonic success.
Leave a Comment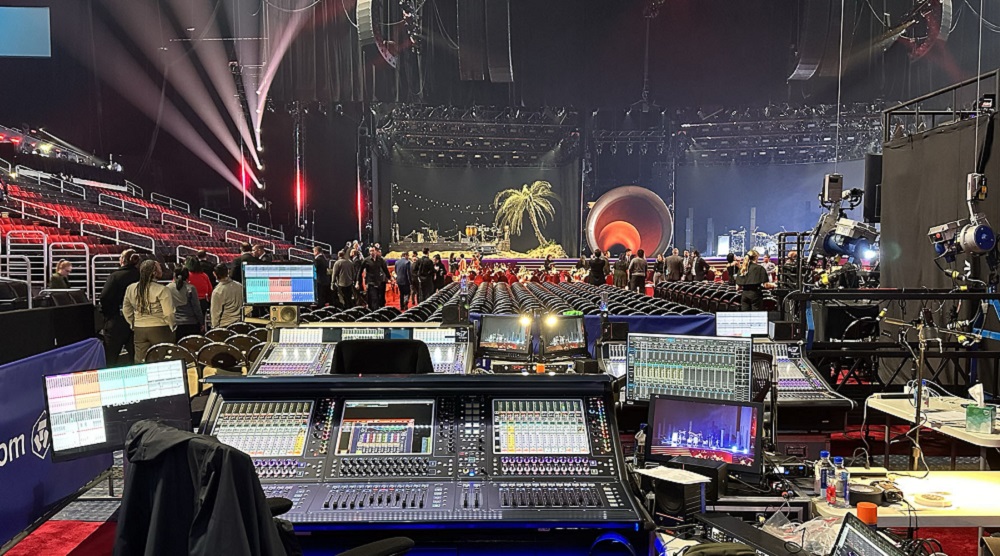 The 65th Grammy Awards, which took place on February 5, 2023, at the Crypto.com Center in downtown Los Angeles, emerged as a busy affair. It might not have had as many individual song performances as past Grammy Awards events. However, it more than made up for that with more complex productions. Most notably, it featured 35 rappers and four DJs, who turned the stage into a 15-minute-long history of rap. These stars included Missy Elliott, Big Boi, Run-D.M.C., Queen Latifah, Method Man, Public Enemy, Busta Rhymes, DJ Jazzy Jeff, and the Grandmasters Flash and Melle Mel. All were backed by a combination of tracks and the Roots playing live. Getting and keeping all that audio together fell to a cohort of veteran mixers of the show and an all-star cast of DiGiCo Quantum mix consoles. Here, ATK Audiotek/Clair Global, the event's sound-reinforcement vendor, provided the state-of-the-art sound.
Setting up the Consoles
The team located two Quantum7 consoles at front of house, manned by Ron Reaves and Michael Parker. They also alternated mixing live performances by the evening's artists. Some of the performers included Harry Styles, Bonnie Raitt, Lizzo and Adele. All also became category winners that night. A Quantum338 desk also shared the FOH platform with them. Here, production mixer Jeff Peterson combined the two alternating FOH feeds with production-audio elements. These included introductions, announcements and acceptance speeches from the podium.
Two more Quantum7 in monitor world, manned by Tom Pesa and Andres Arango, reflected a similar split of the bifurcated stage. Here, one performance would take place while the next was setting up behind the "close-down" screens that kept the focus on the show. The team connected all DiGiCo Quantum consoles on an Optocore network loop. Each comes with a complement of SD-Racks and SD-MiNi Racks. Thus, everywhere you looked, everywhere you listened, you saw and heard DiGiCo Quantum.
Creating Powerful Sound
"The Quantum7 is simply the best tool for that job," Ron Reaves, who was mixing his 20th Grammy Awards show, says. "It presents a very good, very powerful platform that lets you do anything you want and place anything you want anywhere on it," he says. "My template is 168 open faders so I have to be ready for anything; and I am with that console, because it has the horsepower I need for that kind of wide-ranging array of performances."
With over two dozen individual artists performing at the show, he spent time on every song during rehearsals and soundchecks consulting with their FOH mixers. Moreover, DiGiCo Quantum's SD-Range heritage greatly facilitated that. The hectic pace of Grammy Awards rehearsal days — sprawled across three days before the main event — made that familiarity critical. "All the guest engineers know it and are familiar with it," Reaves says. "It gives us a common language. And that makes keeping a hugely complex production like the Grammy Awards moving and on schedule. The snapshot capability is exceptional."
A Streamlined Workflow
Similarly, the Quantum7's innate power helped keep the workflow steady. For instance, Reaves notes the front of house and monitors share the same preamps. However, the latter tends to drive them hotter. "My gain structure and way of working will put less pressure on the preamps, but if they start to almost clip upstairs, I've still got a ton of headroom on the same preamps," he explains. "Between the power and the flexibility, it's the only console we could do this on."
Reaves' counterpart on the FOH platform, Michael Parker, agrees with him. Parker also calls the Quantum7 "the Rolls Royce of consoles." During the Grammy Awards, he applied the Spice Rack's Chilli 6 multiband compressor on many of the vocals he mixed, including during Stevie Wonder's performance.
"It's great for softening up the vocals in a certain range, between about 2k and 5k," he explains. The Quantum7's ultra-flexible worksurface became a boon during the show's acclaimed 50th anniversary of hip-hop segment. Here, Parker and Reaves changed their workflow. Instead of mixing performances on one side or the other of the split stage; Parker handled all of the vocals for the entire stage. Meanwhile, Reaves mixed the music tracks, live band and three DJs.
"On the network, we all had access to all of the inputs, and the Quantum7 lets us easily configure each console for each production," says Parker. He also recently used a Quantum338 on Fox's "The Masked Singer." "And the Stadius 32-bit mic pres were also great to have on that show. Everything just sounded so good."
Improved Flexibility
Over in monitor world, Pesa covered IEMs for stage right and Arango for stage left. He did both on DiGiCo Quantum7 consoles, the third Grammy Awards show for the desks. Pesa, on his 23rd Grammy Awards turn, says the basic currency of monitors for the Grammy Awards is a foundation-channel template built on the Quantum7's worksurface. That then gets copied and customized for each artist, for quick recall as the show progresses. However, both mixers have to be alert for last-minute changes.
Pesa recalls the 2014 edition of the show where Paul McCartney's performance moved from one side of the stage to the other, 30 minutes before soundcheck. "We had to quickly create a new template for that," he says. "You want to have every parameter at your fingertips at all times because you never know when you're going to have to make a quick adjustment. The biggest challenge is keeping as many options on the table as possible; even as you're trying to pare each template down for each artist to keep it manageable. The Quantum7 is a big help for that."
Andres Arango found the Quantum7's flexibility to be a lifesaver on monitors for the 50th anniversary of hip-hop segment. "Tom and I were going to town on that. And I was amazed at how fast and accurately we were able to work on what was a pretty hectic production number," he says.
Arango continues, "Questlove was calling out each performer just before they came onstage and giving a quick countdown over his talkback mic. 'Ice-T— one, two, three, four, go! Busta Rhymes — one, two, three, four, go!' We were just racing. And the Quantum7 kept up. I don't think there is another console that could have handled that fast-paced show as well as it did."
If you enjoyed this article and want to receive more valuable industry content like this, click here to sign up for our digital newsletters!