Drive-Thru Restaurant Technology Could Provide Needed Revenue During COVID-19 Lockdown
Social distancing guidelines & gov. restrictions are closing dining rooms, leading to a surge in drive-thru use and an opportunity for technology providers.
Leave a Comment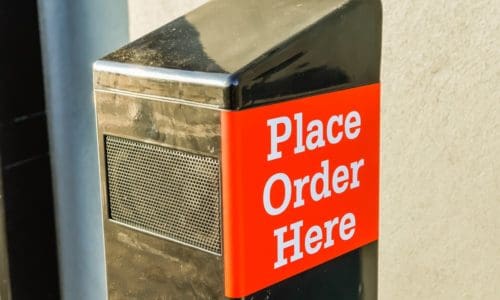 We've done our best to identify some markets that could actually benefit your business as COVID-19 has its way with the economy.
Distance learning, videoconferencing, esports, livestreaming, healthcare and other markets could keep your company afloat and give you a shot in the arm as you navigate these uncertain times.
Now, another has emerged as social distancing guidelines are ravaging the U.S. restaurant industry: drive-thrus.
Many restaurants across the country are closed to dine-in patrons, meaning customers have to get their food to go and can't physically eat inside restaurants. This limits the amount of people that can be inside these buildings to prevent the spread of the disease.
According to a recent CNBC article about several notable big-name chains urging customers to make use of their drive-thru technologies, restaurants with a drive-thru are a step ahead of the game.
Chick-fil-A, Taco Bell and  Starbucks are among the restaurants encouraging customers to grab their food and go. All three are making heavy use of their drive-thrus to distribute food, while still limiting crowds of customers from gathering.

It's a move that might not faze consumers all that much. Even before the coronavirus ushered in an age of social distancing, drive-thru service was hugely popular in the U.S.

Experts estimate that about 60% to 70% of a restaurant's sales come from the drive-thru, if they have one. That means nailing the customer experience is essential.

Drive-thrus have been undergoing transformations as restaurants turn to technological solutions to boost sales. Companies are pouring money into innovations to get diners to spend more.

Dunkin' Donuts unveiled its first dual-lane drive-thru system in 2018, and Chipotle rolled out its version of the drive-thru called Chipotlanes in early 2019.

"We're doing a number of things to make sure that not only is it fast, not only is the food delicious, but also to make sure we get your order right," said Jack Hartung, CFO of Chipotle.

And it's working. In 2019, 39% of consumers reported that they used the drive-thru more often than they did the year prior.

Despite the surge in popularity, just 20% of American restaurant operators currently have drive-thrus. In a segment with razor-thin margins like fast food, providing solid drive-thru service can be make or break.
Now, some restaurants that probably don't even fall into the category of a fast food or quick service restaurant are considering drive-thrus.
AV integrators have the audio system and visual display technology expertise to pull these drive-thru systems off. It might be time to start capitalizing on that knowledge to help your company persevere a little bit longer.