Electrosonic: Social Lab – Museum of Tolerance
The Social Lab – Museum of Tolerance features upgraded audiovisual technologies from Electrosonic that enthrall visitors.
Leave a Comment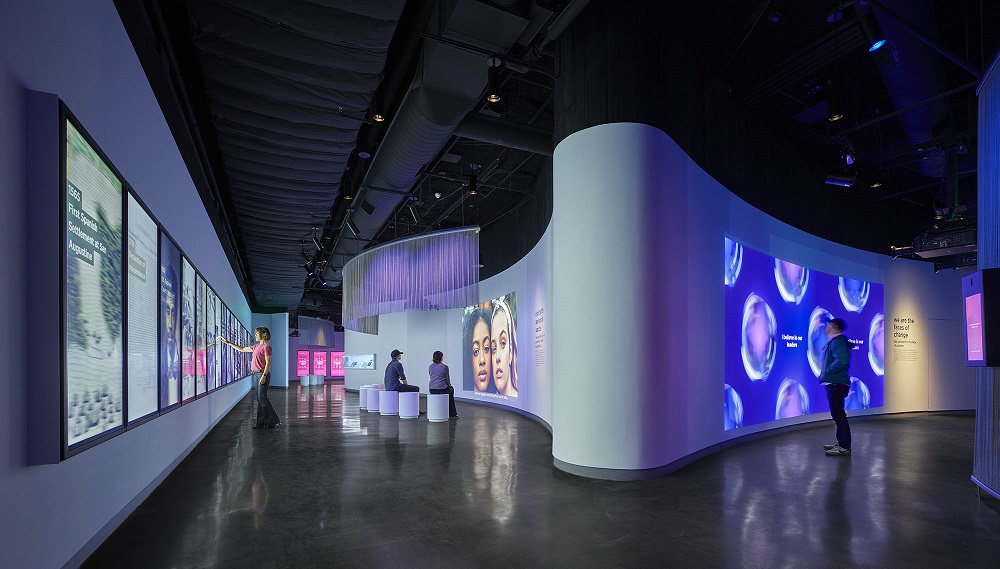 The Social Lab is a 10,000 square feet experiential space at the Museum of Tolerance in Los Angeles, Calif. The Social Lab aims to help visitors better understand and overcome the inherent prejudices and social issues facing contemporary society. It builds on the Museum's mission to inspire people to take action against racism, bigotry and anti-Semitism. 
Technology plays a key role in presenting the Social Lab's message in different interactive, experiential spaces designed to engage a new generation of digital-savvy visitors. Videos, ultra-high-resolution touchscreens with 100-point capability, a unique media cube using dynamic projection on four glass surfaces, and powerful soundscapes throughout the exhibits immerse visitors on their journey through 15 distinct spaces. 
Together, the spaces promote tolerance and inclusion by taking visitors on a journey of self-discovery from individual biases to national conflicts and global crises, while highlighting the interconnectivity between the issues. 
The interactive elements challenge visitors' assumptions, while other spaces allow them to reflect on their own views and collaborate with others to find common ground on controversial issues. The extensive use of technology gives new energy to the Social Lab's purpose while the digital-first strategy eliminates the restrictions of traditional static exhibits and allows the Museum to evolve and adapt content over time. 
Electrosonic has worked with the Museum for over 25 years and was involved in this project from initial concept through detailed technology design and specification to build and system integration and help desk support. 
The Social Lab was an existing gallery, which Electrosonic had originally designed and installed in 1996 and upgraded in 2012. This new project is the third upgrade to the Social Lab program. The operators, Simon Wiesenthal Center, wanted to retain and modernize some of the legacy exhibit concepts from the previous Social Lab gallery, and also add new exhibits to the new design. 
The Center approached Electrosonic to be part of the team to design new and modern exhibits to achieve their current education and presentation goals. The goal was to establish complete engagement with visitors, using interactivity to help communicate the educational content, while allowing visitors to listen, learn and leave with a better understanding of their own inherent prejudices and how they can improve their behaviors moving forward. 
As part of the creative design team, Electrosonic worked closely in the early concept phases with the owners, Yazdani Studio and Unified Field to conceive, design and specify audiovisual technologies to deliver the program in unique and special ways. 
Electrosonic's responsibility in the design and development phase was to create technology designs to meet the creative needs of the project by providing blue sky technology concepts and technical direction, detailed audiovisual design and equipment specification. 
The company created an innovative technology solution that features 100-point touch table surfaces throughout the experience as well as special projection presentations, audio experiences and a virtualized control, system monitoring and user management platform as part of the overall system design and approach. 
Museum Highlights
The new Social Lab now has fifteen galleries in total and they all feature innovative technology to engage visitors and tell stories in compelling ways. 
Following an initial orientation film, visitors see the 'Point of View' experience, a massive four-sided glass cube. Within the cube, a rear projection solution presents a series of parallel scenarios that reflect different perspectives on challenging topics. 
They then move into 'The Forum', a large circular exhibit with five wings where visitors debate critical issues facing the world today. Each wing incorporates one large 100-point touchscreen for group interactivity, an ultra-high-resolution video display to guide the presentation and audio communicating alternative views. 
Next, they visit the 'History Wall' where 20 large touchscreens allow visitors to examine issues of tolerance and diversity from different periods of history. This exhibit has evolved over the Social Lab's existence into a modern digital touch wall experience allowing visitors to dive deep into different elements along the history trail. 
Moving to the 'Global Crisis' exhibit, visitors interact with three identical tables with 12 individual touchscreens around the perimeter of each table affecting and revealing the media that is rear projected onto a center glass screen in each table. This dynamic experience shows how world leaders deal with a crisis and how decisions effect the trajectory of change. 
Throughout the Social Lab, transparent veils made of metal coils perform a dual role as dividers for the different exhibits and backdrops for video projection. Interactivity is key with specially designed 100-point touch tables throughout the exhibition. 
Working closely with Smart Monkeys, Electrosonic implemented the ISAAC platform to create a virtualized platform to host the control, monitoring and user management system. It also included a content management system that delivers and manages content to all the audiovisual devices. 
Challenges Ahead
The sheer amount of technology in the Social Lab was challenging. Every exhibit uses advanced technology to engage visitors or tell a story in a unique way. The sleek modern gallery design meant that audiovisual devices could not simply be attached to gallery surfaces. Instead, each device had to be fitted flush into walls, ceilings or furniture. 
Electrosonic installed and integrated a sophisticated audio system, as well as multiple projectors, displays, touch screens and Windows-based PCs. These devices work together to support the immersive and impactful content that has been produced for this venue. 
The large-scale installation required special projection techniques, high levels of complex integration, a sophisticated content management and distribution platform and a virtualized platform that hosts the overall museum control system. 
The interactive devices are controlled by the show control system which consists of Medialon Manager software running within Smart Monkey's ISAAC virtualized platform. The Medialon Manager software is thus responsible for communication to all of the controlled devices within the venue. 
Joining Forces Together
Electrosonic collaborated with Simon Wiesenthal Center, the exhibit designer Yazdani Studios, the media content producers Unified Field, lighting designers HLB Lighting and exhibition fabricators MidState Expositions throughout the installation phase, providing build and system integration, together with project management, training and help desk support. 
The company also worked closely with MidState Expositions where special care was taken to integrate the audiovisual devices into the exhibit walls and furniture helping to create a sleek and modern look and feel throughout the entire museum. Additionally, Electrosonic collaborated with HLB Lighting where its modern lighting design played an important role in the overall atmosphere of the Social Lab. 
Electrosonic's experience in large-scale highly integrated installations helped the project team overcome challenges and deliver the creative vision. 
An Engaging Experience
Interaction, debate and collaboration are at the heart of the exhibition as it uses technology in every exhibit to engage visitors and influence hearts and minds. Visitors' reviews indicate that the use of interactive technology helped 'bring history to life', with many describing the experience as 'like live theater.' 
Delivering the Museum's creative vision required high levels of collaboration between project partners together with Electrosonic's ability to fuse architecture, storytelling and technology. 
As Mehrad Yazdani, design principal of Yazgani Studio, one of the key partners in the project, comments, "The content is heavy, but we've made sure the environment is vibrant, informative and exciting." 
Susan Burden, chief administrative officer and director of project developments, Simon Wiesenthal Center, adds, "Electrosonic never disappoints us when it comes to designing and delivering the best audiovisual experience at the Museum of Tolerance. We are so proud to have them on our team!" 
Equipment List
BSI, EloTouch, TSI, NEC touchscreens
Denon receiver and lighting system
Extron amplifiers
Optima short-throw projectors
Panasonic laser-phosphor projectors, Space Players
QSC audio systems
RealMotion media servers
 
If you enjoyed this article and want to receive more valuable industry content like this, click here to sign up for our digital newsletters!