Schools Want To Help You Find Qualified AV Workers
Educators are great at helping fill the talent gaps in any given industry, but AV integrators have to take the initiative and start the conversation.
Leave a Comment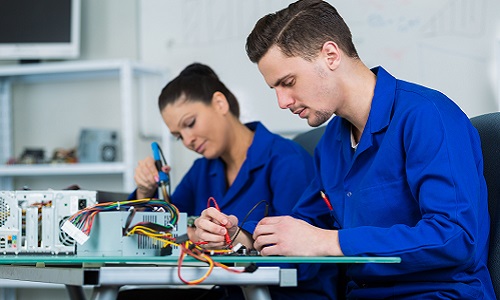 The shortage of qualified, entry-level audiovisual talent was one of the first things I learned about when I began using my journalism skills to help educate the industry.
Virtually every integrator I've spoken to has said hiring is their biggest challenge. Yet, many of them don't make use of resources already available to them.
Many say there is no central talent pool from which to pull job candidates, but AVIXA has a list of more than 20 education partners with AV programs, including public schools, trade schools and higher education institutions.
NSCA has also taken up the challenge through its IGNITE program that raises awareness about the industry and the educational opportunities in AV.
Read Next: How To Form Educational Partnerships And Build The Audio Visual Talent Pipeline
However, some still say they're unaware of these resources, and others say the schools that are offering some AV programming are few and far between and not geographically convenient enough.
In case you've been living under a rock recently, it seems like the entire U.S. education system is pushing STEM (science, technology, engineering, math) education hard after recent international rankings that saw the U.S. slip.
It's your job to initiative the conversation with a potential education partner
Traditional teaching methods are also giving way to a more pragmatic education that better prepares students for the workforce and continuing education.
In other words, educators — especially those in higher education — want to produce the next crop of professionals in any given industry. It's literally their job and purpose, but they have no idea how many open positions you have unless you tell them.
If you're a larger integrator with offices in multiple locations, check out AVIXA and NSCA's education programs and see if any of their education partners are near your offices.
For the vast majority of integrators without offices near those locations, it's up to you. As great as AVIXA and NSCA can be, they can't do all of the work for you. It's not their job to find you qualified candidates.
The burden is now on you to do that leg work, make the calls and pitch your business and the AV industry as a whole to your local trade school.