Global Smart City Spending to Hit $124B in 2020
Global spending on smart city initiatives will total $124 billion this year. That's good for an 18.9% increase over 2019. Should AV integrators take note?
Leave a Comment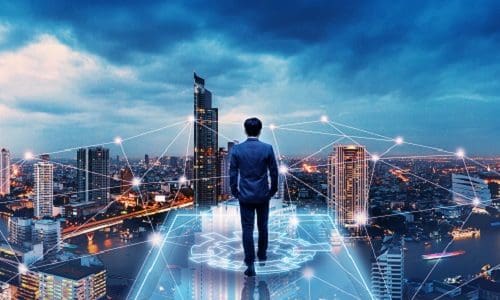 Is the world of professional audiovisual investing in smart city technology? According to new research, they should a least be thinking about it.
Massachusetts-based International Data Corp. (IDC) released its Worldwide Semiannual Smart Cities Spending Guide earlier this month and it found that global spending on smart city initiatives will total $124 billion this year. That's good for an 18.9% increase over 2019.
Smart grids for electricity and gas still attract the largest share of investments, but fixed visual surveillance, advanced public transportation, intelligent traffic management and connected back office round up the investment areas that make up more than half of the opportunity in smart city technology.
Over the next five years, IDC expects vehicle-to-everything connectivity, digital twining and officer wearables to make up the fastest spending growth.
According to Serena Da Rold, program manager in IDC's customer insights and analysis group, the new study finds fewer than 80 cities are investing over $100 million per year in smart city technology.
"At the same time, around 70% of the opportunity lies within cities that are spending $1 million or less per year," Da Rold said in a statement. "There is a great opportunity for providers of solutions who are able to leverage the experience gained from larger projects to offer affordable smart initiatives for small and medium sized cities."
It's relatively unclear how large of an opportunity smart cities will become for AV integrators, but there are some clear opportunities in digital signage, outdoor video walls and sound systems.
Pro AV does find a home in smart buildings, of course, and those projects are the building blocks for smart cities.
Singapore, currently the top investor in smart city solutions, will remain as such throughout the five-year forceast, according to IDC's research. That's followed by another Asian city, Tokyo, with investments driven by the Summer Olympics in July and August.
New York City and London round out the top four, and those four will each see smart city spending of more than $1 billion in 2020, according to IDC.
The U.S., Western Europe, and China will be home to more than 70% of global smart cities spending through five years, while Latin America and Japan will see the fastest growth this year.
If you enjoyed this article and want to receive more valuable industry content like this, click here to sign up for our digital newsletters!