GPO Display Announces Launch of PoE Panoramic LCDs
GPO Display launched its new line of Power Over Ethernet (PoE) Panoramic LCDs for 24/7-rated digital signage in previously underutilized wall spaces.
Leave a Comment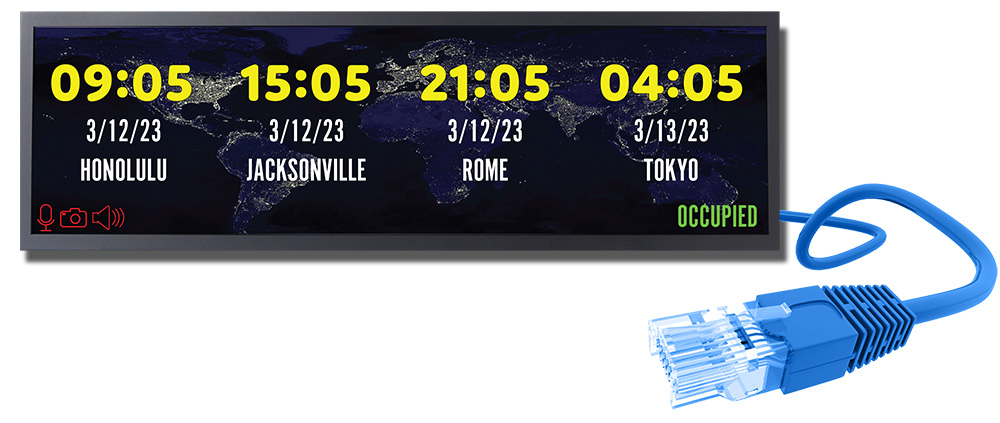 GPO Display, provider of commercial display solutions, has announced the launch of its new line of Power-Over-Ethernet (PoE) Panoramic LCDs.
These innovative displays range from 27 to 50 inches, offering a unique stretched aspect ratio and an alternative approach to power, the company notes. This combination thus enables users to adopt digital signage where traditional 16:9 displays cannot fit and where AC power outlets are rare.
According to GPO Display, this opens new possibilities for room status, directional signage, world clock applications and more in previously underutilized wall spaces. PoE Panoramic LCDs include slim-profile mounting brackets and trim for all sides. Thus, they ensure a sleek and aesthetically pleasing installation, the company says. This comprehensive solution is ready to hang on the wall directly out of the box.
Enhancing Visual-Communication Applications
"We are extremely proud to announce the launch of our new line of PoE Panoramic displays. GPO Display takes feedback from designers, installers, and end-users alike," remarks Sean Driscoll, VP of Sales at GPO Display. "The most common difficulty shared with us by designers and installers of our existing Panoramic LCD lineup is that these displays are often in areas without convenient access to AC outlets."
He adds, "The addition of AC outlets involves scheduling an electrician onsite, which can be costly and inconvenient. The new lineup solves the outlet problem and features a convenient DC (Direct Current) power output for devices like media players and single-board computers."
All PoE Panoramic LCDs are TAA-compliant and feature no RF/NFC, Wi-Fi or embedded computing. The full lineup is also 24/7-rated, thereby ensuring uninterrupted performance and longevity in demanding, sensitive applications. Additionally, according to the company, all models in the new lineup feature a DisplayPort output with "Clone Mode" capabilities. This feature allows users to display identical content on multiple Panoramic LCDs. As a result, it enhances scalability and efficiency. The signal is also re-clocked at each display. Per a statement, this enables infinite daisy-chaining for expanded display configurations.
GPO Display says it continues to drive advances in display technology. Here, it provides users with innovative solutions that transform the way they engage with their audiences. With the introduction of the PoE LCDs, GPO Display thus notes its commitment to delivering display technology that revolutionizes the visual-communication landscape.
If you enjoyed this article and want to receive more valuable industry content like this, click here to sign up for our digital newsletters!