GTDC: IT Distribution Will Continue to Support Integrators
Global Technology Distribution Council study finds that distributors have kept pace with changing technology trends, which should benefit pro AV industry.
Leave a Comment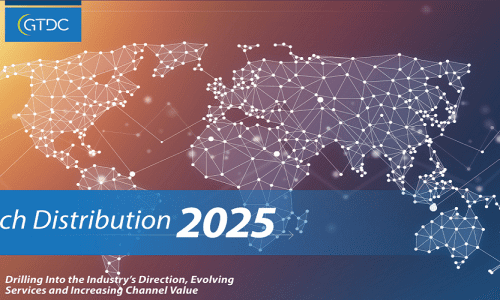 Distribution will continue to be an integral part of the technology industry, and that includes AV integrators who rely on distributors to provide their highly specialized products and technologies.
According to a new report, Tech Distribution 2025, from the Global Technology Distribution Council, distributors are becoming more interconnected and instrumental across a variety of technology market segments and are playing an increasingly vital role in multi-channel success.
In a press release, GTDC CEO Frank Vitagliano said the report was commissioned to get a complete end-to-end picture of IT distribution, including where the industry has been to where it is headed in the years ahead.
"Until now, the GTDC had not yet explored in aggregate each of the industry dimensions depending on distributors," he said. "Among other findings, we learned that the level of engagement and planning with distributors goes considerably deeper and broader than in past years."
The study, based on surveys and interviews with more than 50 tech executives across various industry segments, found that technology distributors are not only keeping up with trends in AI, machine learning, cloud, technology services, IoT, security and analytics, but are also crucial to the modern technology industry.
According to the study, 61% of survey participants said they anticipate their business growing more than 10% though 2025 via distribution.
"In many cases, based on industry interviews, the various sectors engaging IT distributors expect corresponding indirect sales to outpace direct business, if applicable," the study said.
"This represents a sea change where many companies had previously emphasized going direct, yet ultimately learned it was much more efficient and cost effective to leverage distributors and their channel customers – especially in reaching and serving small or midsize businesses as well as larger enterprises in niche vertical markets."
According to GTDC, solutions providers and system integrators have long been provided with proficient and timely access to comprehensive solutions, financing, pre-and-post-sale support, training and other services.
Read Next: Fake News, or Just Satire? AI Can Tell the Difference
Integration services were ranked second among distribution core competencies that continue to evolve, the study said, and the distribution industry is expected to evolve with other global technology trends like data, analytics, AI and IoT, all of which are coming to play a crucial role in the AV industry.
"Solution and service innovations will remain a central force, particularly given the historically demonstrated agility and go-to-market value of distributors over the past 85 years," the study said. "Both upstream and downstream constituents agree on the needed services, and the distribution industry is fast at work to deliver those services."