HARMAN Professional Solutions Upgrade Audio At New Zealand's Stardome Observatory
HARMAN Professionals provides networked surround sound audio system to support a wide range of events at Auckland's Stardome Observatory.
Leave a Comment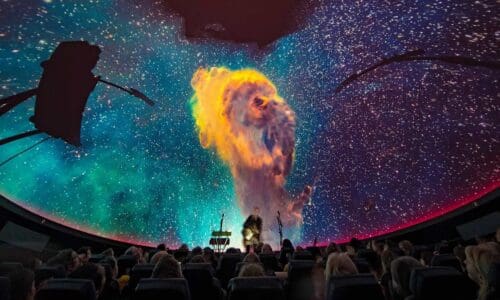 The Stardome Observatory and Planetarium in Auckland, New Zealand – the largest in the country – has been wowing visitors since it opened in 1967, and it just got a massive audio upgrade to support a wide range of events held at the facility thanks to HARMAN Professional.
The complete networked surround sound system for the venue includes JBL professional, Crown, BSS and Soundcraft solutions.
The Stardome hired AV integration firm Avid Automation and HARMAN distributor JPRO to bring a new state-of-the-art JBL loudspeaker system with network-connected Crown amplifiers, BSS signal processors and a Soundcraft digital mixing console.
The venue, which also functions as an IMAX theatre and live performance venue, needs a versatile sound system to support a wide range of events with easy-to-use systems.
"The primary use of the system is to provide an immersive 5.1 cinema experience, but the theatre also doubles as a live performance venue for small bands and events—everything from strings to electronica," said Darian Sundar, Director, Avid Automation. "So, in addition to offering an accurate cinematic experience, the system needed to be capable of handling larger SPL to accommodate live performances."
The loudspeakers
For the theater's surround sound system, Avid Automation and JPRO selected a range of JBL AE Series loudspeakers, including:
JBL AM7215/95 high-power two-way loudspeakers for left and right channels
A single AM7215/26 loudspeaker with a 120- by 60-degree rotatable waveguide provides coverage for the critical center channel.
AC18/95 compact two-way loudspeakers for surround channels
Three JBL VTX B18 18-inch subwoofers provide a solid bass foundation
Amplifiers
For amplifiers, Avid Automation and JPRO selected Crown and BSS solutions, including:
Two Crown DriveCore power amplifiers to power the system with pre-loaded JBL speaker tunings.
A BSS BLU-806 signal processor to interface with the amplifiers via the Dante networked audio protocol for flexible signal routing and control.
Control
For hands-on control, the integration firm and distributor selected:
A Soundcraft Si Performance digital mixer
A Dante interface card that allows the mixer to send output signals to the BSS and Crown backend
A Soundcraft Mini Stagebox 16 for additional inputs for larger on-stage performances
Avid Automation also collaborated with Stardome organizers to design a custom user interface to make the system easy and intuitive for staff and volunteers to use.
According to Sundar, this system was a significant investment.
"The venue is open to the public with performances six days a week, requiring the system to work day-in and day-out. Localized support, reliability and versatility were key in our decision-making."