Kramer to Show 8K-Ready Multi-Format Digital Matrix Switcher with Interchangeable I/Os at InfoComm 2019
Kramer VS-34FD modular 8K multiformat digital matrix switcher features interchangeable inputs and outputs for HDMI, HDBaseT, DVI, HD-SDI and audio.
Leave a Comment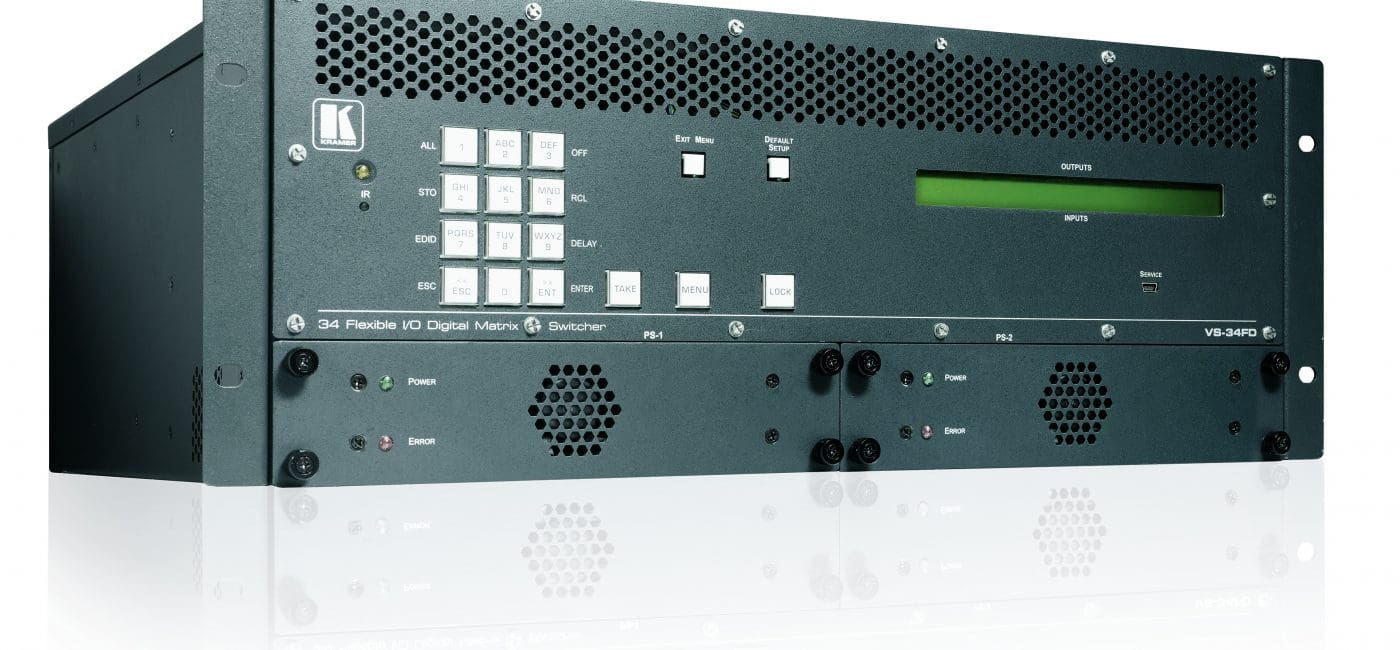 Kramer Electronics will be showcasing its VS-34FD 34-port modular 8K multi format digital matrix switcher with interchangeable inputs & outputs, at InfoComm 2019 in Orlando, Fla [booth 2929].
The VS-34FD, which is making its U.S. debut, supports HDMI, HDBaseT, DGkat, fiberoptic, DVI, VGA HD-SDI as well as analog and digital audio. The chassis is backwards-compatible with all existing cards with the addition of an adapter and features an 8K-ready chassis for upcoming 8K cards.
All ports in the VS-34FD can be used interchangeably as either inputs or outputs, according to installation requirements.
VS-34FD has an independent audio matrix in addition to the audio features of the installed cards, a built-in Ethernet switch for use with any card that has an Ethernet port, and redundant hot swappable power supplies.
All cards can also be hot-swapped and, due to the switcher's automatic recognition, it does not need to be reconfigured when removing or inserting cards. All of these functions come in a 4U form factor. Future capabilities will include video wall processing as well as seamless switching.
"Whatever the size, environment or complexity of your installation, VS-34FD enables complete customization and provides an end-to-end AV solution for both current requirements and future technologies," said David Margolin, VP of marketing.
VS-34FD is available now.
Beyond the VS-34FD
Kramer released a downloadable white paper on 8K earlier this year.
The white paper is available here and it discusses the challenges integrators face handling this next-generation video format in situations where the content needs to be transmitted, distributed, and what is required as the baseline for compatible display technologies.
Kramer launched Kramer Academy ahead of ISE 2019, calling the initiative "a first of its kind online training platform for AV/IT professionals" in the announcement.
Kramer Academy's curriculum includes courses focusing on several topics, including AV fundamentals, wireless collaboration, audio and more. Courses will be added to the Kramer Academy lineup on an ongoing basis.