Kramer Now Shipping VS-622DT All-in-One Presentation System
With Kramer VS-622DT all-in-one presentation system can route any input to HDMI or HDBaseT outputs—or both simultaneously.
Leave a Comment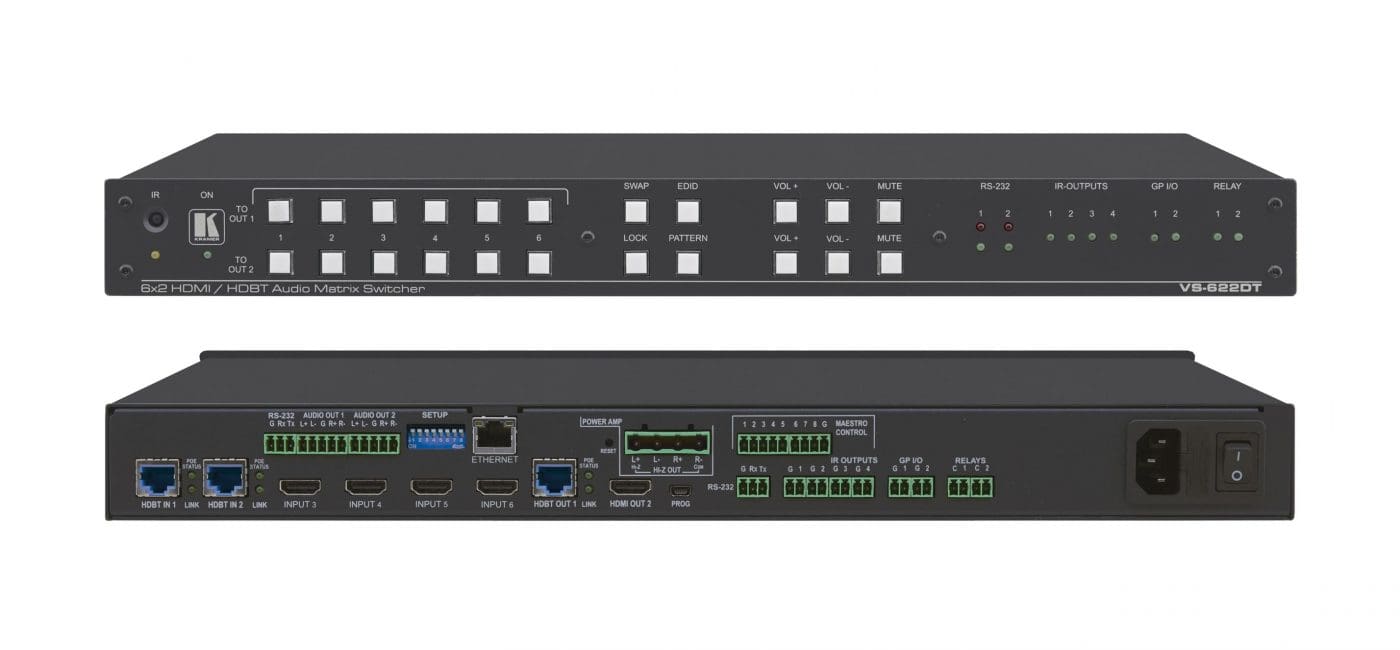 Kramer Electronics is now shipping the VS−622DT, which the company touts as "an all−in−one 4K@60Hz (4:2:0) presentation system with 6×2 HDMI/HDBaseT matrix switching, control gateway, PoE, power amplifier and Kramer Maestro room automation."
The unit reclocks and equalizes the signals and can route any input to the HDMI or the HDBaseT output or to both outputs simultaneously.
HDBaseT signals can be sent up to 100 meters at 4K @60Hz (4:2:0), up to 130 meters at 1080p @60Hz 36bpp, up to 180 meters at 1080p @60Hz 24bpp. The unit also provides power to PoE-compatible devices on all HDBaseT outputs.
The VS−622DT is also a control gateway that can send control signals over the Ethernet or HDBaseT line with control ports that include: RS−232, four IR, two GPI/O, and two relays to control a wide variety of AV devices.
It can be accessed from auxiliary controllers, such as control keypads, through a Kramer Network connector interface, via Kramer Control and more.
The VS-622DT has a built-in audio power amplifier that provides 120W @70V/100V & 2x60W @4/8Ω with line level output.  It also has built-in audio de-embedding.
The extracted signals from two of the six inputs (two HDBaseT and four HDMI) are output through two balanced analog audio outputs. In addition, one of the extracted audio signals can be output to the power amplifier.
Also included in the VS-622DT is Kramer Maestro – a room control automation software offering a customized, easy-to-configure, fully-automated meeting room environment, without requiring any programming.
Kramer Maestro "enables intuitive configuration of room automation events – a series of actions that occurs when a specific condition, or trigger, is met," according to the company press release. Maestro has a range of triggers including scheduling, input/output connectivity, routing, and pressing device buttons.
Maestro features a "dynamic database of device drivers that enable controlling any AV device or room element, from switchers to air conditioners," according to the Kramer press release. Now supporting additional I/O ports, Maestro enables automated control over RS-232, Ethernet, GPI/O, relay, and IR.