LaGuardia Airport's Emergency Communications Cleared for Takeoff with AtlasIED
LaGuardia airport upgraded its 1.3 million-square-foot Terminal B in 2022 with AtlasIED's GLOBALCOM systems.
Leave a Comment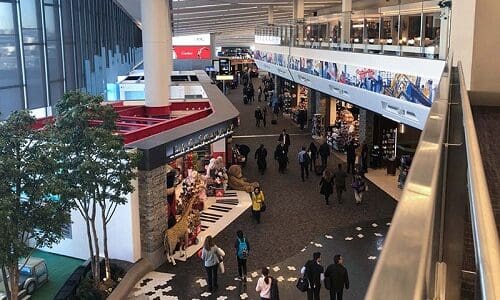 After six years of construction, LaGuardia Airport in Queens, N.Y., finalized its new 1.3 million-square-foot Terminal B in 2022 as part of a comprehensive upgrade plan.
The terminal opened in phases beginning in 2018 and offers a world-class experience that includes spacious interiors, floor-to-ceiling windows, a 3,000-car parking garage and more.
For the expansion, airport management wanted to maintain continuity with the rest of the airport and chose AtlasIED GLOBALCOM based on its previous adoption and success with the platform.
The AV implementation team chose the AtlasIED TitanONE T112 smart mainframe power amplifiers to provide signal automation, processing and amplification in a single modular solution. When fully populated with amplifier cards, it offers 12 main channels of amplification and two backup channels for redundancy.
In addition, the terminal includes numerous Dante-enabled GLOBALCOM microphone stations at gates and ticket counters, while AtlasIED loudspeakers provide sound throughout the concourse.
LaGuardia Terminal B also offered the opportunity to reimagine the operational processes and systems in place.
The airport's stakeholders wanted to reduce the number of communication systems and requested the project team find creative ways to consolidate them, so AtlasIED partnered with the AV team to integrate the GLOBALCOM system with the airport fire evacuation and alarm system.
In previous installations, these were discrete systems managed by different vendors and user groups. By integrating these systems, the airport was able to streamline the installation process and better coordinate communications activities with passengers.
Another version of this article originally appeared on our sister-site Security Sales and Integration on August 28, 2023. It has since been updated for Commercial Integrator's audience.
If you enjoyed this article and want to receive more valuable industry content like this, click here to sign up for our digital newsletters!