Matrox Adds Touchpanel Controller Support, Remote Monitoring to Maevex 6020 Remote Recorders
Latest Maevex APIs at ISE 2020 enable new customization and control options to manage and maintain Maevex 6020 video capture appliances.
Leave a Comment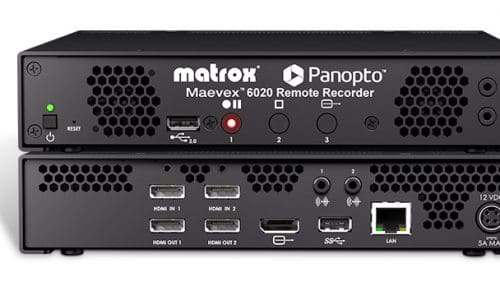 Matrox announced two APIs to provide "enhanced customization and control of Matrox Maevex 6020 remote recorder appliances" at ISE 2020 in Amsterdam this week (stand 11-D20).
"Leveraging the Maevex 6020 remote recorder RS-232 and Maevex 6020 remote recorder REST APIs, users can support control of Maevex 6020 devices from a local touchscreen controller, as well as automate monitoring of all Maevex 6020 appliances on the network, respectively," according to the Matrox announcement.
"These tools provide new, easy-to-implement approaches to managing Maevex 6020 appliances deployed within diverse AV/IT ecosystems," the announcement says.
The Panopto-certified Maevex 6020 remote recorder and its latest control and monitoring features will be demonstrated in Matrox's stand 11-D120 and the Panasonic stand (1-H20).
Enhanced Touchpanel Controller Options
The Maevex 6020 remote recorder RS-232 API supports RS-232 to USB communication, allowing universities, enterprises, IT departments, and third-party AV integrators to program for convenient in-room control of the Maevex 6020 appliance via Crestron, Kramer, Extron or other tabletop touchscreen controllers.
Users can program a variety of basic commands—including start, stop, pause, resume, extend, status, and reboot.
Advanced Monitoring and Maintenance
The Maevex 6020 remote recorder REST API enables programmers to code for retrieving status updates from Maevex 6020 devices. The REST API also supports the Panasonic Customer Assurance through Remote Monitoring and Enhanced Service (CARES) solutions platform.
This integration facilitates remote monitoring and maintenance of both Maevex 6020 appliances and Panasonic products to maximize uptime and minimize disruptions.
"Matrox's new APIs for the Maevex 6020 Remote Recorder demonstrates a commitment to improving the lecture and presentation capture experience, both from an integration and user side," said Ron Berty, business development manager at Matrox, in the company announcement.
"These APIs are a direct result of working with our customers and partners like Panasonic to ensure that they not only get the very best out of their Maevex 6020 products, but that they also benefit from a solution that evolves as their needs evolve," he said.
Panopto's Video Capture Solution
The Matrox Maevex 6020 remote recorder is a Panopto-certified media capture appliance that offers dual-Full HD channels of recording and live video. Users will benefit from simultaneous dual live streaming as well as multiple on-device recordings of different qualities per input—with zero transcoding time.
Maevex 6020 is fully integrated with the Panopto video management system by a 1-2-3 connectivity utility and has additional on-device push-button controls.
If you enjoyed this article and want to receive more valuable industry content like this, click here to sign up for our digital newsletters!