MLB Hopes Big Video Boards, Facebook Streaming, 'Smart Baseballs' Attract New Fans
From new big video board LED displays, security fingerprint scans and Facebook streaming to "smart baseballs," MLB hopes new technology will attract new fans in 2018.
Leave a Comment
With all the new technology we're seeing incorporated into Major League Baseball in the past few years, we're getting closer to the day when we'll be singing, "Alexa, Take Me Out to the Ballgame" or just tossing on a pair of VR goggles to feel like we're watching in person.
These days, baseball-related technology is about a lot more than giant video boards packed with every statistic the most devout fan could ever want, although Daktronics made sure that remains a big—emphasis on the word "big"—part of the fan experience in Anaheim and Denver.
But did you ever think you'd see a day when you could use your fingerprint or your retina to enter a baseball stadium? Personally, I'm not sure I'm ready for that day myself but it's coming soon to a ballpark near you.
And so-called "smart" baseballs could revolutionize the game by supplying real-time statistics that will help coaches and players get instant information on every throw they make. This year, you'll also get to watch 25 games live on Facebook, although I'd rather watch it on my TV if I have that option, or listen on the radio if I don't.
Angels' Big New Star: Daktronics Video Board
The Los Angeles Angels of Anaheim will boast the third-largest video board in MLB at 9,500 square feet among its 14 Daktronics LED displays totaling more than 23,000 square feet. The right-field board features 7.7 million LEDs and is the size of about 890 60-inch TVs, while the left-field video board is almost 5,500 square feet.
Both displays will feature 13HD pixel layouts and 11,000 nits of brightness, the industry-leading solution for outdoor stadium technology, to bring excellent image clarity and contrast to fans in every seat. So, Angels fans will have a lot more to watch than the game's best player in Mike Trout and the Japanese phenom touted by some as that country's Babe Ruth for his ability to hit and pitch, Shohei Ohtani.
"While putting a perennial contender on the field remains a top priority, the fan experience is very important to Angels Baseball," said Angels club president John Carpino. "We believe this investment into Angel Stadium will dramatically enhance the overall experience for our loyal and dedicated fan base, and look forward to unveiling this technology at the start of the 2018 season."
The project upgrades Daktronics technology that has been operating since its installation in 2004. With the new project, a total of 17.1 million LEDs will light up to improve the fan experience in and around the stadium.
These displays are capable of variable content zoning, which allows them each to show one large image or to be divided into multiple windows to show any combination of live video, instant replays, up-to-the-minute statistics, graphics and animations, and sponsorship messages.
Eight ribbon displays totaling 1,168 feet in length were also installed along the seating fascia to provide additional statistics and graphics as well as providing opportunities to highlight sponsors throughout events, including one that spans the entire fascia length along the first and third base lines.
Two auxiliary displays will provide a total of 2,500 square feet of digital space for supplemental content to keep fans engaged. These 10 displays all feature the same 13HD pixel layout as the main displays.
A new Big A Marquee digital billboard along the 57 freeway will welcome fans and promote upcoming events.
Daktronics Show Control System integrates the content around the stadium, while the new billboard will use Daktronics Venus Control content scheduling software.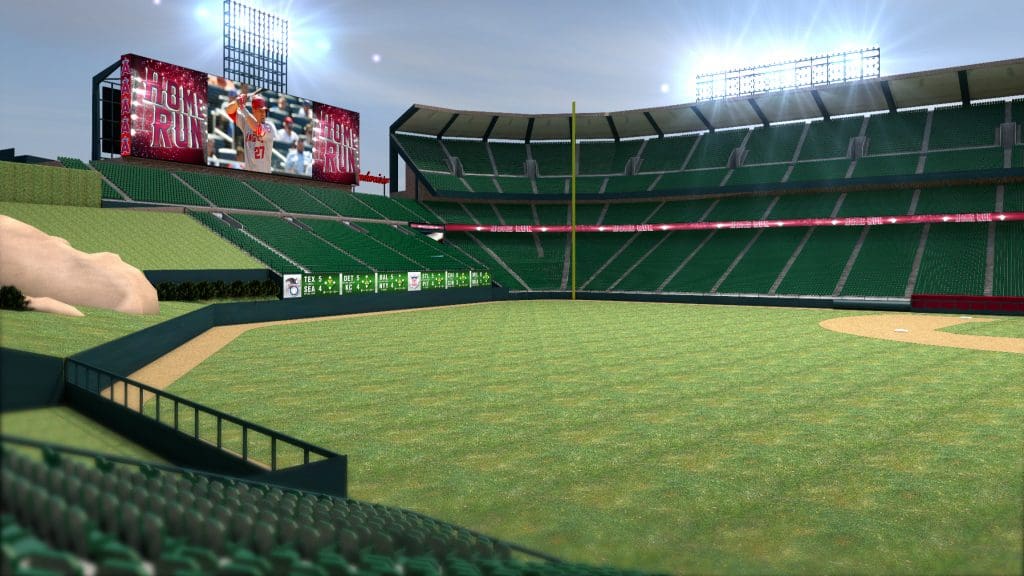 Rockies Add More Technology
The Colorado Rockies now boast the fourth-largest video board in baseball, and it's 258 percent larger than its predecessor. It features a rock-shaped formation along the top edge of the display inspired by the Rockies logo and measures about 59 feet high and 116 feet wide.
Including the rock formation, the new Rockies video board features more than 6.8 million LEDs across about 8,400 square feet, meaning it would take about 734 60-inch TVs to cover it fully.
"We are always looking for ways to ensure the fan experience at Coors Field continues to be one of the best in all of sports," says Rockies executive VP/chief operating officer Greg Feasel. "Among the other facility improvements this offseason, we feel the new scoreboard is a critical enhancement for our 25th anniversary season."
Capable of variable content zoning, the new video display can show one large image or multiple different zones of content including live video, instant replays, up-to-the-minute statistics, graphics and sponsorship messages. The upgraded display includes improved ventilation to reduce overall power usage and improved structural support to secure the increased display size.
"There's a large amount of engineering involved to create these large video systems, including the support structure to withstand the outdoor elements," says Daktronics President and CEO Reece Kurtenbach. "Our team is always ready for these types of challenges as we continue to enhance the fan experience for our customers."
Daktronics also replaced the existing Rock Pile ribbon display in center field, with a new one measuring nearly 5 feet high by 60 feet wide. Four LED ribbon displays will also be installed along the seating fascia. Each ribbon display measures 3.5 feet high and together they add 1,150 feet of length around the stadium.
These displays will all feature 15HD pixel layouts to provide supplemental information and graphics to the main display as well as allowing the opportunity to highlight sponsors.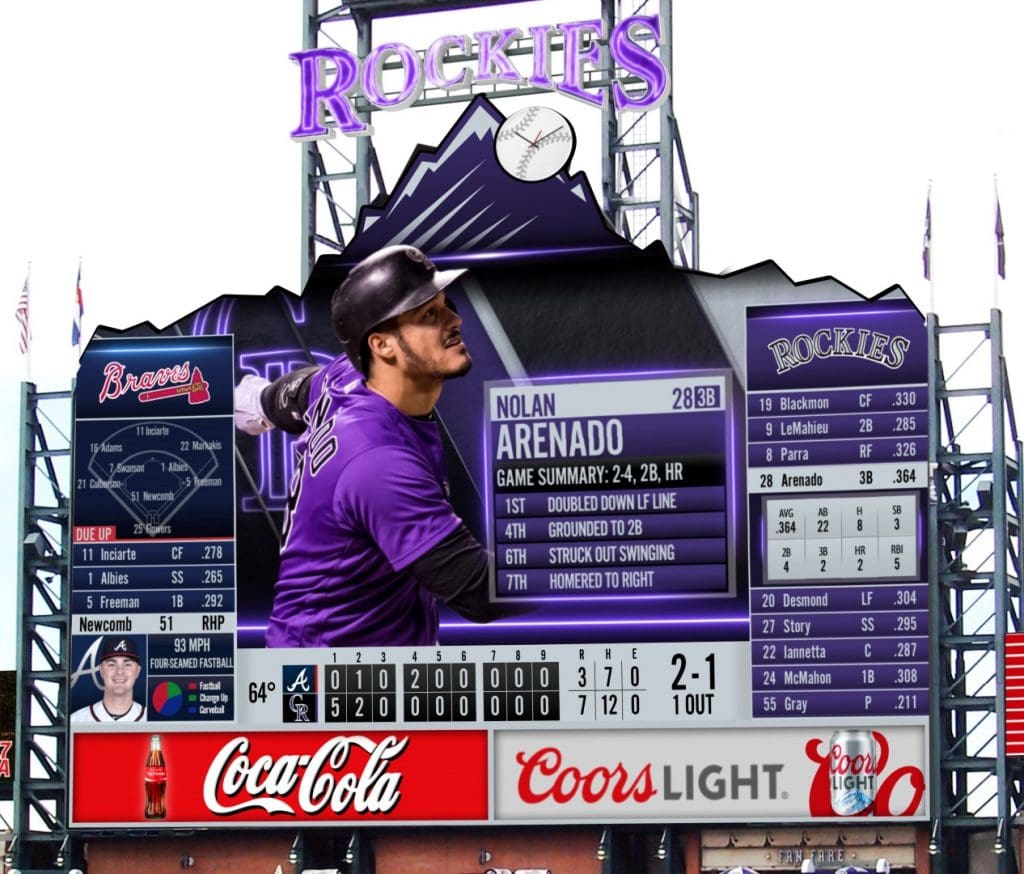 More MLB Technology for 2018
Daktronics also added new displays for the Minnesota Twins, San Diego Padres, New York Yankees, Milwaukee Brewers, Washington Nationals, Arizona Diamondbacks, Philadelphia Phillies and St. Louis Cardinals this season.
Introducing the brand new right field video board! #SDinHD #LittleBrother 😍 pic.twitter.com/5orBltU6iD

— Petco Park (@PetcoPark) March 22, 2018
If you can't make it to the ballpark this season, you can watch streaming games on Facebook 25 times this season, mostly on Wednesday afternoon, following in the footsteps of the NFL streaming its games on Twitter and Amazon in the last few years.
The Atlanta Braves, Oakland Athletics, and Seattle Mariners announced their stadiums have joined the CLEAR network, a subscription-based service that lets participating fans enter the stadium using biometric identification like fingerprints or retinal scans.
The program allows fans buy food and drinks without taking out their wallets. It's available at almost one-third of MLB ballparks and is likely to be added to more in the coming years.
Pittsburgh-based startup Diamond Kinetics has introduced PitchTracker, a "smart baseball" the company says can track "velocity, spin rate, extension, time-to-the-plate, timing delivery and reach back to release." The ball, which is meant to feel and move exactly the same as a regulation ball, won't be used in major league games yet, but some teams are reportedly going to use it in scouting and talent evaluation. It will also pop up in the minors.
In one of many efforts to increase pace of play in Major League Baseball, each team will immediately receive access to slow-motion replay camera angles to make it easier and quicker for the clubs to determine whether they actually want to challenge a call. The league is also adding phone lines between the teams' review centers and the dugouts, again to speed up communication, though the ever wary MLB stressed in the announcement that these "will be monitored to prevent their use for sign stealing."
Ripples Inc., which had previously made a machine for putting images in coffee foam, saw its plans to join the big leagues scuttled before Opening Day, when league officials said fans won't be able to drink the beer foam faces of their favorite Yankees sluggers this season after all,
MLB leaders say it violates league rules against having players or their likenesses promoting alcohol, although the teams themselves can do it whenever and wherever they want in their ballparks and during breaks between innings and pitching changes.
If there's one thing we know about professional sports teams, they would never do anything that's against league rules, especially something that's technology-related, right?