Netgear Managed Switches are SDVoE-Ready
The new Netgear Managed Switches provide integrators a choice of 10G and 40G stackable AV over IP solutions starting at $100 per port.
Leave a Comment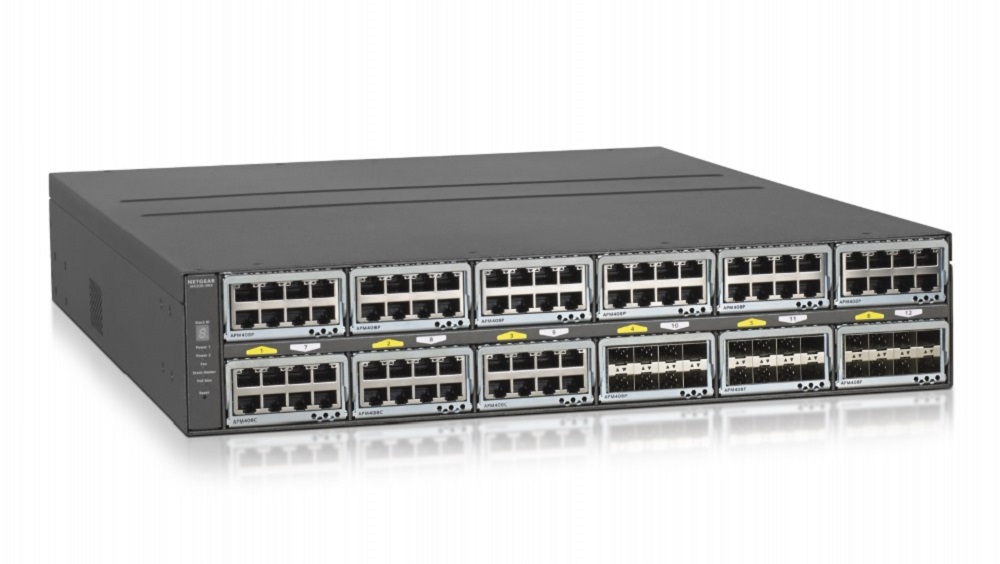 The new M4300-96 Stackable 10G and 40G NetGear Managed switches are 2U networking devices designed to cost-effectively provide the latest AV over IP networking.
Pricing starts at $100 per port with configuration options that include empty or pre-configured versions with as many as 96 ports of 10G Ethernet or up to 24 ports of 40G Ethernet.
"You can start small and add capacity in non-blocking mode, merely by adding port expansion cards. The fact that it's SDVoE-ready means it can easily coexist with products from multiple AV vendors without the need for separate programming interfaces," says Richard Jonker, VP of product line management for SMB products at Netgear.
With up to 12 slots available, along with two redundant power supplies, the M4300-96X includes PoE and fiber connectivity to further complement its SDVoE compatibility.
Netgear Managed Switches 'Future-Proof' Connectivity
According to the company, IP convergence is well underway in fields such as telephony, surveillance, and now, AV.
Netgear says the Software Defined Video over Ethernet (SDVoE) Alliance provides the professional integration market with a standard programming interface that allows components from different manufacturers to work together without having to add complex programming.
The Netgear Managed Switches are setup for AV and multicast Zero Touch network configuration, with functions like IGMP Snooping, IGMP Fast Leave and IGMP Querier also enabled.
The Netgear configures the default VLAN 1 so that devices will automatically use the feature to eliminate the need to manually log into the switch.
"The SDVoE Alliance unites leading companies in and around the AV over IP space with the shared aim of creating a standardized hardware and software platform for the next generation of audio visual applications," adds Justin Kennington, president of the SDVoE Alliance.
M4300-96X Netgear Managed Switches Specs:
Streamlines AV over IP SDVoE by replacing 48×48 circuit switchers
12 empty slots in 2U chassis for 8x10G or 2x40G expansion slots
PoE over 10G available in first six slots
Layer 2, Layer 3 and Layer 4 feature set
IGMP Snooping, IGMP Fast Leave, IGMP Querier enabled
Web-based GUI management
More SDVoE: HDBaseT-IP vs. SDVoE: A Smackdown of AV over IP Standards