OSU Students Work at AV Help Desk, Now They Have Eyes on AV Careers
AVIXA grant program exposes youngsters to career they didn't know existed. It's a good start but why aren't more companies and schools involved in ICIF?
Leave a Comment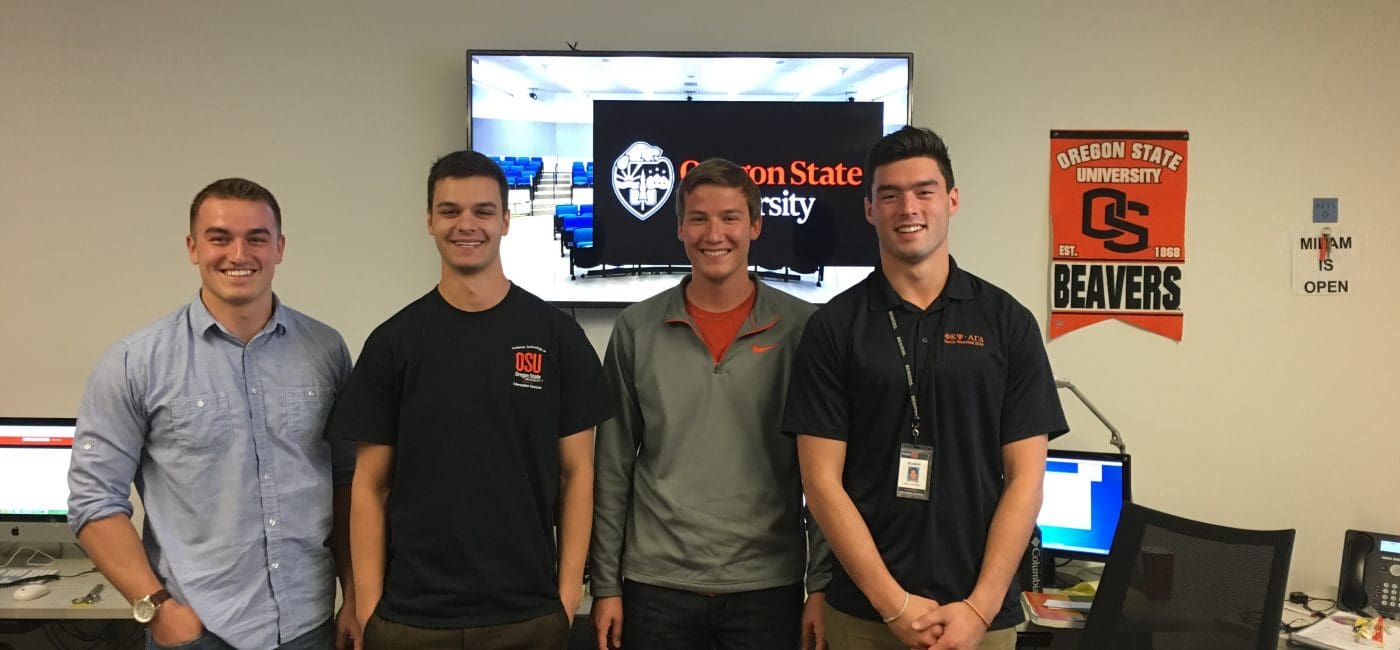 There are plenty of talented young students out there with an interest in a career in something in the audiovisual industry. It's the job of employers and college officials—and even high school teachers—to let them know the opportunities that are out there for them in AV, though.
One of the shining examples of immersing youngsters in the wonderful world of AV is in full swing at Oregon State University, where manager of classroom technology services Don DeMello oversees the Integrated Learning Resource Center, a call center staffed by the students themselves.
The students answer incoming calls from professors who are struggling with technology in their classrooms, whether it's a loose wire on their laptops and dead panel in a halo-shaped video wall in a classroom in the round that houses almost 600 students in an oval-shaped room with the professor in the center.
AVIXA Gives Students Unique Opportunity
Several of the students work for DeMello and OSU associate director of academic technology technical services Marc Cholewczynski through the Audiovisual Integrated Experience Association (AVIXA) International Communications Industries Foundation (ICIF) grant program, which launched three years ago as a way to introduce the industry to young people.
"When you come to college, there's no degree for [AV integration]," says DeMello. "They stumble upon it, like I did when I was in restaurant management. We're part of the avenue to learn about this field. We want them to also understand the fun and exciting parts."
Grant sponsors split the $4,000-per-student cost with ICIF and students work and be paid for at least five hours per week from one June to the next at select AVIXA member companies, working with a designated mentor.
"When you come to college, there's no degree for [AV integration]. They stumble upon it," says Don DeMello, Oregon State University.
Most students in the grant program take AVIXA online education and certification—including an online introduction to the AV industry and CTS exam—and are invited to attend at least one InfoComm trade show during their tenures.
AVIXA has made connections with several colleges and universities—including Columbia College in Chicago—in the past few years and NSCA launched its Ignite program to introduce the industry to students at K-12 and college levels. OSU had internships before hearing about the ICIF grants.
"You don't even know AV exists in high school," says Riley Faircloth, 22, a senior at OSU who wants to be an agriculture teacher but is considering a career in AV after working with DeMello and Cholewczynski. "You know the television is there, but you don't know what's behind it."
The OSU program has seen several of its students go into the AV industry after graduation, including at 2016 CI Integrator of the Year Diversified, Planar, Comcast, Nike and Hewlett-Packard. Interns often come through the New Media Communications department.
"No one knows where to go to get the education," says Biamp VP of global sales and former ICIF board member Ron Camden, who told DeMello about the grant a couple of years ago. "They don't know how exciting it is."
That's even truer than even Camden realized, with even DeMello's son Ryan, 19, part of the grant program but still learning on the job.
"Obviously, my dad being in the business has been the biggest influence, but working here has gotten me a lot more interested in it," says Ryan DeMello, a sophomore. "Every time I set something up, I have friends who want to know how the things work."
Simon Dudenhoefer, 21, a geology major, and Aaron Kildea, 22, a senior who's taking this semester off to focus on a full-time internship at HP, have known the DeMellos since childhood, but neither knew much about AV before working at the call center.
"I had no idea about the technology," says Dudenhoefer. "But I've really enjoyed this job from Day 1. I want to know what's going on behind the technology. Some of my friends just don't understand so it's fun to show them how it all works."
Making AV A Career
Kildea works construction in the summer, but he's attended InfoComm and hopes to do so again. He was part of an OSU AV installation at its Bend, Ore., campus before getting the opportunity at HP. He wonders why more integrators aren't going to their local high schools introducing AV to students there.
"No one knows where to go to get the education," says Biamp's Ron Camden, VP of global sales and former ICIF board member. "They don't know how exciting it is."
"It was a lot of hard work, but very rewarding seeing everything working when we left," says Kildea. "I really like the troubleshooting as an engineer. Once people know you're in this field, they're always asking you to set things up for them."
The students know there are a lot of technical skills necessary to troubleshoot when they're taking calls from an OSU professor in distress, but they also realize it's sometimes easy to impress others with their proficiency.
"My family thinks I'm a magician," says Faircloth.
Cholewczynski sees the graying of the AV industry and wonders why more companies in the industry don't have programs that welcome young people into the fold. DeMello is thankful Camden got OSU involved, even though it's had an internship program for years anyway.
"It's rewarding to see these students go into the field and be part of this industry," he says.
If you enjoyed this article and want to receive more valuable industry content like this, click here to sign up for our digital newsletters!