RTI Now Shipping VMS-741 4K Quad MultiViewer
RTI VMS-741 4K Quad Multiviewer combines switching with scaling to output four video sources simultaneously on one display.
Leave a Comment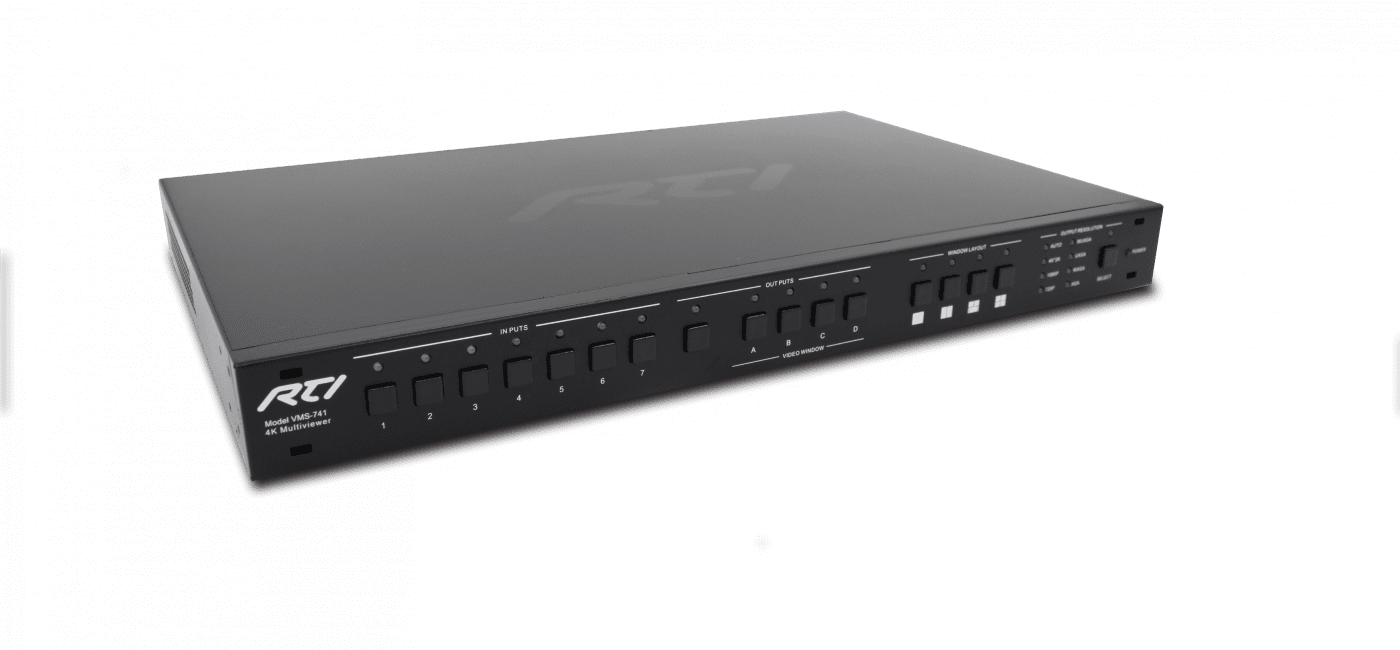 RTI is now shipping its VMS-741 7×1 4K Quad MultiViewer presentation switcher and scaler that "takes advantage of the 4K resolution of today's flat-panel TVs and projectors to combine video from up to four sources onto one display."
The VMS-741 4K Quad MultiViewer is best suited for conference rooms, lecture halls, worship spaces and other installations requiring a wide range of video sources with differing resolutions and formats.
It combines AV switching with advanced scaling to display content from up to seven sources. Supported video input formats include HDMI, DisplayPort, and VGA.
The VMS-741 4K Quad Multiviewer also offers an HDBaseT input to allow video delivery from remote sources via a source plate or matrix.
RTI's VMS-741 provides flexibility for the user, allowing up to four video sources to be displayed simultaneously on one display. Whether it's a multimedia presentation in a house of worship or a screen showing multiple games in a sports bar, with 16 video window layout combinations, any 4K display becomes the ultimate video wall alternative.
The VMS-741 also offers audio embedding and de-embedded audio outputs.
The Versatility of RTI VMS-741
RTI CEO Ed McConaghay calls the VMS-741 4K Quad Multiviewer "the perfect solution" for integrators who work on commercial and residential installations.
"Whether their clients are looking for easy content sharing, media-rich presentations or the ability to watch four football games at once, the power and versatility of the VMS-741 makes it an excellent problem-solver," he said in the company announcement.
Earlier this year, RTI announced the next generation of its video distribution solutions is now available in the Americas.
Building on the partnership with Pulse Eight, RTI's new lineup includes HDBaseT matrix switches, extender sets and accessories with the latest technology and class-leading features.
Utilizing the latest Class C+DSC HDBaseT technology, the new HDBaseT matrix solutions from RTI include the flagship VHU-8x 8 x 10 matrix switch and VHT-Ux extender set, which deliver Ultra HD 4K HDR with 4:4:4 chroma sampling over a single category cable.