Slick Solutions by Cibola Shifts Edmunds into High Gear
The visually impressive headquarters for Edmunds designed by Cibola includes AV and automation to steer meeting rooms and other company communications.
Leave a Comment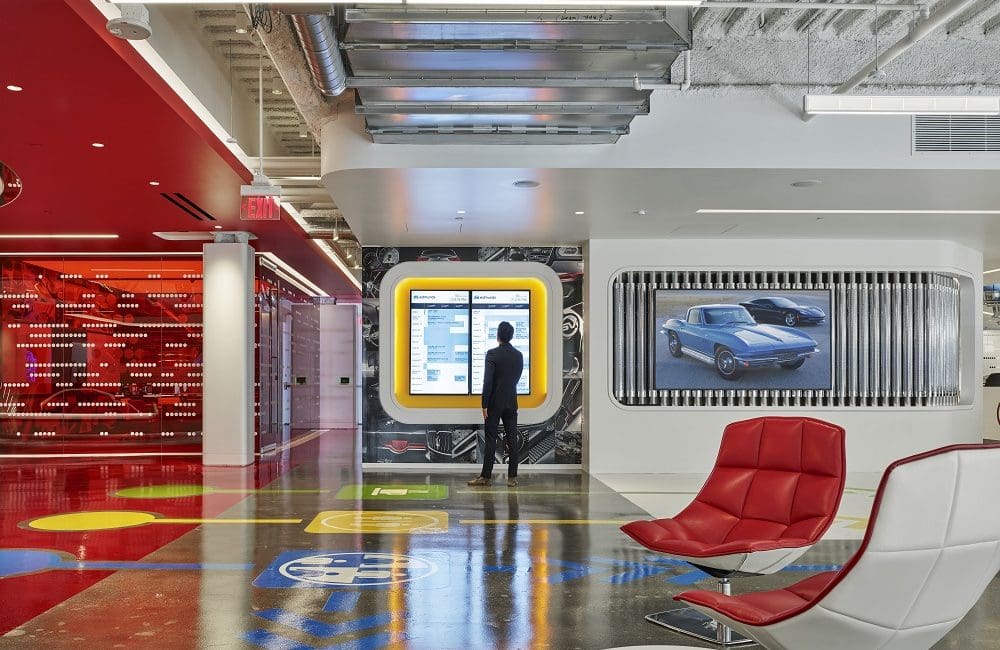 Edmunds, a resource provider for the automotive industry, first retained integration firm Cibola in 2006 to design the AV infrastructure for its new Santa Monica, Calif. offices. That initial scope included 10 conference rooms and a great room/café area. The audio and video systems were phased and upgraded over time, with Cibola providing periodic system integration services. When Edmunds decided to move in 2016, it again turned to Cibola to provide technology consulting services. Much of the original team was reunited in this effort, including architect Chris Mitchell.
Close Collaboration Propels Project
An advocate and practitioner of Design Thinking, Edmunds CEO Avi Steinlauf was actively involved in the "Edquarters" planning. Working with Mitchell and the Edmunds WE Team (Workplace Engagement Team), Steinlauf envisioned a workplace experience that would attract and retain 700 of the best and brightest people in the business. As a technology-driven company, Edmunds realized the quality of their communication technology would be a critical element of this workplace experience.
While the workplace design evolved, Enterprise IS Director Heather Yang and Cibola collaborated to translate high-level technology ideas into practical and budget-conscious standards. Edmunds asked Cibola to stay on board as their systems integrator when the design phase ended and construction began.
From design through occupancy, the Edquarters project took about 18 months. Cibola was in weekly contact with the architect from beginning to end, refining the AV infrastructure to integrate with the complex design. Cibola also worked with fabricators who created objects like the rotating corvettes and the tailpipe LCD wall, installing AV technology into the car-themed environments. The Edmunds Enterprise IS Team was a close partner, as Cibola recommended technology platforms and user interfaces.
Edmunds constantly experiments with technologies to increase workplace effectiveness, so the infrastructure needed to be flexible and non-proprietary. This presented one of the greatest project challenges, given the very tight technology budget.
"A strict technology budget was our biggest project challenge," says Yang. "Cibola was instrumental in helping us make cost-effective choices. They were willing to pivot and modify until we had the right mix of must-haves, without sacrificing scalability for our future needs."
Another significant obstacle was the balance between aesthetic design and the space's acoustic performance. The clean, industrial look that Edmunds desired, coupled with abundant whiteboards, left few surfaces for acoustic treatment. This drove the decision to use high quality audio equipment, with extensive sound processing capabilities, in all of the larger spaces.
AV Experience Includes Self-Service Solutions
The workplace experience at Edmunds begins at the front door, where guests and team members encounter a two-story space with two suspended Corvettes: one upside down at the first floor ceiling level, and another sitting on top, at the second floor level. The cars slowly rotate, playing music through wireless loudspeakers concealed inside.
The next stop is the great room, with 13 zones of audio for music, and 15 LCD displays showing Edmunds videos. During the weekly Cadillac meeting, the speakers are used for voice reproduction and the screens for streaming video, creating an all-hands space that accommodates all 700 Edmunds team members.
Scheduling screens help meeting attendees navigate their way to one of 40 conference rooms. Used for over 140 meetings a day, it's essential for Edmunds that these rooms are completely self-service with simple user interfaces. Larger conference rooms have dual LCD displays, wireless microphones and high quality cameras for productive scrums and web conferences.
"Cibola partnered with our team to make the conference room interfaces easy and intuitive," says Yang. "It took quite a few iterations, with end-user feedback, to get it just right. Cibola went the extra mile to make those 40 rooms self-service."
At the center of the great room lies the open-air atrium. By night, the outdoor projector and speakers turn the space into a theater, well suited for movies, sports events and celebrations. With glass all around, the crowd can easily spill back into the great room where speakers and screens reproduce the atrium's programming.
The showroom is a divisible space that's equal parts presentation room, war room, and special events venue. Here the systems work on two levels: with a simple iPad interface, common meeting functions are available to the self-service user. For quarterly sales meetings and special events, the Edmunds production team takes over. Connections for portable equipment complement the permanent cameras, screens, projectors and speakers. No matter what the function, clear communication is the utmost priority for the Edmunds team —both face to face and from afar.
Privilege to Work at Edquarters
In the new Edquarters, everyone has a desk —though no one is required to work there. Committed to a results-oriented work environment (ROWE), Edmunds believes it has to earn the privilege of its people choosing to work at headquarters. In keeping with Edmunds' vision to make the car-buying experience easy, every element of the space is themed around the driving experience.
"Our new Edquarters is a great recruiting and retention tool for the company," says Yang. "The central coffee bar has become a wonderful place to gather, both formally and informally. We love the ambiance created by the music and Edmunds videos on the big screens."
The divisible Showroom can host special events like "Hackomotive" innovation days, and the outdoor garden converts to a theater by night.
"At Edmunds, we have a culture of working anywhere, any time. Providing really easy web conferencing from every meeting area, large or small, has helped our teams collaborate more efficiently," says Yang. "The great room has made our weekly all-staff meeting much more effective, giving us high quality video streaming and the ability to hear comments from our 150 off-site team members."
Though fully committed to technology innovation, analog communication still finds an important place in the Edmunds offices; 35 square feet of whiteboard per team member allows ample space for spontaneous collaboration. And music in the restrooms complements the printed "Rest Stop Reader" — filled with Edmunds news, and posted on the bathroom walls each week.
"We more than doubled our number of conference rooms, so there's always room available to meet in person or by web conference," says Yang. "We finally have a very cool space for quarterly sales meetings, and don't have to rent generic, inconvenient meeting space."
Mass notification emergency systems are more critical than ever. Learn more.
Edmunds Equipment Highlights
Biamp Tesira Forte
Christie Interactive Digital Signage Player
Crestron Digital Media
JBL Ceiling Speakers
Panasonic Projectors
Samsung LED Displays
Sharp LCD Displays
Vaddio RoboSHOT
See Edmunds in action on their website.