Christie Pandoras Box Makes an Insurance Agency's Event Pretty Lively
A combination of projector, servers, and interactive design tools from Christie Pandoras Box create unforgettable meeting of Fidelidade insurance agents.
Leave a Comment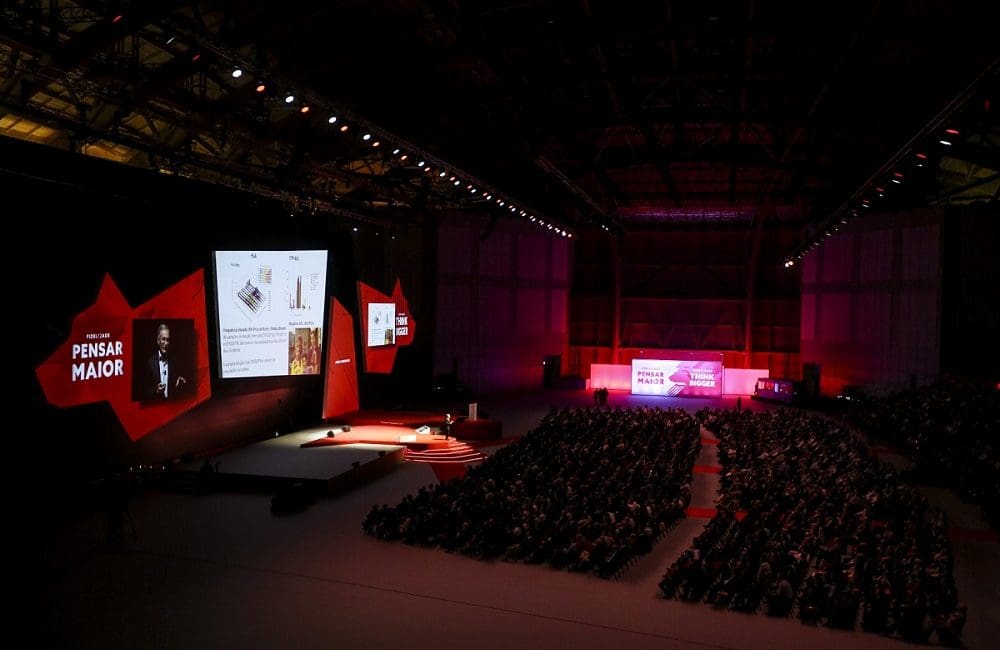 An annual meeting of insurance agents doesn't sound like lively event. Rather than bore its audience of 3,000 insurance agents with a hum-drum slideshow, Portgual's largest insurance agency. Fidelidade Insurance, decided to spice things up with dynamic, shape-shifting 3D renderings displayed on a 40-by10-meter expandable screen.
A suite of equipment from Christie, including Christie Pandoras Box software and hardware, and Christie Boxer 4K30 video projectors pulled off the presentation flawlessly, thanks to the A/V design and integration expertise of Europalco and event management by Bold Creative agency.
Expandable Screen Enchants Audience
Intended to wow the audience, the event featured moving, 3D images displayed on a huge, expandable screen that divided into four parts then united back together again.
The screen, made from a fabric-covered truss, could stretch to 72 meters, enveloping the audience in dynamic, engaging display. "You could hear audible gasps of appreciation in the hall," remarks Sergio Carvalho, director of marketing and clients at Fidelidade.
Best Event in 20 Years
The team at Europalco employed a variety of Christie products to pull off the presentation that the president of the National Association of Insurance Agents and Brokers of Portugal called the "single best insurance event in the last 20 years."
Jose David Pereira continues, "The movement, content, presentation, dynamism and innovation were all impeccable. The way the giant screen moved in Pensar Maior was truly spectacular, with hugely imaginative projections and video tracking."
The video tracking technology employed three Christie Pandoras Box Quad Servers to manage the graphic content, six OptiTrack high speed tracking cameras, and 12 ID Tags.
The cameras would read positions and relay the information to a Christie Widget Designer that was used to control the layers of the Pandoras Box servers.
Europalco also used a Christie Spyder X20 video processor to run the content coming from the Pandoras Box servers and the Christie 4K30 projectors.
Christie Pandoras Box & Boxer Projectors Unleash Creativity
"We chose the Boxers because of their incredible power and resolution," says Pedro Magalhaes, general director of Europalco. "They proved to themselves once again to be the best projectors available in the market for large-scale screenings.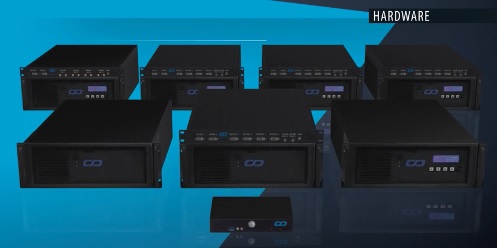 They guarantee us excellent performance, perfect light, spectacular colors, and low energy consumption."
Through creativity and imagination, professional A/V design, and innovative and powerful Christie products, Bold Creative Agency and Europalco were able to deliver an A/V event that will go down in the history books as one of the most dynamic and memorable for Fidelidade Insurance.
The imagery combined with an expandable screen captivated the attendees of the meeting, leaving a lasting impression.
"Europalco is our technology partner of choice because we know that it always strives after the latest technical solutions that allow us to surprise our clients and leave a mark on their audience," says Ana Oliveira, head of Bold's department for Institutional and Corporate Events.
Fidelidade definitely succeeded, thanks to innovative A/V technology from Christie and the creative minds of Bold and Europalco.