DFW Duty Free Shop Transforms Terminal Into a Rich Airport Technology Experience
NanoLumens curved displays and other airport technology encourages travelers to stay longer in the DFW Duty Free shop while waiting for flights.
Leave a Comment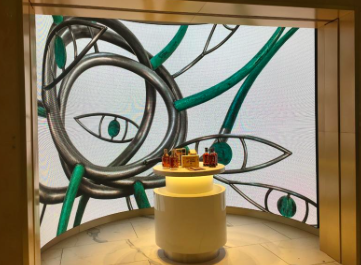 There are plenty of things about traveling by airplane that aren't particularly pleasant, but passengers traveling through Dallas-Fort Worth's Terminal D are getting a taste of the future of retail and airport technology at the DFW Duty Free shop.
This "time travel" experience of sorts comes courtesy of a recent expansion and high-tech redesign of the terminal's Duty Free Center shop.
Occupying a space of more than two gate holding areas, or roughly one-fourth of the total floor space at Terminal D, the new Duty Free shop is more like a mini high-end mall than an airport store.
The high-tech additions, installed by Ford AV, are highlighted by curved NanoLumens LED displays that allow advertisers to capture the attention of all who walk by.
Airport AV Captures a Captive Audience
The DFW Duty Free shop owners wanted to utilize the latest visual and airport technology and  to attract customers and create a space where people would enjoy walking and socializing, said Ford AV project manager Sean Kupiec.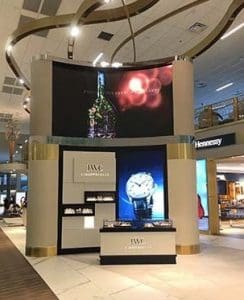 "The new Duty Free shop at DFW's Terminal D may be the only store like it in the world," he said.
"How many airports have a 'promo pod' where store owners can showcase a product inside of a 10.5-foot-tall wrap-around LED display? That's an incredible advertising opportunity for brands, a sales driver for the store, and a fun, unique shopping experience for customers."
The "promo pod" is a feature space surrounded by an 18 ft. x 10.5 ft., 4mm pixel pitch NanoLumens LED display.
This creates a 180-degree video experience around a central pillar where product samples can be placed. Advertisers use the LED wrap to draw in travelers who can't help but wonder what might garner such special attention.
In addition to the promo pod, two 12-foot-wide-by-7-foot-tall, 4mm pixel pitch NanoLumens curved displays adorn the top of a product kiosk along the main terminal walkway.
Kupiec says it was a priority in this airport AV project to reach the maximum number of visitors with each display.
"There is a lot of visual technology in this shop," he says.
"There are video walls behind checkout counters and table-mounted iPads for waiting passengers to kill time, but nothing compares to displays so big you can walk inside them. There are also two back-to-back NanoLumens displays that can be seen from 100 feet away. Such unique, eye-catching technology brings more people in and makes them excited to experience the store rather than just shop in it."
NanoLumens Corners Airport AV Market
The NanoLumens displays' main function is to present an advertising medium that gives brands a much greater impact than a printed ad or standard gift shop kiosk. They operate seven days a week, providing the DFW Duty Free shop with a steady advertising revenue stream.
Read Next: The State of the Digital Signage & Video Wall Markets in 2018
In total, Ford AV installed three NanoLumens curved LED displays, two multi-panel LCD video walls, six standalone LCD displays and 50 table-mounted iPads.
Most of these interactive iPads can be found in the shop's chic seating area, which looks more like a luxury airport lounge than a terminal.
Travelers can also see NanoLumens displays and airport technology in:
JFK International Airport in New York
Daniel K. Inouye International Airport in Hawaii
Cincinnati/Northern Kentucky International Airport
Toronto Pearson International Airport
Vancouver International Airport
Montreal's Pierre Elliott Trudeau International Airport
Changi International Airport in Singapore
If you enjoyed this article and want to receive more valuable industry content like this, click here to sign up for our digital newsletters!