Customization is Key to Creating Seamless Displays for Corporate Events
Image Critical 3D Screen for Ophthalmology Conference
Content from our Sponsor
Leave a Comment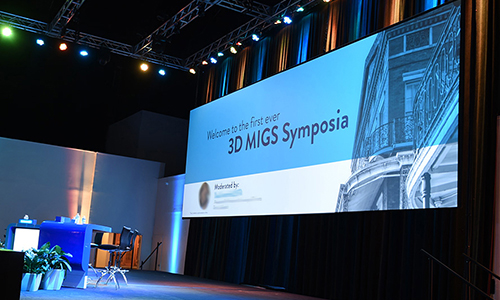 When a major eye care company was planning a one of a kind symposium during a large convention they wanted to showcase high resolution, 3D images of new procedures as part of the program. They turned to Avenue Live, a division of Bryn Mawr Communications Group, to plan and execute the project. Under the direction of the VP of Operations, Jarrett Davis, Avenue Live designed a 12' x 36' screen for the two-day event.
Avenue Live looked to Strong/MDI to assist with the engineering and manufacture of the screen system. The solution featured a Domino modular frame system and Stereoview 3D 2.2 screen material. Stereoview screens are a superior 3D silver surface offered in a variety of gain options. To ensure a perfect edge, Strong MDI crafted the screen with a visually seamless 2" black PVC border surrounding the image area. "The image quality was excellent and our clients were delighted with the results. The team at Strong MDI was a true partner throughout the process." Jarrett Davis, Avenue Live.
Domino is a perfect system for large venue, short term events. The modular system quickly bolts together, yet has the strength for flawless large screen sizes and the durability to be used over and over at future events.
The customization options of the Domino Frame are virtually endless. The frame can be used with any of the screen surfaces offered by Strong/MDI for both front and rear projection. By offering the ability to wrap the screen, you can achieve an infinity edge finish or, masked with a black PVC welded border, obtain a sleek, modern framed presentation.
Find out how we can help you accomplish your visual presentation goals today by contacting our team through our website www.strongmdi.com or by calling (877) 755-3795.