MAXHUB Raptor Series Displays Chosen for Seminole State College Deployment
Seminole State College can easily move the 150-inch MAXHUB Raptor Series display with mobile stand around campus.
Leave a Comment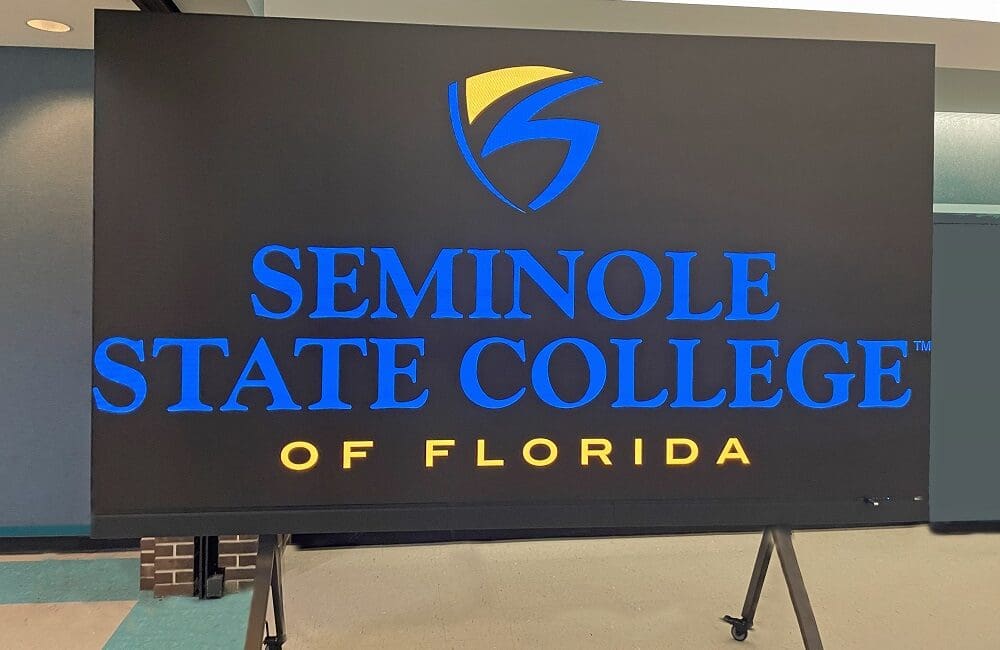 For today's college students, the learning process typically takes place in a wide range of environments. This ranges from traditional classrooms to larger lecture halls, auditoriums, gymnasiums and more. The tools that help convey the information the students are there to acquire are an important element in the learning process. To help make that process more engaging, the Sanford-Lake Mary campus of Seminole State College of Florida recently invested in four MAXHUB Raptor series LM150A07. These are 150-inch diagonal large-format displays on stands that allow the team to move them around the campus easily.
The MAXHUB Raptor Series Display Solution
Systems Innovation of Orlando is a design/build AV integration firm that caters to different markets. These include higher education, House of Worship, extended reality (XR), virtual reality (VR), immersive systems, experiential and custom LED solution markets. Thus, the team contracted Systems Innovation to deliver and implement the best possible displays capable of addressing a wide range of applications. To address this challenge, the company deployed four MAXHUB LM150A07 Raptor series displays. Tim Philpot, account executive at Systems Innovation, assumed an active role in system design in addition to sales.
He discusses the MAXHUB deployment at Seminole State College in Orlando. "During our discussions with college management, there was considerable emphasis placed on the desire to have large, vivid displays that could easily be moved from one location to another," Philpot explains. "This includes not only moving the displays about campus; but also the need to move them off campus to nearby hotel ballrooms for larger events. After careful consideration, we decided the MAXHUB Raptor series displays, outfitted with their accompanying mobile-stand mounting solution. [They thus] made an ideal choice for addressing these requirements."
MAXHUB Raptor Series Display Wireless Sharing Ability
Philpot then highlights the attributes that make the MAXHUB Raptor displays a good choice for the wide range of applications. Here, he emphasizes the systems' wireless content-sharing ability.
"Depending upon the nature of the event and the venue where it's taking place; these displays end up showing everything from spreadsheets to video, to artwork and more. The ability to wirelessly place content on the display from one's laptop or a variety of other source devices is a huge plus, as it greatly simplifies the setup process."
He then adds, "Similarly, the LAN screen-sharing capability for up to four windows further helps presenters convey information quickly and easily. The MAXConfig software delivers exceptional control and intuitive access to all features of the LED wall through one's personal device."
Streamlined 3-in-1 Design
An important factor of the MAXHUB Raptor series displays is its 3-in-1 design that provides a unified, easy-to-manage package. This includes the Control Unit, which encompasses the sending card, the Android OS card, plus the video processor. The Receiving Unit houses the power supply, the receiving card, plus the hub board. Meanwhile, the Power Unit contains the power supply, the audio amplifier and the relay. This streamlined design makes it easy to create the perfect presentation or communication experience. Moreover, it does so with minimal setup time.
Assembly and setup of the MAXHUB Raptor series displays is quite intuitive compared to other competing systems; however, it is not uncommon for questions to arise. Hence, responsive and capable support services are crucial. In this regard, Philpot compliments his experience with MAXHUB. "During the initial setup," he explains, "we encountered a few challenges that we weren't certain how to address. MAXHUB provided onsite technical support and did a great job of helping us address our questions. We were very pleased."
A Tremendous Visual Experience
The team deployed four MAXHUB Raptor series displays at Seminole State College of Florida in November 2022. Since that time, Philpot reports the displays are not only meeting, but exceeding expectations. He then adds, "I am pleased to tell you that all four displays are being used a great deal and that our client is very pleased. Imagery is stunning. And this, in turn, goes a long way toward keeping everyone engaged. The MAXHUB displays deliver a tremendous visual experience for everyone who encounters them. And you can't ask for more than that!"
Check out MAXHUB's latest all-in-one collaboration displays and large-format LED displays on Commercial Integrator's sister-site AV-iQ.
If you enjoyed this article and want to receive more valuable industry content like this, click here to sign up for our digital newsletters!