Nanolumens Set to Thrill Attendees at InfoComm 2023
Attendees can expect two engaging booths and educational experiences from both Nanolumens and partners at InfoComm 2023.
Leave a Comment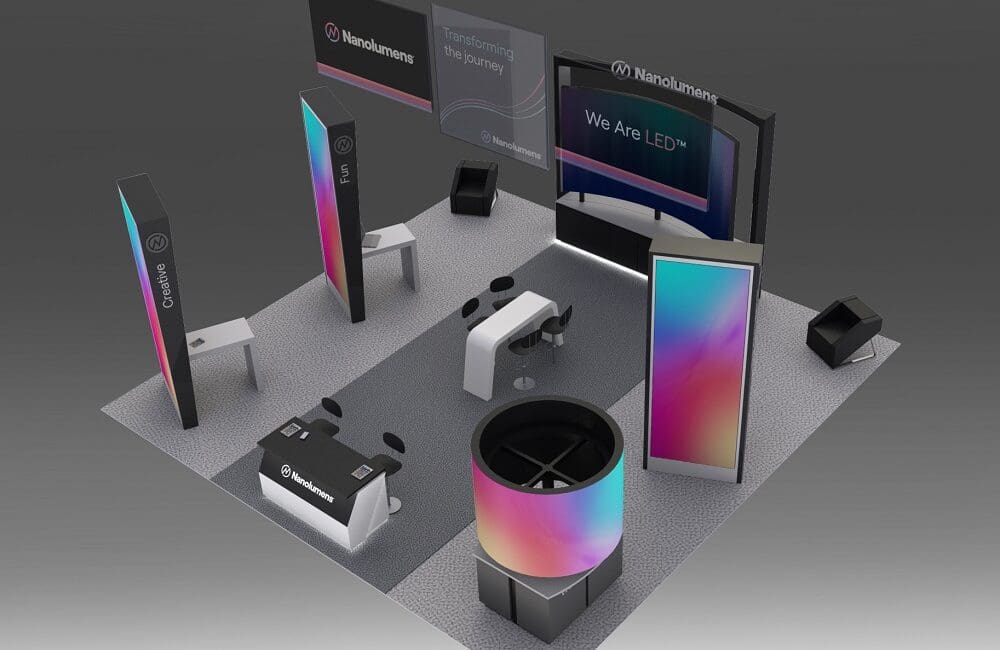 Atlanta-based Nanolumens, a provider of dvLED solutions, is preparing for an exciting presence at the upcoming InfoComm Show in Orlando, Fla. Over the three-day event, attendees can expect two engaging booths and educational experiences from both Nanolumens and partners.
Nanolumens says its anticipating this show to be amazing; "a thrill ride that offers a new way to discover the capabilities of Nanolumens' displays through interactive experiences offered in its main booth (#1781) as well as a new experience, created by Moment Factory for AVIXA's Interactive Experience (#361)." The activation, called Ethereal Entities, utilizes Nanolumens dvLED screens and was created through Kinect, scanning and tracking technologies.
"We know that attendees will have a lot of fun exploring this interactive canvas where the visuals come alive and will respond to your movements," says Nanolumens' CRO, Kurt DeYoung.
In addition to the interactive experience, Nanolumens' primary booth will feature several large videowall displays with content and digital artistry from FusionCI, Moment Factory, Render Impact, DreamLabs, Gentilhomme, and its own interactive station created with Float4.
The company will also be featuring Megapixel's HELIOS Processing Platform which has interchangeable input formats including ST2110. According to DeYoung, Helios is the only LED processor in the market to offer native ST2110 ingestion with IPMX ready capabilities.
Nanolumens' Manufacturing Training at InfoComm 2023
Nanolumens is leading two manufacturers' training sessions on June 14. From 9:30 am – 10:30 am, the company will present "The Digital Interface System, it's effect on design and cost, and available options for successful deployment" which speaks to the importance of how processors fit into the system architecture of DVLED screens and designs.
Later that day, from 1 pm – 2 pm, the company will present "The Changing Face of Direct View LED" – a look at the changing landscape and the many applications of dvLED.
Nanolumens Products on Display
Nanolumens will be showcasing its newest products in its Nixel Flex line, a 0.9mm pixel pitch True Curve videowall. The company will also be feature its new Engage Pro Series COB dvLED, and a new remote monitoring platform, NanoSuite in partnership with Smart Monkeys.
"[The] powerful tool can control, monitor and manage complex display systems from one location. Our collaboration with Smart Monkeys provides designers, architects, and system integrators more control over their most complex dvLED screen networks", says Brice McPheeters, VP of product and planning.
Nanolumens' main booth is #1781, and AVIXA's Interactive Experience created by Moment Factory is booth #361. InfoComm will take place from June 14-16 in Orlando, FL at the Orange County Convention Center. Use VIP Code: NAN911 for a free pass.
If you enjoyed this article and want to receive more valuable industry content like this, click here to sign up for our digital newsletters!