NanoLumens Nixel Series from Neurilink Means No More Bezels for Boise Center
NanoLumens Nixel Series display is ready to wow 165,000 convention visitors annually with ultrawide, panoramic presentations.
Leave a Comment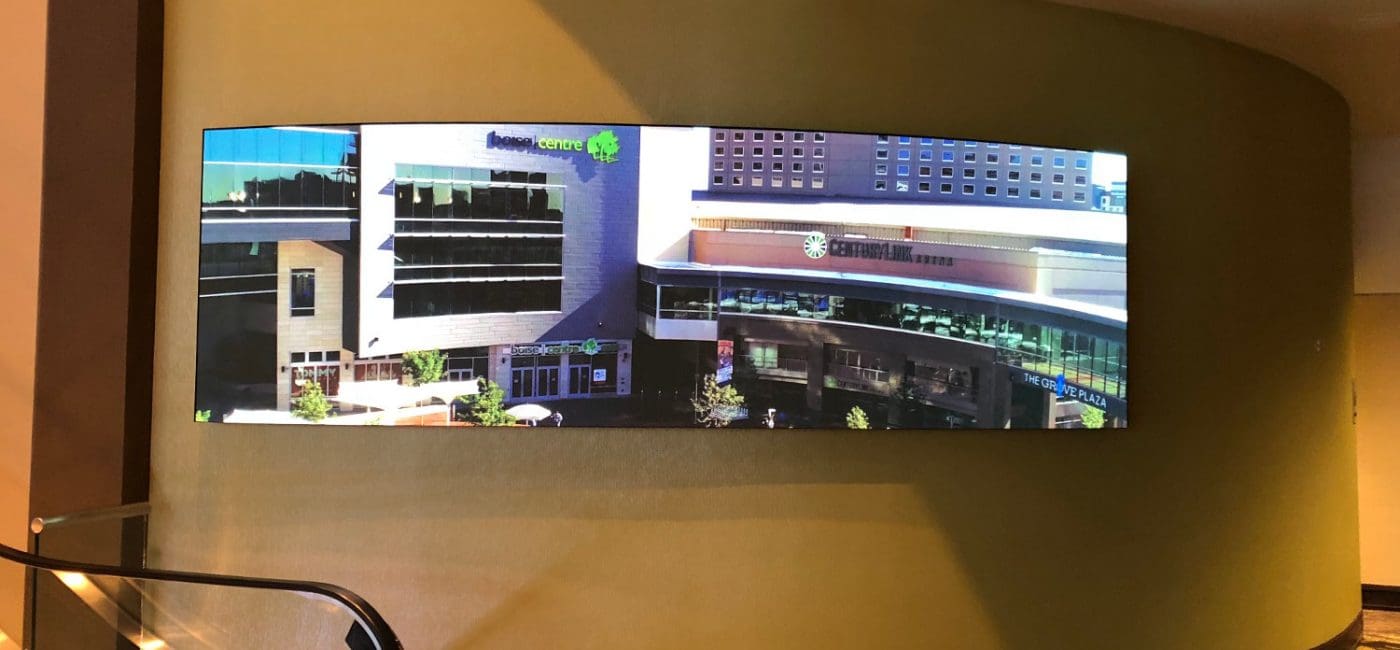 A structural renovation is always a good time to pursue technological updates. So while 36,000 square feet of new meeting spaces were being added to the Boise Centre — part of a $47.5 million expansion to Idaho's premiere convention center — Neurilink put their heads together with the Boise Centre audio visual manager Chris Morrison to create a dynamic display for the building's front lobby.
"This renovation aimed to reinvigorate Boise Centre for the 21st century, and that meant considering the latest AV technologies to create greater impact and really 'wow' our visitors," says Morrison.
From Flat to Curved
The first order of business was removing the three 90-inch standard TVs that had been installed in series to form a video wall.
This solution had run its course—the bezels between the TVs had become a distraction.
Related: It Took Less Than 30 Days to Install These 40-Foot LED Displays from NanoLumens
What the Boise Centre needed from Neurilink was one single seamless display that could hug the curve of a newly constructed wall.
Bigger is Better – In More Ways than One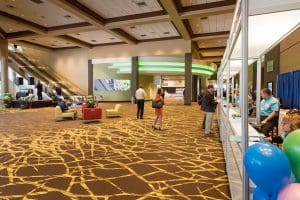 After researching several options and "getting bids from the biggest names in large LED displays," says Neurilink account manager Greg Bridges.
NanoLumens met all of the Boise Center's requirements: huge size, flexible construction, futuristic cosmetics, great warranty, and low maintenance, and integration friendly.
"NanoLumens was the only manufacturer that could provide a display that could flex to fit a 20-degree convex curve," Bridges continues.
"The other display makers also didn't offer front-accessibility, which we recognize as huge benefit of the display."
Morrison concurs: "After one of our original three 90-inch LCD displays failed, we realized it would cost as much to fix as to replace." The six-year warranty on the NanoLumens Nixel display was a bonus.
Design is in the Details
The new 15-foot wide by 4.5-foot tall ultrawide Nixel Series display utilizes a 2.5 mm pixel pitch, has a total resolution of 1824×540 pixels and is viewable from up to 160 degrees off center.
The secret to NanoLumens' curved display technology is the patented Nixel, a flexible building block that comprises all NanoLumens Nixel Series displays.
This technology is flexible for both concave and convex walls and bends to conform the displays mounting surface or required curvature.
Futuristic and Futureproof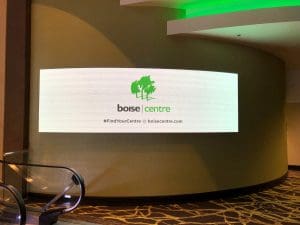 Today the display runs 24/7/365 and plays a promotional video about the Boise Centre and to project the names of visiting businesses or clients to personally welcome them.
The Centre is producing additional graphics and animations specifically for the NanoLumens display.
But no matter what the Centre decides to present, the display will be up for the task, having been engineered to work with a variety of content management systems.
Projecting the Right Image
No matter what the future holds, the new curved, sleek and modern display that graces the lobby of the Boise Centre evokes an image of innovation, excellence, and high standards for the city.
"We promote ourselves as Idaho's premiere convention center, and we want to live up to that moniker through everything from our textiles to our technology," Morrison concludes.
The NanoLumens Nixel display exemplifies this commitment to progress and gives each and every visitor a chance to experience a display that's as cutting-edge as they come.