Planar Donates Display Tech, Maintenance and PPEs to Customers, Resellers and Hospitals
Planar donates display technology, resources and personal protective equipment to customers, resellers and Portland-area hospitals during COVID-19 outbreak.
Leave a Comment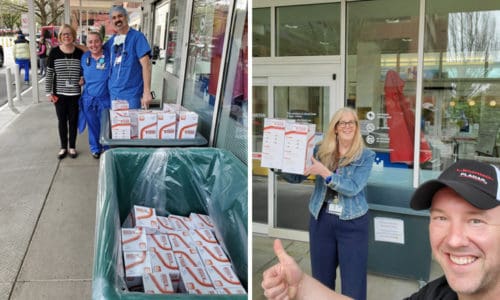 Planar is donating desktop monitors, offering free maintenance, warranty extensions and online delivery of AVIXA CTS-certified Planar Academy technology training courses to those in the AV community who support critical businesses during the coronavirus outbreak.
Planar also donated personal protective equipment (PPE) to hospitals in Oregon, including a 5,000 medical face masks to Legacy Health, Oregon Health & Science University Hospital and Adventist Medical Center.
"We are more committed than ever before to support our customers and community in the fight against the COVID-19 outbreak," said Planar executive VP of sales, marketing and pro services Adam Schmidt in the company announcement.
"These are trying times for all and being able to provide essential services that help protect our first responders and maintain day-to-day business operations for our customers and resellers offers a sense of hope that everyone needs right now," he said.
Inside Planar's Philanthropy
Complete details on the resources and opportunities currently available to Planar customers and resellers include:
Planar Desktop Monitors: The company is donating desktop monitors to support Planar customers and resellers who are working from home and need resources to maintain daily business operations.
Free Maintenance: Customers with critical operations, including healthcare, government, military and control room centers, are benefiting from free maintenance performed by local Planar technicians in compliance with all stay-at-home orders in local communities.
Warranty Extensions: Planar is extending the company's standard warranties by 90 days to offer customers additional support during uncertain times.
Planar Academy Training Courses: Planar Academy includes AVIXA CTS-certified technology training courses. The company has transitioned the free, in-person CTS training courses to online delivery, providing AV professionals the opportunity to continue their education while working from home.
Virtual Industry Events: Planar is transitioning in-person spring trade shows and events to virtual events. The company will offer digital alternatives for both NAB 2020 and InfoComm 2020 to allow customers who would otherwise visit the company's booth to engage with Planar professionals and learn about the company's latest product developments and offerings.
To further help prevent the spread of COVID-19, Planar is educating customers and resellers on the simple steps they can take to disinfect Planar LCD and LED displays.