PPDS Partners With i3 Technologies
PPDS' new partnership with I3 Technologies allows educators to create highly interactive workspaces that facilitate hybrid learning.
Leave a Comment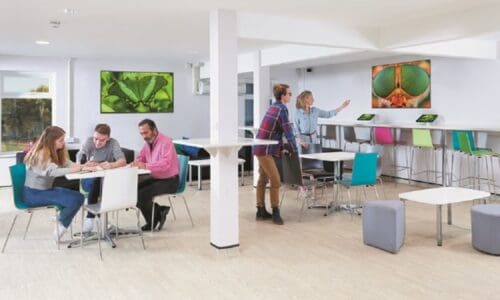 PPDS has announced a new partnership with education software solutions specialist, i3 Technologies, in North America. This strategic partnership will see PPDS' interactive touch screen displays, including the 4K Philips T-Line (designed exclusively for education), come with access to 'i3LEARNHUB' – i3 Technologies' flagship cloud-based digital creation and learning platform, designed to enable teachers to bring digital content to students, stimulate collaboration and prepare them with 21st century learning skills.
The addition of i3LEARNHUB provides teachers and students with instant access to an extensive range of new educative and collaborative tools, designed to help teachers create fresh, inspiring and feature-rich tailored content to present during lessons, turning classrooms into highly interactive workspaces and facilitating hybrid learning.
The i3LEARNHUB is highly intuitive, meaning no user training is required, with all content able to be created and even taught (for remote or distance learning) quickly and effortlessly, using any connected device, including PC, tablet or mobile phone.
And, together with the wireless sharing functionality of the Philips T-Line, the whole class – both on-site and working remotely – can connect and work on the main display from their own devices.
"As we continue, at PPDS, to act on our commitment and desire to drive positive change in education with interactive technology, we're absolutely delighted to have signed this important, key strategic partnership with i3 technologies," says Chris Colpaert, General Manager at PPDS.

"We recognize the value and the capabilities that can be achieved by combining our displays with trusted, leading software, benefiting our partners and, importantly, the end customer experience. This is all made even easier with our Android SoC, offering a more familiar, open platform, allowing customers to use the solutions they prefer and not be dictated to by the hardware."
i3LEARNHUB provides a library of tools and images and boasts a community of over 50,000 educational professionals, in which teachers around the world come together to share ideas and best practices and is accessible via the i3MARKETPLACE.
Teachers (and content publishers) can help to inspire their colleagues, by making their own tested lesson plans available to the entire community for use and tailoring. i3LEARNHUB also offers exciting content creation resources ranging from a collaborative, digital whiteboard to a vast library of rich, digital content—which includes augmented reality (AR) and 3D content.