RGB Spectrum Galileo Processors Power Video Walls at Cybersecurity Training Facility
RGB Spectrum Galileo video display processors powered three video walls in the classrooms of the Institute of CyberSecurity and Innovation facility.
Leave a Comment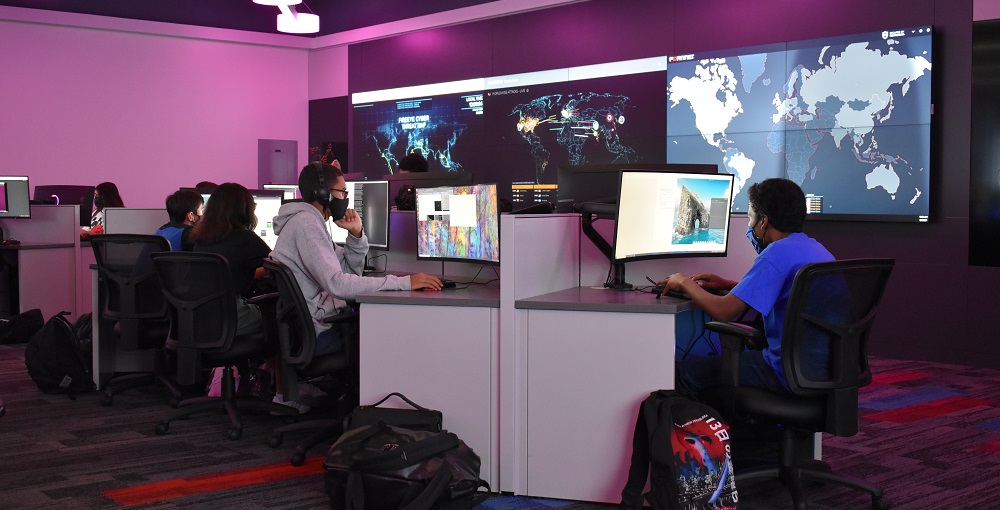 Photos & Slideshow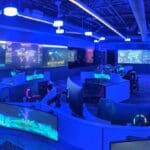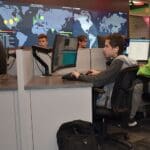 ---
The North East Independent School District (NEISD) in San Antonio, Texas opened a new cybersecurity training facility in response to increased cyberattacks. The new facility, Institute of CyberSecurity and Innovation (iCSI), trains students on detecting and identifying hacks and cyberattacks and responding to threats.
Students from all seven NEISD high schools have access to networking and cybersecurity classes. Students work through a four-year pathway where they have the opportunity to earn professional certifications in the areas of IT. The curriculum provides students with hands-on learning opportunities and real-world exercises related to industry-preferred professional skills.
Installing RGB Spectrum Galileo Processors
At iCSI, students learn to build, configure and secure computer systems and networks within a data center designed specifically for this purpose. Students can deploy hundreds of virtual machines and private networks. They are also challenged daily to study key cybersecurity concepts.
To enable this, iCSI has two cybersecurity classrooms designed with the look and feel of a security operations center. Here, RGB Spectrum's Galileo video display processors power the three video walls in each classroom. A single Galileo processor in each classroom drives the three video walls: two made up of 2×4 arrays of 55-inch LCDs and one larger 2×6.
According to the company, several features influenced the selection of RGB Spectrum's Galileo processor. Some of them included its real-time performance, ability to support a variety of digital and IP-based signal sources, and exceptional 4K image quality.
The Galileo processors receive an extensive range of baseband and IP-based inputs. These involve classroom PCs, virtual machines running Open Broadcast Software (OBS) controlling live RTSP streaming feeds and internet traffic analysis. They also receive cyberattack alerts, threat intelligence, local and national web resources, news broadcasts and social media channels.
Key to Instructional Process
The content displayed includes dark web transaction monitoring and hacking community chatter. It also includes maps depicting simulated cybersecurity attack origination and target points. The processors consolidate critical visuals and data to provide a centralized, correlated view to the students.
Moreover, source signals are displayed in windows of any size, anywhere on the video wall. Thus, instructors can instantly switch and route sources or choose preset display layouts. They can also pan and zoom to view particular items of interest.
Josh Beck, senior iCSI instructor then explains how the display technology has become key to the instructional process. He says, "…It is great to be able to have displays of sufficient resolution and size that all students can easily see all relevant information. When we work through step-by-step procedures, it is very easy for all students to see what the instructor is doing and utilize it as a point of reference."
Beck continues that the video processor received positive feedback from guests and visitors. "…It is very flexible and allows Instructors to get creative with lessons and challenges. Overall, it's great," he remarks.
Also Read: RGB Spectrum's Video Wall Processors Support GMR's Life-Saving Services
Features of CAT Linx 2 Extenders
RGB Spectrum's CAT Linx 2 HDBaseT extenders were installed to transmit the visuals from the Galileo processor to the video wall monitors. CAT-Linx 2 extenders transmit signals of up to 4K resolution over conventional CAT 5e/6 cable to a length of 330 feet. These extenders integrated PoH power to supply endpoints over the same CAT5e/6 cable that carries the video and data signals. This facilitates ease of installation and convenience. It also eliminates the need for external power connections.
In addition, a CAT-Linx 2 pair needs only one power supply connected to either the transmitter or the receiver end to power both devices. The extender also has advanced features. These include HDCP 2.2, Dolby and DTS HD audio support, as well as serial and IR control of display devices.
RGB Spectrum is an Alameda, Calif.-based designer and manufacturer of mission-critical, real-time audio-visual solutions for a civilian, government and military client base.
For more information on the North East Independent School District's Institute of Cybersecurity and Innovation, click here.
Click on "View Slideshow" on the upper-right corner for images of the iCSI facility.
If you enjoyed this article and want to receive more valuable industry content like this, click here to sign up for our digital newsletters!