ROE Visual and disguise Partner at NAB Show
ROE Visual and disguise will partner at NAB to show its extended reality solutions and virtual production studios.
Leave a Comment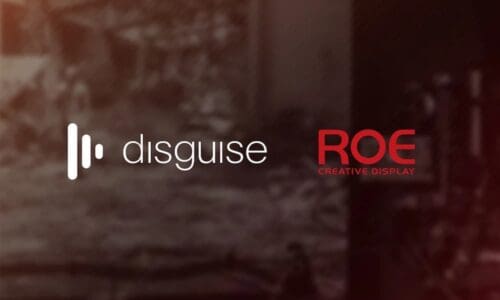 ROE Visual, the Shenzhen, China-based provider of digital display technologies will present its latest LED products and innovations in partnership with disguise at the NAB Show (April 23-27), booth C5632.
Bringing these new technologies to the NAB Show, ROE says its intends to visualize the added value from LED products in specific markets and how they can meet the growing need for creative content production. ROE will do so with disguise, who brings extended reality (xR) projects to life via its ecosystem of hardware and software offerings.
"We treasure every face-to-face experience with our friends through impactful platforms like NAB Show. Our team focuses on providing something impactful for customers, forging a connection with them to discover their real demands." says Frank Montero, managing director of ROE Visual U.S.
disguise's VP of Broadcast Phil Ventre says, "There is a growing demand for xR technology and we want to work with industry leaders like ROE to raise awareness and educate the market about how it can benefit productions of any size and complexity."
ROE Visual products on display at NAB Show 2022:
Opal LED Platform: Opal is a new product series for AV Integration, aiming to provide designers and clients with a creative and versatile LED platform that accommodates indoor and outdoor applications. Opal delivers a stunning visual display that feeds the desire to create, facilitating imaginative and extraordinary designs.
Graphite: This thin but sturdy LED panel is ideal for creating indoor LED walls and ceilings. Graphite delivers a lightweight and easy-to-build LED solution without compromising on performance.
Black Pearl BP2V2: The BP2V2 offers the trusted performance of the Black Pearl BP2 in an updated version with high-speed components and true-to-content color representation. These modifications result in the identical, perfect on-camera performance as the BP2, but with a more streamlined setup and handling. Its in-camera performance is unrivaled, making it ideal for film applications.
Black Marble BM4: The Red Dot award-winning Black Marble LED floor panel brings creativity to your feet. Available with a high-contrast glass, matte, or mirror finish, these floor panels are suited for a wide range of creative uses. Such possibilities include broadcast, live events, hospitality, xR stages and many more.
Those who wish to visit ROE Visual and disguise at the NAB show can sign up for a free voucher using code: LV6562