Samsung Brings The Wall, QLED 8K Singage and EV Charging Screens To InfoComm 2021
Samsung is introducing a range of new display solutions at InfoComm 2021, including The Wall, QLED displays and more.
Leave a Comment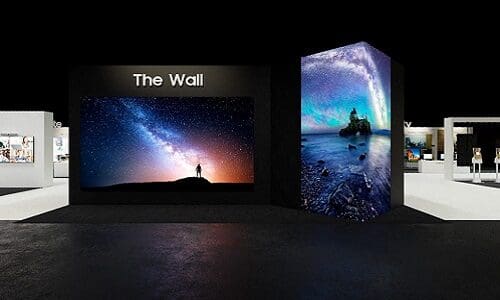 Samsung, a presenting sponsor of InfoComm, is introducing a range of new display solutions at the show this year, and is also hosting a new concept event designed to allow people who didn't make the trip to Orlando to experience its solutions virtually.
Samsung is introducing The Wall IWA P1.26, a MICRO LED-based commercial display, features a MICRO AI processor and a bezel-free modular display screen that Samsung says can be customized to suit the design of any space.
According to the company, it features black seal technology and ultra chroma technology, delivering AI-optimized visuals for up to 8K resolution. The model comes with enhanced installation with pre-adjusted seam and cable-less docking connection.
The display can be configured in a variety of options, including L-shape, concave, convex, on a ceiling or hanging. Samsung markets The Wall to a variety of verticals, including corporate, control rooms, design centers, studios and even cinemas.
Samsung also introduced the Neo QLED 8K Signage for the first time. According to the company, the display line is powered by Quantum Matrix Technology and features Quantum Mini LEDs. The displays are available in 65, 75 and 85 inches and can be configured in either portrait or landscape.
The line also features an Infinity One Design, which Samsung says enables it to seamlessly fit into any business environment.
The company is also debuting its signage displays for electric vehicle charging stations, an outdoor signage solution designed to provide customers an elevated experience while charging their vehicle.
According to Samsung, the displays feature enhanced visibility, brightness greater than 3,500nits and reliable performance.
Content can include information including maps, traffic updates and digital advertisements, the company says.
Those unable to attend InfoComm can learn about Samsung's products via the company's virtual concept event, InfoComm 2021 Samsung VX.