Sony Electronics' AV Team to Exhibit at NRF 2022: Retail's Big Show
At NRF 2022, Sony Electronics will feature its professional large display solutions, digital signage capabilities and collaborative partnerships.
Leave a Comment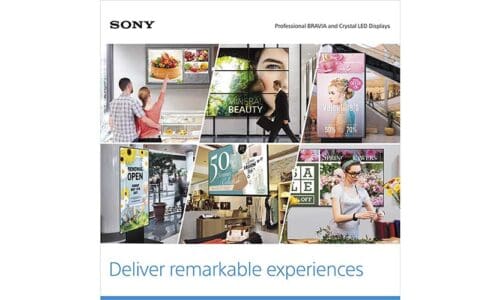 Sony Electronics will display its portfolio at the National Retail Federation's NRF 2022: Retail's Big Show. Held at the Javits Center in New York City, N.Y., the show will run from Jan. 16-18, 2022.
The National Retail Federation hosts its flagship NRF: Retail's Big Show event annually to connect retailers, vendors, industry experts and visionaries. It also showcase the latest innovations, explores the newest trends, tackles retail's biggest topics and discusses the future.
Sony's highlights for NRF 2022 include flexible professional BRAVIA displays ranging in size from 32 to 100 inches. It will also feature the bright Crystal LED C-Series direct view display and a digital signage kiosk. In addition, Sony will demonstrate solutions from select Digital Signage Alliance partners.
Rich Ventura, vice president of B2B, Sony Electronics' imaging products and solutions professional division, expands on the company's decision to attend the show. "As Sony adopts a more targeted focus on vertical markets, attending NRF allows us to expose our accommodating large display offerings to a range of influencers in the retail space," Ventura says. "As the retail space continues to evolve and communication needs advance, we look forward to the networking with and learning from the community."
Ventura adds that they will also reinforce Sony's legacy and expertise in developing and manufacturing high-quality digital signage solutions.
The following technologies will be featured at NRF 2022:
Robust 4K Professional BRAVIA Displays with crisp detail and rich, vibrant colors

FW-32BZ30J (32 inch)
FW-50BZ30J (50 inch)
FW-50BZ35J (50 inch)
FW-55BZ40H (55 inch)
FW-100BZ40J (100 inch)

A Crystal LED video wall that showcases immersive, high brightness images with high contrast
An indoor digital signage kiosk from Palmer Digital Group, which incorporates Sony's 55-inch professional BRAVIA display
Solutions from Sony's Digital Signage Alliance Partners. These include Korbyt, Appspace, 22 Miles and TSItouch, Wovenmedia, YCD Multimedia, BrightSign and Signagelive.
Sony adds that it will display its portfolio and solutions at Booth #3137.
Check out our site archives for previous coverage on Sony Electronics.