Unilumin Launches UMiniIII Series Displays
Unilumin UMiniIII Series displays are designed to meet the needs of high-end applications with enhanced optical processing technology.
Leave a Comment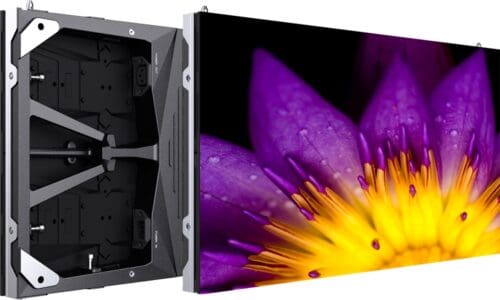 Unilumin, the Shenzhen, China-based LED screen and display manufacturer has announced the launch of its new UMiniIII Series of LED displays. According to the company, the UMiniIII Series are designed to meet the needs of high-end applications, such as industrial designs, conference and exhibition halls. The series offers three models at launch: P0.9, P0.9 Pro and P1.2. The series also features energy saving efficiency while in-use as well as in standby.
UMiniIII utilizes Unilumin's unique Enhance Black Level and multi-layer optical processing technology to create a super high contrast level of 30,000:1 for eye-popping color imagery against pure black content. According to the company, image consistency is assured through Unilumin's Enhanced Drive Level technology, which fully guarantees low grayscale with no flickering. The same technology safeguards against high contrast from connectivity issues.
Furthermore, low-brightness and high-brightness areas are corrected separately to ensure consistency of low-brightness to high-brightness across the 170-degree viewing area of the series.
Additionally, UMiniIII features 3D-LUT color gamut calibration technology to achieve a DCI-P3 standard display of movie-standard images, while also supporting high frame rate applications of 120HZ and 240HZ which makes the display content smoother.
To complement the delivery of the feature rich imagery, the UMiniIII series includes a 5G ultra-large signal transmission design with a data transmission speed four times faster than traditional LED display, according to Unilumin.
Simultaneously, the load capacity of the series is larger than standard, while the hardware equipment is more streamlined, both adding to the stability UMiniIII offers.
The UMiniIII series balances the advances in image technology with extra viewing support. To make viewing more comfortable for the eye, UMiniIII reduces blue ray hazards and filters stray light effects, to protect eyes and allow for extended viewing periods commensurate with consumer levels as the series has passed EMC class B testing.
Further testing has positioned UMiniIII with a UL Certification Testing, which has a full range of security and stability guarantees. The display's ultra-thin, at 40mm, and lightweight 6KG housing also offers protection to ensure the screen is dust and moisture proof, with 3H protection.
Adding to the comfort features of the display series, UMiniIII adopts ultra-cool screen technology which assures temperatures as low as 38°C in front of the screen (at 600 brightness, where ambient temperature is 25°C).
UMiniIII also adopts the latest energy-saving technology so it can achieve the maximum energy-saving effect whether in use or in standby. It also includes a one-click sleep button on the display to save energy.