Why Calibrate a Monitor (and your life)?
Every year about this time, we start to plan out our list of "New Year's resolutions," which tend to focus on cleaning up and organizing areas of our life that may have fallen by the wayside during the course of the year.
Content from our Sponsor
Leave a Comment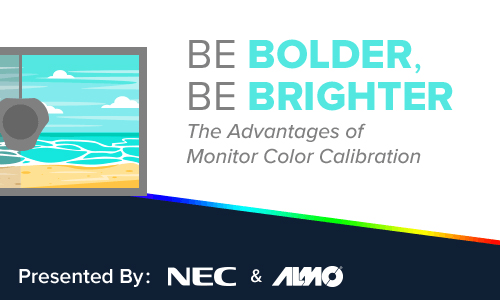 We change up our eating and exercise habits to look and feel our best. We declutter areas of our homes to make it easier to find what we need. We organize our finances by setting up a plan to pay off that extra debt we created during the holiday season!
Just as we need to calibrate our lives to reset and put the most optimal version of ourselves forward, it's important to calibrate display monitors to achieve the most accurate and reliable color on screen. It's the only way to ensure that the colors displayed on the monitor will be represented accurately – and that can make all the difference, especially if your client's career relies upon accurate color, like a photographer or graphic artist. This is also important if the monitors are used to sell products and services where accurate color can make or break the sale, such as a car dealer, make-up manufacturer or clothing store.
Monitor calibration uses a device known as a colorimeter, or calibration sensor, that measures and adjusts a monitor's color response to ensure color accuracy. Software linked to the colorimeter makes changes in either the monitor's electronics (hardware calibration) or in your computer's video graphic video or operating system (software calibration).
Calibrating your monitor results in:
Colors that are more accurate
Levels of color (gamma) that are more correct
Brightness that is calibrated
Here are the top three benefits of calibrating a display monitor:
It Makes the Monitor More Efficient. Calibrating your monitor avoids unwanted variations in color tones, reducing rework or a potential loss of business. And calibrated displays offer up to 30 percent less power consumption due to the optimized screen light output. According to NEC, calibrating a display sets it up to the proper amount of brightness for its viewing environment. Since a calibrated display now outputs only the required light, the brightness reduction also improves the panel life by up to 20 percent.
It's Relatively Easy and Cost-Effective. A monitor can be calibrated with a calibration sensor and some software. It can be done in a moderate amount of time too. And calibrating a monitor means extra money isn't needed for a new monitor every time the level of color performance fades. Ideally, calibration should be done about once a month for best color.
It Makes the Images Look Better. You can really see the difference after calibration as colors are more accurate, the levels of color are more correct and brightness is calibrated in line with professional industry standards. Regular calibration also assures uniform output even when working in collaboration with others.
For more details about monitor calibration, check out this white paper from NEC, entitled "Why Should I Calibrate My Monitor?"
Take advantage of the Instant Rebates on the NEC C Series Displays and V Series Display, only available for the month of December. Contact your Almo rep to learn more.