YES TECH To Show Latest LED Display Solutions at InfoComm 2022
LED display manufacturer YES TECH will be showing its latest LED solutions at InfoComm 2022 at booth #N3019.
Leave a Comment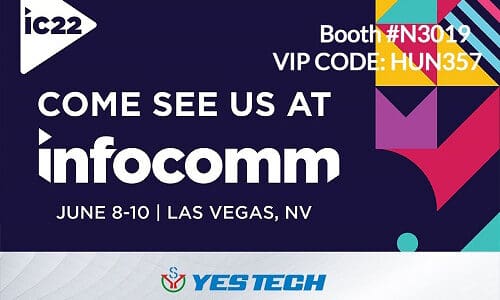 YES TECH, the China-based LED display manufacturer will be exhibiting at InfoComm 2022, June 8-10 at the Las Vegas Convention Center. YES TECH will be at booth N3019. Those wishing to attend YES TECH's booth can enter the VIP code: HUN357.
YES TECH will be showing the following LED display solutions at InfoComm:
Fixed Products
Mpad Mini series-HD and display
Mplus Mini series-8:9 ratio design can be assembled to 16:9 and 4:3 screen
Mwall series for indoor fixed-high brightness, supports 90°corner splicing
Msign series for outdoor fixed-partition design
ES series for outdoor fixed-super high brightness, highest 60% energy saving
Rental & Staging Products
DS series for outdoor fixed-focus on large rental application
MG series-Multiple uses and various shapes
Conference
HD display, provides professional and comfortable conference experience
Commercial
Mwall series
Seamless splicing, HD and smooth display