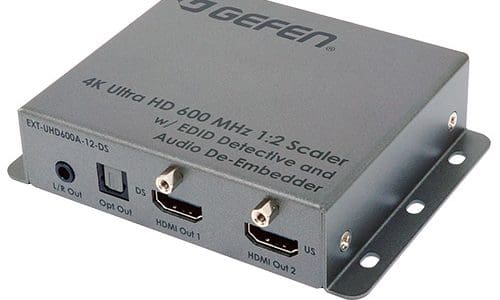 The new Gefen 4K Ultra HD 600MHz 1:2 scaler (EXT-UHD600A-12-DS) is now shipping.
Gefen's latest product is designed to solve display compatibility issues when sending content to multiple mixed displays that utilize Ultra HD and 1080p resolutions.
The 4K Ultra HD 600MHz 1:2 Scaler with EDID Detective and Audio De-Embedder provides professional integrators with a splitter that incorporates scaling, EDID management and audio breakout options, all in a single product.
"This unit can accept a full bandwidth 600MHz HDMI 2.0 4K signal while offering downscaling capabilities on one of its split outputs, enabling users to pass the original 4K signal through, while gaining a 1080p output for use with downstream devices that are not 4K capable," says product manager Jason Fitzgerald.
New HD 600MHz 1:2 Scaler Features Flexible Set-Up
One output can downscale a 4K 600MHz signal to full 1080p while the other can upscale an HD signal to full 4K Ultra HD 600MHz in a mixed-resolution display system.
Fitzgerald says a single 1080p input can also be split and scaled separate 1080p and 4K Ultra HD 600MHz outputs.
"Commercial integrators are often called upon to update and upgrade a legacy system, and may encounter a mixture of 1080p and 4K devices within a system," explains Fitzgerald.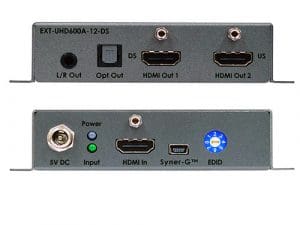 "This unit allows them to create two video paths from one input, with each path best suited for the devices it will be connected to. "
Beyond the product's scaling and signal-splitting features, the unit also provides advanced EDID management with built-in pass-thru and user EDID functions.
The unit also de-embeds audio from HDMI, and outputs it through a choice of left/right analog audio and Toslink optical digital audio (two channel LPCM) connections.
Gefen emphasizes the 1:2 scaler is compatible state-of-the-art formats such as Cinema DCI 4096×2160 at 60Hz with 4:4:4 chroma subsampling, and HDR formats such as HDR-10 and Dolby Vision.
Read Next: 36 Most Innovative IP Control, Connections and Transport Products of 2017: The Best 4K Fiber Optic Extenders & More
"The 4K Ultra HD 600MHz 1:2 Scaler operates as an all-in-one problem solver," adds Fitzgerald.
"With EDID capabilities built into this Gefen 4K Ultra HD multi-functional splitter, commercial integrators now have the opportunity for enhanced  functionality in a mixed-display environment."