Key Digital KD-ProG Cables Deliver 18 Gbps Signals up to 75 Feet
Key Digital KD-ProG cables allow AV integrators to install 4K with confidence across long distances in a variety of applications.
Leave a Comment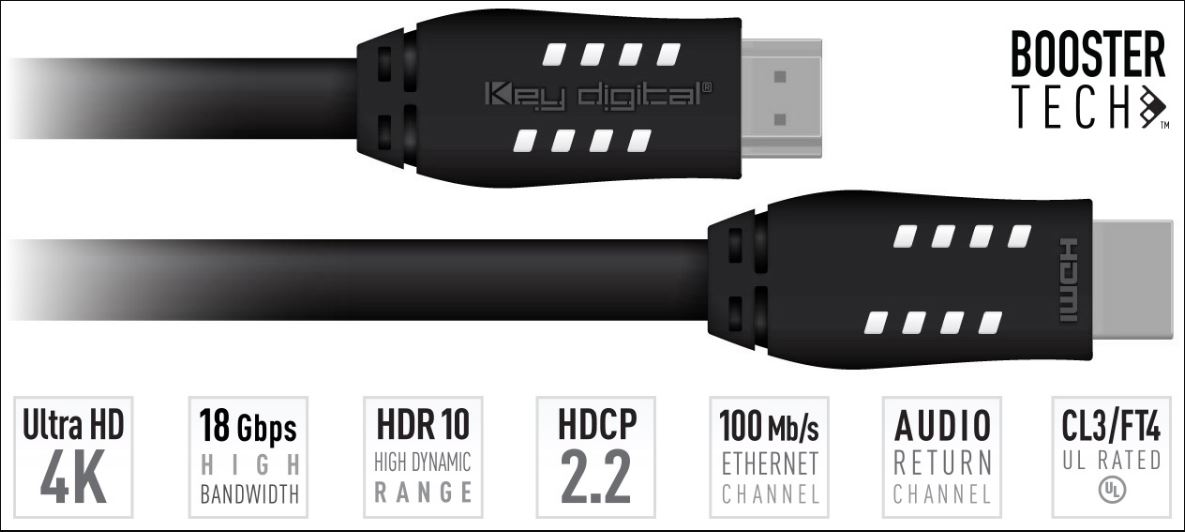 Key Digital has introduced KD-Pro30G, KD-Pro40G, KD-Pro50G, and KD-Pro75G HDMI cables, which company officials say offer "the latest in 4K resolutions with Ultra HD/4K support up to 4096×2160 or 3840×2160 24/25/30Hz [4:4:4] and 50/60Hz [4:4:4]."
All high-performance Key Digital KD-ProG cables support 18Gbps of bandwidth and the latest HDMI standards. These cables feature HDR10 (High Dynamic Range), which "provides for life-like images through the use of a greater range of luminance levels," according to the Key Digital press release.
They are HDCP 2.2 compliant and backward compatible with previous HDCP versions. The Ethernet channel on the KD-ProG cables support up to 100 Mb/s of Ethernet speeds between two HDMI connected devices.
"With increased demand for UHD/4K content in distributed video applications, releasing traditional HDMI cabling that supports bandwidths up to 18 Gbps is absolutely critical," said Jonathon Ferry, national training manager for Key Digital.
"Installations using KD-PROG cables are the only copper-based solution for ensuring reliably in the field."
"The current HDMI standards have made bandwidth a more important requirement than ever before, and Key Digital is now the only manufacturer to deliver full-circle system integrity," he said.
The KD-ProG cables have Audio Return Channel (ARC) which allows the audio to be returned from the display back to the HDMI source for amplification and display. These cables support digital audio formats including Dolby TrueHD, Dolby Digital Plus, Dolby Atmos and DTS-HD Master Audio.
The KD-ProG cables have been designed using Open Eye Technology and have been certified and tested for low loss and a noise-free performance.
Read Next: 7 Most Innovative Content Creation Products of 2017: The Best 4K Video Encoders, Podcast Mics and More
The KD-ProG cables offer the latest in 4K resolutions, super-fast data transfer rates, and HDR10 support making them the ideal cable for installation in racks, at displays, or over long lengths in commercial digital video applications.
"With our cables supporting 18 gigabit bandwidth up to 75 feet, Key Digital is the brand that delivers the highest resolution of quality in any application, including high-resolution data viewing or signage content," said Michael Lakhter, COO of Key Digital.