LG, Crescent Digital Bring 750 New Displays to the Home of Cleveland Cavaliers
The Cleveland Cavaliers' Rocket Mortgage FieldHouse now boasts some of the latest digital technologies thanks LG and Crescent Digital.
Leave a Comment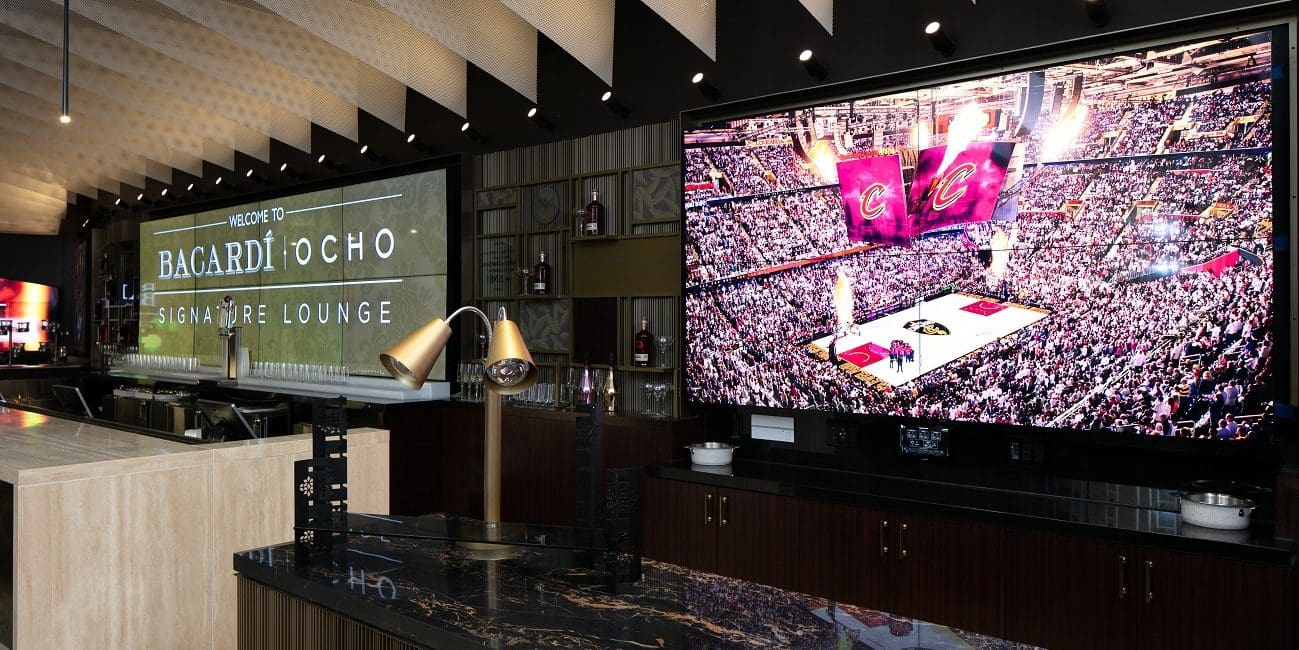 The Rocket Mortgage FieldHouse, home of the NBA's Cleveland Cavaliers, now boasts some of the latest digital technologies thanks to a recent AV refresh from LG Business Solutions and Crescent Digital.
The upgrade transformed the facility's 25-year-old infrastructure into a cutting-edge building with over 750 digital displays from LG that give every guest the ability to see the court from every seat in the house.
The companies worked with the City of Cleveland, which owns the sports and entertainment venue, to install and integrate the 750 LG displays for wayfinding, live feeds of the game, messaging, marketing, food menus and more.
"Through the efforts and investments of the team working in collaboration with the city of Cleveland Cuyahoga County, the hard work of our design and installation professionals, Rocket Mortgage FieldHouse is now a state-of-the-art, high tech arena that delivers an unforgettable fan experience with more than 750 LG digital displays," Crescent Digital CEO Mike Heines said in a statement.
Concourse and concessions
There are now a ring of 150 49-inch displays in the main concourse that wrap the entire perimeter and can be used individually or together to present any content. Every display in the venue – inside and out – is connected to a single IPTV distribution system that enables quick changes and automated scheduling of the display network. This allows new experiences for events, including for the national anthem where the entire display network goes dark before returning when the song finishes.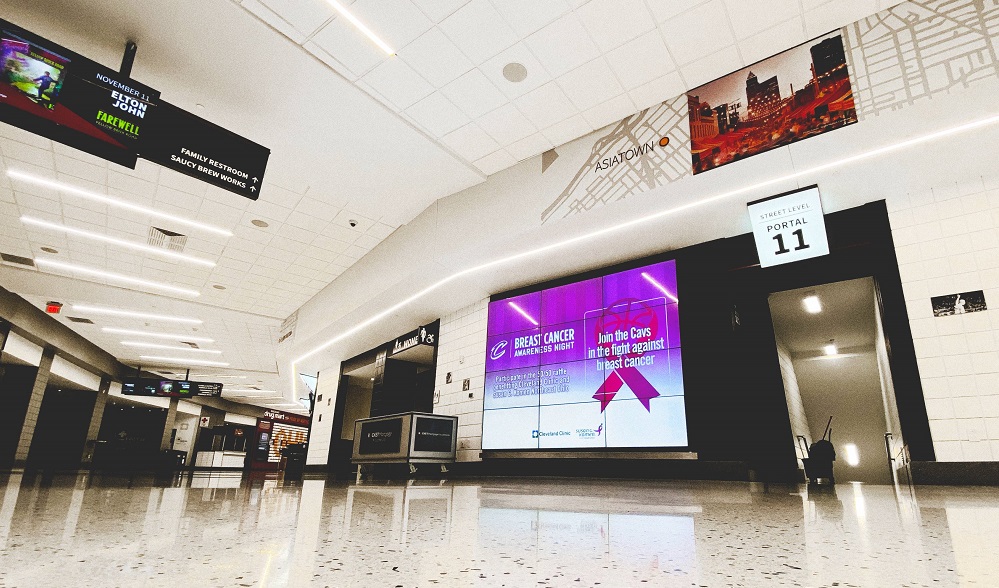 The companies worked with limited wall space in some areas, including at one concession stand where plans called for digital displays to be mounted above the stand, covering its full length so visitors can see them menu from any location.
The team chose LG's 86-inch Ultra-Stretch displays side-by-side to form an ultra-wide video wall above the stand. That same model was used at all concession stands.
Locker room and premium suites
In the Cavaliers' locker room, the companies installed 14-inch specialized ultra-stretch displays. Five of them sit side-by-side to create a ticker-like canvas that presents gameday media. Those same displays are also located inside the ticket office to provide guests with information.
Also upgraded in the FieldHouse were displays in premium guest spaces, like areas for season ticket holders. Six LG video wall sin 4×2, 2×2 and 3×3 configurations were installed, each comprised of multiple 49-inch or 55-inch high-brightness displays with ultra-slim bezels.
Each suite also has three LG displays connected to the IPTV network that guests can control.
"Having the right partners on a project of this scale and complexity is critical," said Cavaliers and Rocket Mortgage FieldHouse Senior Vice President and Chief Technology Officer Mike Conley. "Our partners at Crescent Digital combined with the LG team made a big difference and helped create a vision and a solution that takes our technology and fan experience to the highest level possible. Everyone kept that in mind as solutions were created, while developing efficiencies at the same time. A true win-win-win equation."
Evan Peterson, senior account manager for LG Business Solutions USA, said together with Crescent Digital, the companies achieved every goal and met every expectation of the Rocket Mortgage FieldHouse.
"The FieldHouse is a testament to what can be achieved through hard work and forward-thinking project leadership, and it paves the way for other venues around the globe to create efficiencies by renovating and updating facilities and technologies."