Inside Baseball: How Cincinnati Reds' Great American Ball Park Handles Video Distribution
When the Cincinnati Reds added the Champions Club, Scouts Club, and view level bar to Great American Ball Park it tackled HD video distribution challenges with Just Add Power Ultra HD Over IP.
Leave a Comment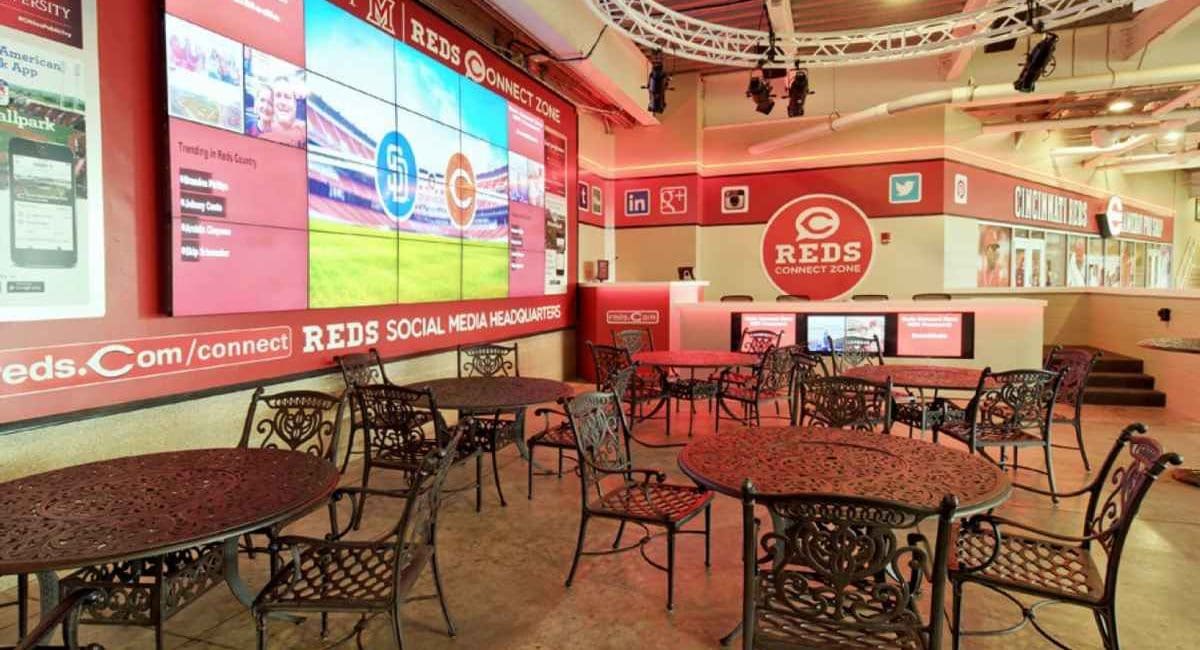 The Great American Ball Park in Cincinnati is the hallmark of America's greatest pastime and home to baseball's oldest franchise, the Cincinnati Reds. The organization has made it its mission to keep the team's greatness alive through continuous upgrades that further boost and enhance the fan experience.
In addition to new food and entertainment options, providing high-end visual technology was a large priority — delivering a bevy of video walls, projectors, interactive screens, and flat screens that would entertain fans in and out of their seats for the ultimate game day.
Technology solutions integrator Nor-Com has worked with the stadium since 2014, and was tasked by the Great American Ball Park to design and implement a visual system that would put the stadium on the cutting-edge.
For the 2017 season, the Cincinnati Reds added a new exclusive Champions Club, the Scouts Club, and the view level bar that all needed a state-of-the art video distribution system to allow the Great American Ball Park to distribute HD video to a range of sources within each space.
Video Distribution Challenge at the Great American Ball Park
Because the stadium was continuing to add and refurbish spaces over a course of a few years, it was imperative that Nor-Com select and install a video distribution system that would work with today's and tomorrow's video formats as well as a range of sources.
The company decided that the old switching system that had been installed in other areas of the stadium didn't meet the needs of the organization. It was cumbersome to install, required pulling a lot of cabling, and was difficult for users to operate.
"We had to do repeated error checks to ensure it was all routed and connected properly," said Gary Snyder, technology resource manager for Nor-Com.
"Then it required users to follow six different steps to send a source to a single display. And in this stadium, where the Cincinnati Reds have really put a lot of emphasis on visual entertainment with displays literally everywhere and a dozen or more sources in each space, it was too complex for them to easily manage."
They needed a platform would support any source — including HD tuners, Blu-ray players, video game consoles, presentation inputs, digital signage and dynamic video wall graphics, live broadcast feeds, and more — and distribute it to any screen with ease.
It also needed to be scalable and modular, allowing the organization to add new screens as needed in each space.
The system would also need to support the upgrade from VGA to 1080p and be capable of transitioning to 4K in the future without ripping and replacing the infrastructure in place.
Finally, the solution needed to be easy to control, allowing users to push a button to operate all the displays in one space or selectively distribute sources throughout the room.
Video Distribution Solution
With the stadium implementing a centralized IT infrastructure, Nor-Com didn't hesitate to specify Just Add Power (J+P)'s Ultra HD Over IP products. Designed to scale to the format and size of any installation, J+P's modular approach to video distribution provided the flexibility needed in such a large, complex project.
Using the platform, integrators can optimize the current IP infrastructure to create a limitless 1080p up to 4K HDMI matrix using a 1Gb network and Cat-5e/6 cabling.
Video can be routed anywhere with ease, even a thousand feet apart. In addition, it offers any combination of inputs and outputs to meet the wide variety of sources and screen requirements often found in a large commercial installation.
Additional screens can be accommodated with another receiver while only another transmitter is needed to distribute each additional new video source. In addition, when screens are upgraded to 4K, only the receiver needs to be switched out, providing the organization with an economical way to transition to emerging formats.
This is a cost-effective solution compared to deploying a large, fixed-format HDBaseT matrix that may not meet future needs.
It can also be used in centralized and decentralized designs, or a mixture of both. Built-in scalers mean every display plays the highest resolution video possible with ultra-low latency that is undetectable and sources are instantly switched from one to the next.
Other features include HDCP protection, full power over Ethernet (PoE) commercial-grade hardware backed by a three-year warranty, multi-channel support including high-resolution digital audio formats, RS-232 or IR control of sources, and instant video wall modes for dynamic presentations.
Inside the Video Distribution Results at Great American Ball Park
Just Add Power's intelligent, robust, and cost-effective Ultra HD Over IP platform has kept pace with the Cincinnati Reds ongoing upgrades and video distribution requirements.
When Nor-Com began implementing J+P's highly modular and scalable IP-based system five years ago, it quickly became the platform of choice as they progressed through the extensive upgrades around the stadium.
As a result, new spaces continue to be brought online with the new system and others updated for a seamless video experience that can be commanded with ease.
"Our first Just Add Power project was the War Room, where they do baseball trades, watch college baseball, and do all their prospecting for draft day. It features three 80-inch displays and a video wall with 12 DirecTV set-top boxes that can be routed to anyone of those displays at a touch of button," said Snyder.
"Using J+P, we not only can do that but we can also window the different channels so people can watch all the different games at once. They can pull or have them even jumping around. That impressed them enough to want to do this throughout the installation with the goal of having the entire stadium unified so that a single source can literally be pushed to any display in the venue."
A year later, Nor-Com deployed J+P in the Super Suite, which features 10 interactive displays along with 10 more displays throughout with Barco ClickShare wireless presentations system, StarLeaf videoconferencing, a Blu-ray player, digital signage, and HD tuners all acting as sources. This unique space is a partnership between Nor-Com and the Cincinnati Reds, and a true testament of the relationship between the integrator and organization.
At the Handlebar Club, which was in 2015, the organization also added a new level. It boasts the second largest videowall in the stadium with two columns featuring a 3×5 15-monitor matrix as well as 20 additional displays throughout the space.

Inputs includes three laptop ports, a Blu-ray Player, and a Christie Brio to support wireless video presentations from up to 16 users. That space also has boasts digital signage boxes managing six different channels of digital signage that can routed to the columns and to the video wall at any given time. In the pregame mode, the boxes also run graphics around the top and bottom of the video wall for additional branding.

At the newly redesigned Scouts Club, Nor-Com used J+P's 2G and 3G transmitters and receivers. The state-of-the-art space was installed with 42 displays that includes a two 2×2 videowall columns that feature interactive displays.

Guests can access the schedule and other information such as the players and player stats. In addition, kids can play Xbox video games on the screens. Each of the booths in the restaurant feature a touchscreen display where customers can conveniently order their food, watch live television, or pull up the game-day schedule. The space also includes a massive three-projector blended video wall that runs special game day video and graphics.
Using the J+P Ultra HD over IP platform, Nor-Com could distribute more than 13 sources throughout the Champions Club, which also included four digital HD tuners to access the game feed or different sports programs; a Blu-ray player; a scoreboard feed; a laptop input; two PCs with one dedicated to presentation and the other to digital signage; and two digital signage boxes.

In the private Champions Club, the organization has continued to improve upon the exclusive fan experience offered in the space by optimizing J+P's incredible video distribution performance. The Champions Club's former distribution system was costly, complex to install, and cumbersome to use. J+P provided the building blocks for a simple system that solved these challenges.

The space features 54 displays, including 13 private outdoor booths each installed with a display and two large projection systems that can be used for weddings and special events.
Distributed sources include seven laptop inputs between three wall inputs, three floor boxes, and an iPad wall cradle; three HD tuners; two dedicated PCs for presentations and digital signage; a Blu-ray player; a scoreboard feed; and finally, a press feed. Because the Champions Club offers one of the most spectacular views of the Great American Ball Park, it's often used for camera crews, so it was essential that the Cincinnati Reds be able to intake live camera feeds and distribute it to all the displays in the Champions Club.

The press box area and social media wall was another unique area that was recently updated. The social media wall is 20-monitor video wall installed within the Cincinnati Reds Connect Zone on the main concourse in a 4 x 5 matrix.

The wall is updated with the organization's live social media feeds from Twitter, Facebook, and Instagram as well as other sports broadcast programming, using the J+P platform.
In each space, users can control and switch any source effortlessly from an iPad. J+P's platform can easily be programmed within the organization's control environments, which include Crestron and RTI. Because of the simplicity of the system, training is minimal.
Using the iPad, it's intuitive to put every display in pre-game mode or send specific sources to one or all displays in the room. This capability brings the technology to the forefront of the fan experience while minimizing system management and issues.
"The sports industry is currently faced with the challenge of how to affordably upgrade their technology to provide a seamless, cost-effective, and future-proof entertainment experience for the fans. J+P helps easily solve modern video distribution challenges by providing modular system that can be scaled as needed," Synder said.
"For the Cincinnati Reds', it's offered incredible versatility that was essential to their vision. We were able to put in new bar or install guest experience as their vision evolved, drop in 60 displays, and send protected HD content to any one of those displays — with a snap of a finger."