A Peek Behind the Curtain – A Visit to Panasonic's Innovation Center
So much cool technology, so little time…
Content from our Sponsor
Leave a Comment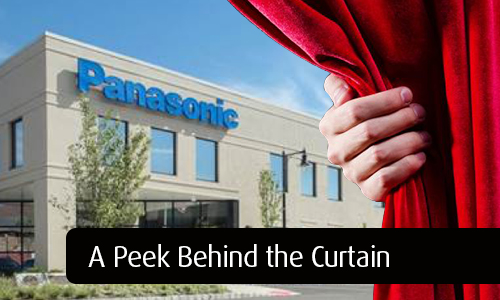 In December of last year, Steve Alexander, one of Almo ProAV's Business Development Managers had the opportunity to visit Panasonic's Harrison, NJ technical research and training facility. Here's what he experienced during his visit.
I had the fantastic opportunity to peek behind the curtain, as it were, to see the technology that continually sets Panasonic apart from their competitors.
Let's start with projectors. Panasonic has been manufacturing projectors for over 35 years. Their new Solid Shine series projector has done away with the traditional lamp and replaced it with LED and laser componentry that gives the user 20,000 hours of maintenance-free operation. So, if you used this projector ten hours a day for a year, it would be over five years before one even thought of a component failure.
The units feature a reliable cooling system and dust resistant sealed optics. The unit runs cooler as well and has an eco-save option that will cut power consumption by almost 30%. The instant on/off capability of the unit increases productivity — no waiting for a lamp to come to full brightness.
The most impressive moment of my projector tour was the shootout against a well-known competitor. Both had optimal settings configured (I checked). The results are below, taken with my lowly cell phone camera. It clearly shows the distinction between one company's idea of white vs Panasonic's. Also, notice the edges of the competitors' screen as the brightness fades at the edges.
To read about the rest of Steve's visit to the Panasonic Innovation Center including broadcast studio technology, Link Ray, displays and more, visit Almo's Installments Blog.